Italy has been an exceptionally special place for me since the very first moment I stepped foot in the country almost 30 years ago. Btw – I am utterly disgusted with myself for not being able to speak the language fluently!
Allora, this remarkable country so completely captured my heart, my soul & my taste buds that I'm compelled to return year after year. Fortunately my Husband Marco (heehee actually it's Mark) shares my Italian obsession & will happily holiday there any time! In fact, being so far away from Italy is one of the reasons neither of us can imagine moving back to Australia.
So what is it about this particular European country?
I return to Italy every year
Because now, my children love it too!
In Italy children are not merely tolerated, they're embraced, celebrated even. Italians will smile & talk to a child they don't know purely because they are there. In restaurants children aren't expected to sit still at the table & be quiet, on the contrary, the waitress will happily chat to them. Your fellow diners won't scowl if your child leaves the table before you, in fact it's common to see kids playing in a restaurant. Crucially to everyone's enjoyment the chef will usually accommodate a fussy eater so don't think twice about asking for something that isn't on the menu.
Indeed Italy is well-known for being "child friendly". What you may not expect is the impact this attitude has on your child.
For example when Kiara was a baby strangers would actually stop us in the street to admire her in her buggy. "Piccolina" they'd coo all smiles, she'd squeal with delight in reply. She's had so much of this that she's now hooked!
Yet more pivotal to our holiday harmony was the reaction to Jaspers idiosyncracies as a toddler. Without fail he'd be homesick by day 3! Ugh
It was quite upsetting & stressful, he wouldn't eat & he'd cry for our cat Micheal. The lovely staff at the hotel would give him cuddles & fuss over him, even specially make plain spaghetti to entice him to eat. Nothing was too much trouble. Once all he'd consume were bananas so when we came down for dinner next time there on his plate sat a banana!
Eventually after a while, he'd come around & as the years went by the behaviour disappeared altogether. They won him over those tenacious Italians, now he never wants to leave! Would you believe he actually eats mussels & prawns on the shell these days? On this trip he even expressed interest in learning the language, knock me down with a feather!
All 3 of my kids adore Italy, no matter where we are in the country but nowhere more than our special place Hotel Beau Soleil.
When your kids love being somewhere, it's the best holiday money can buy!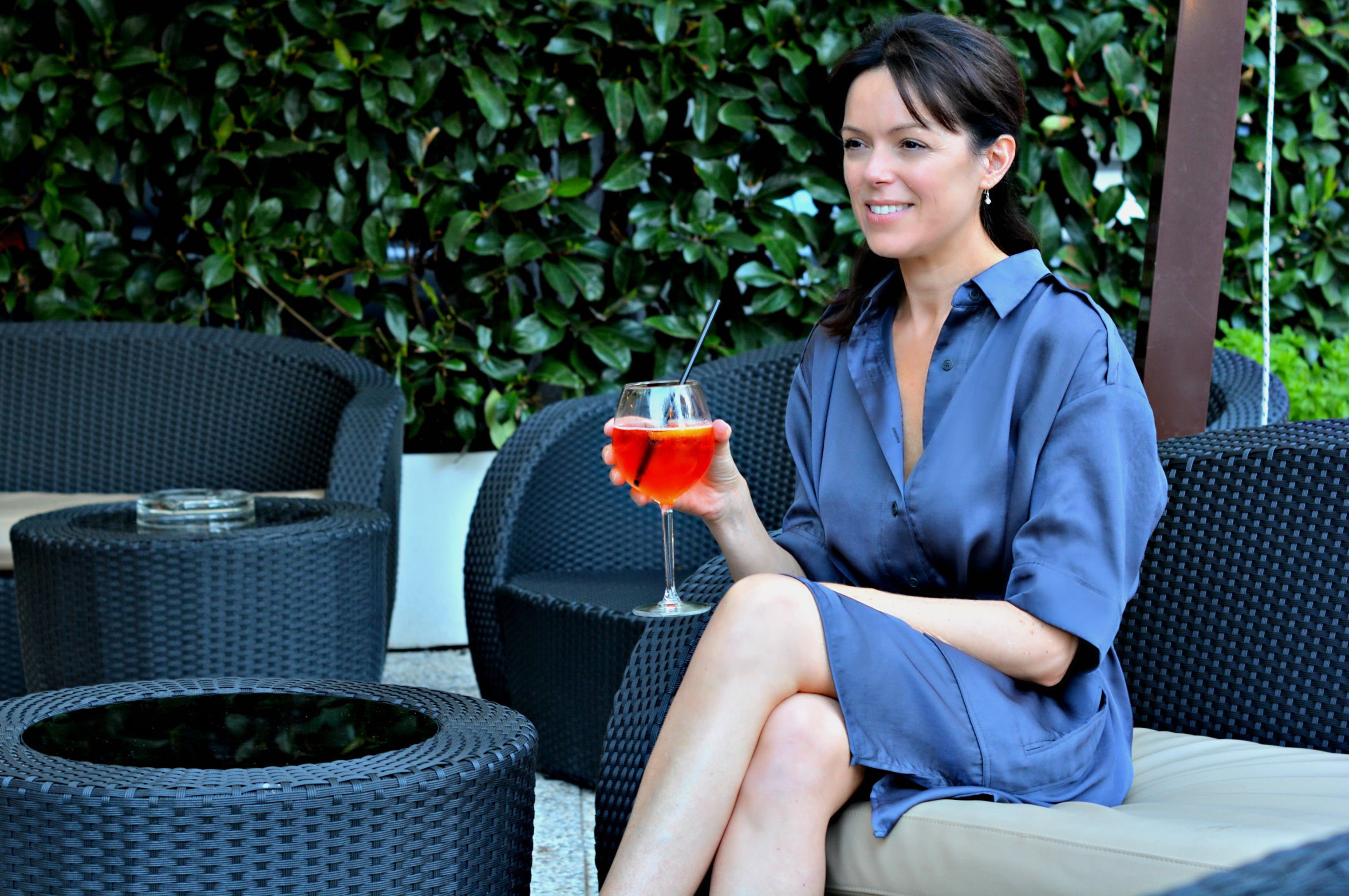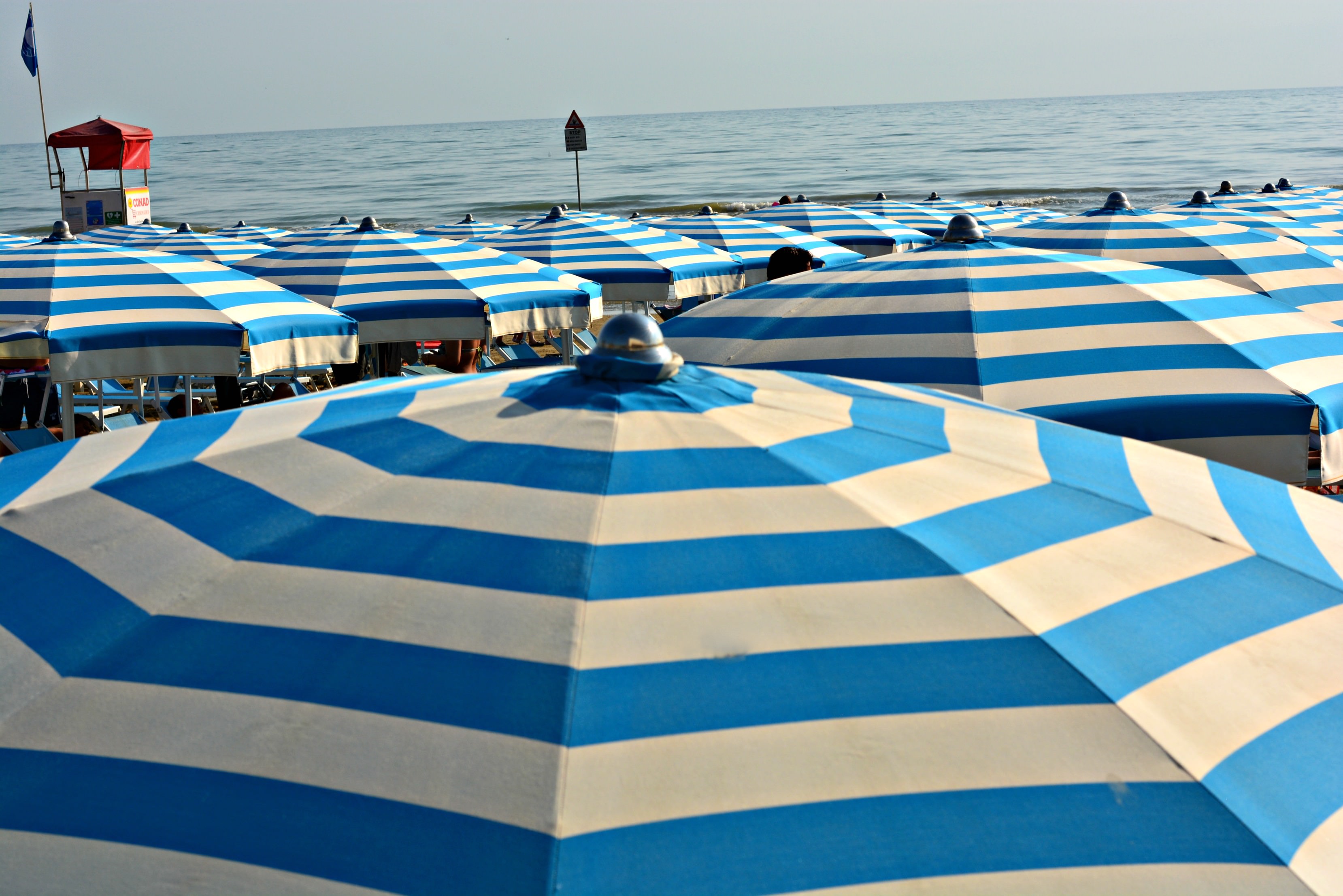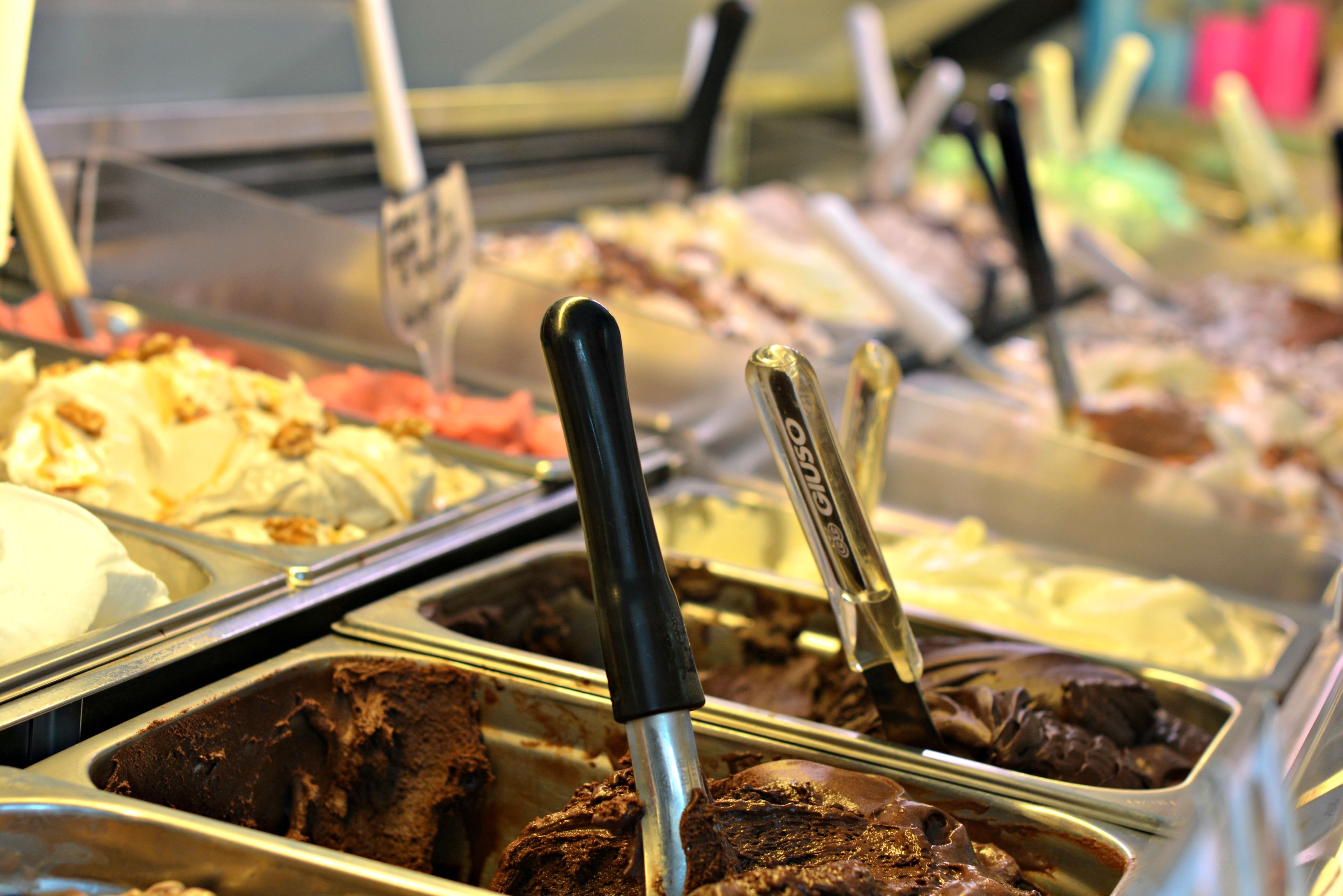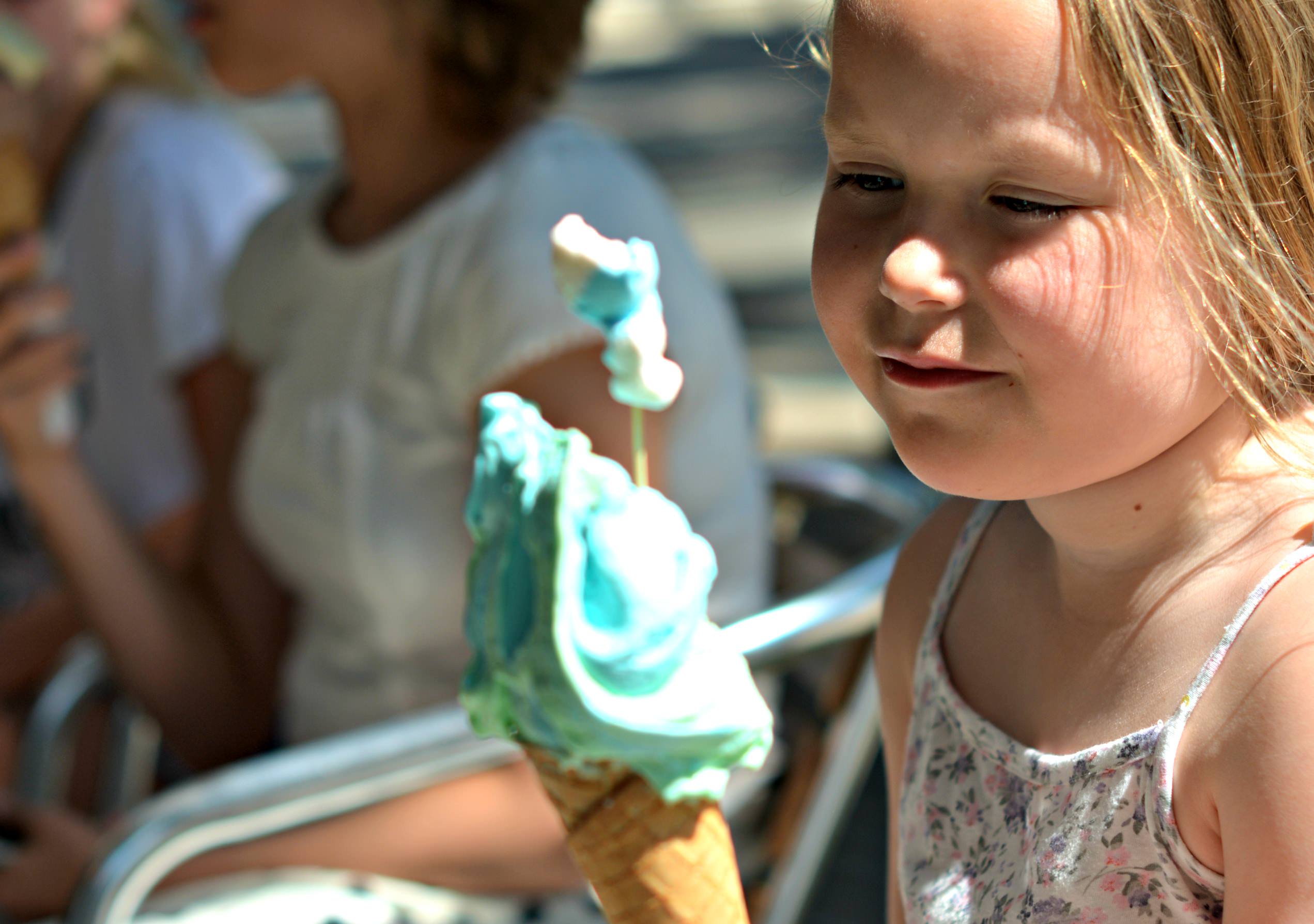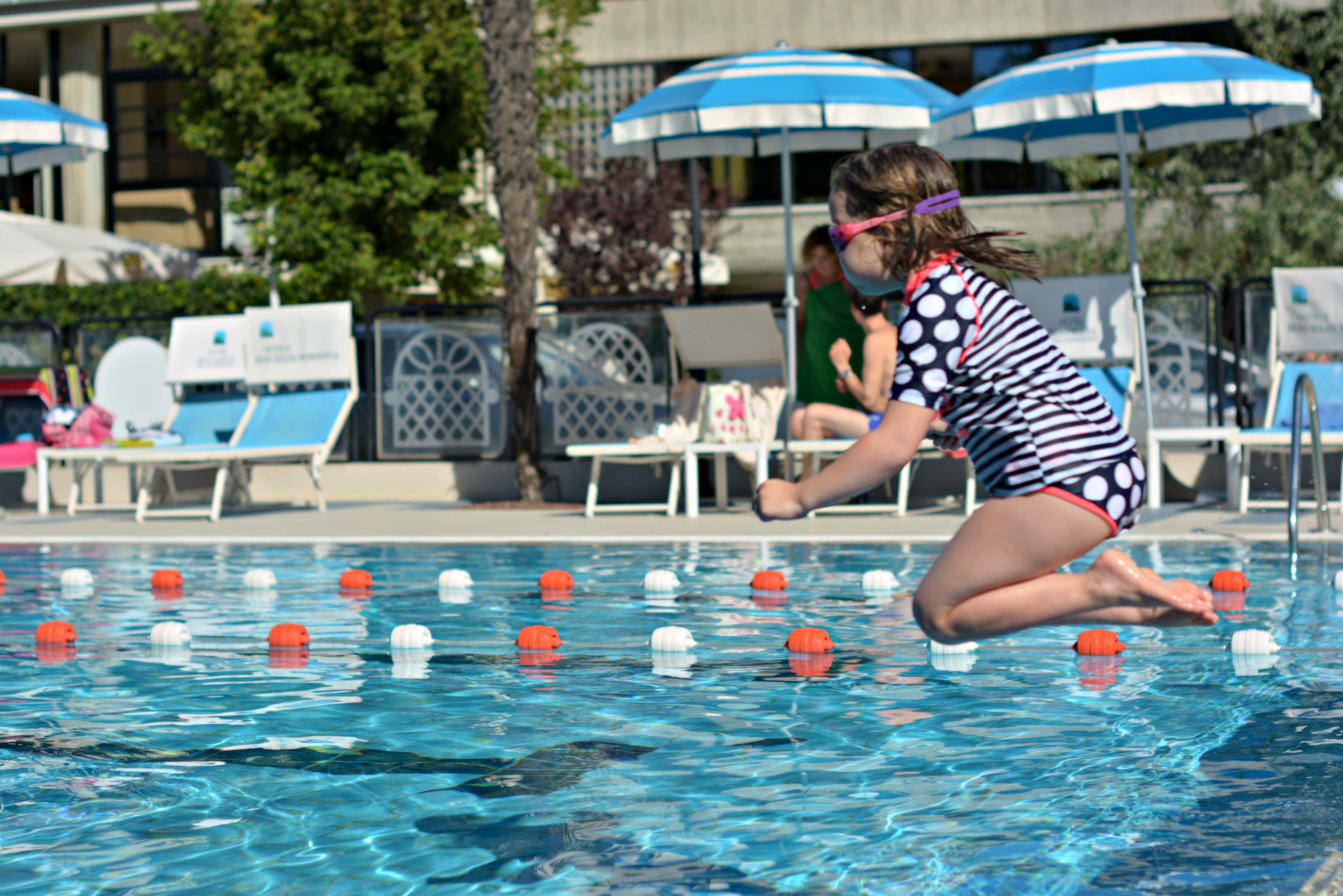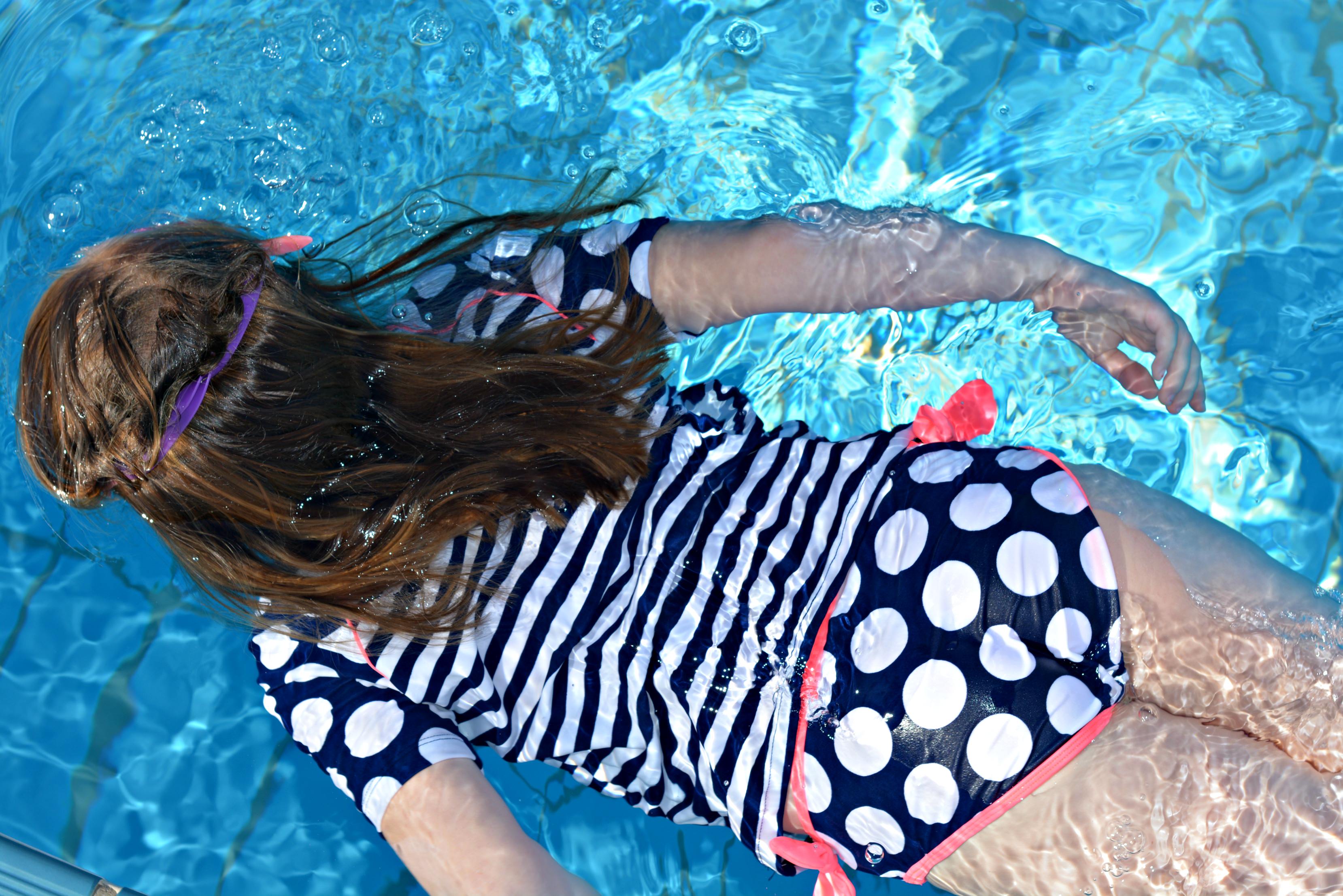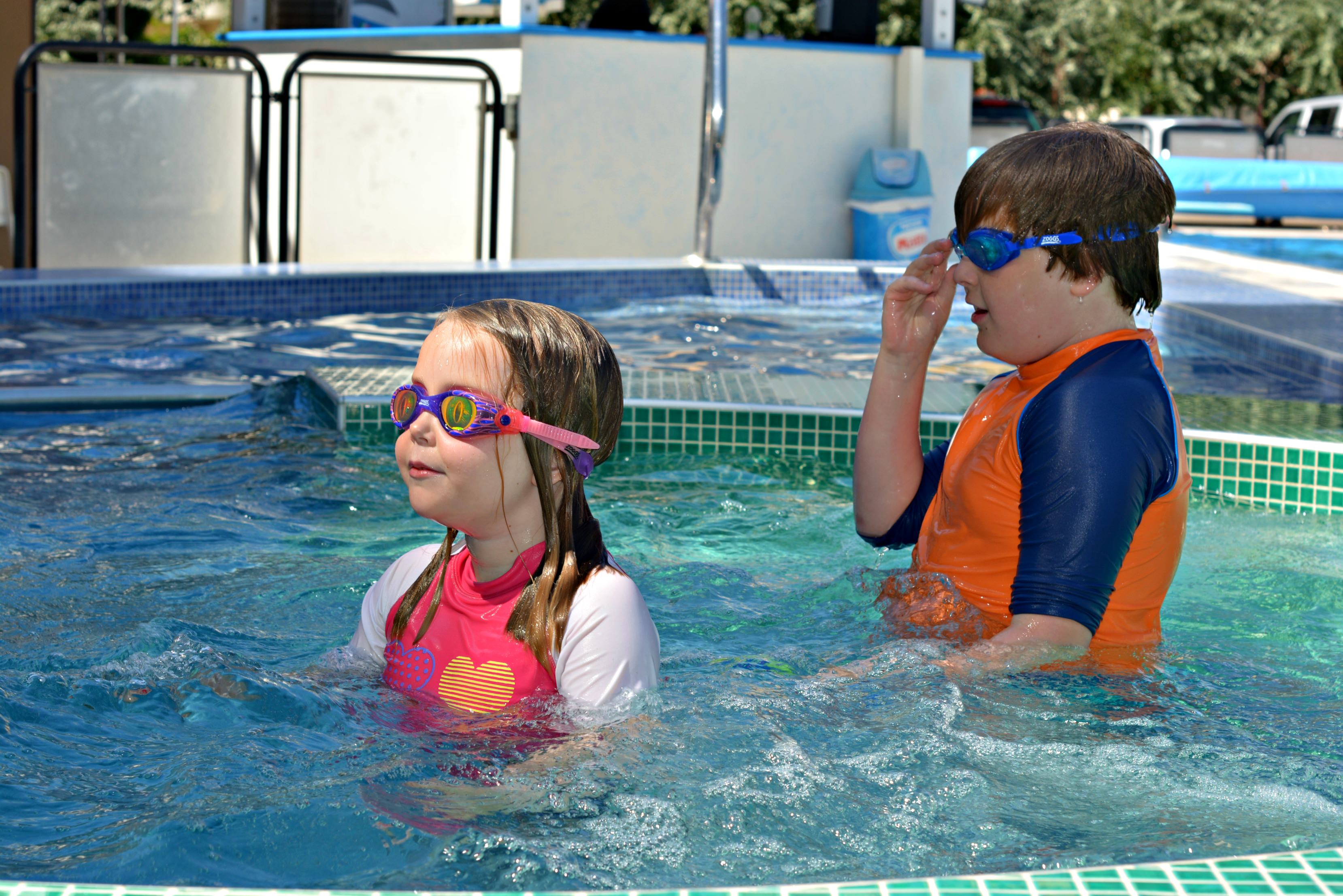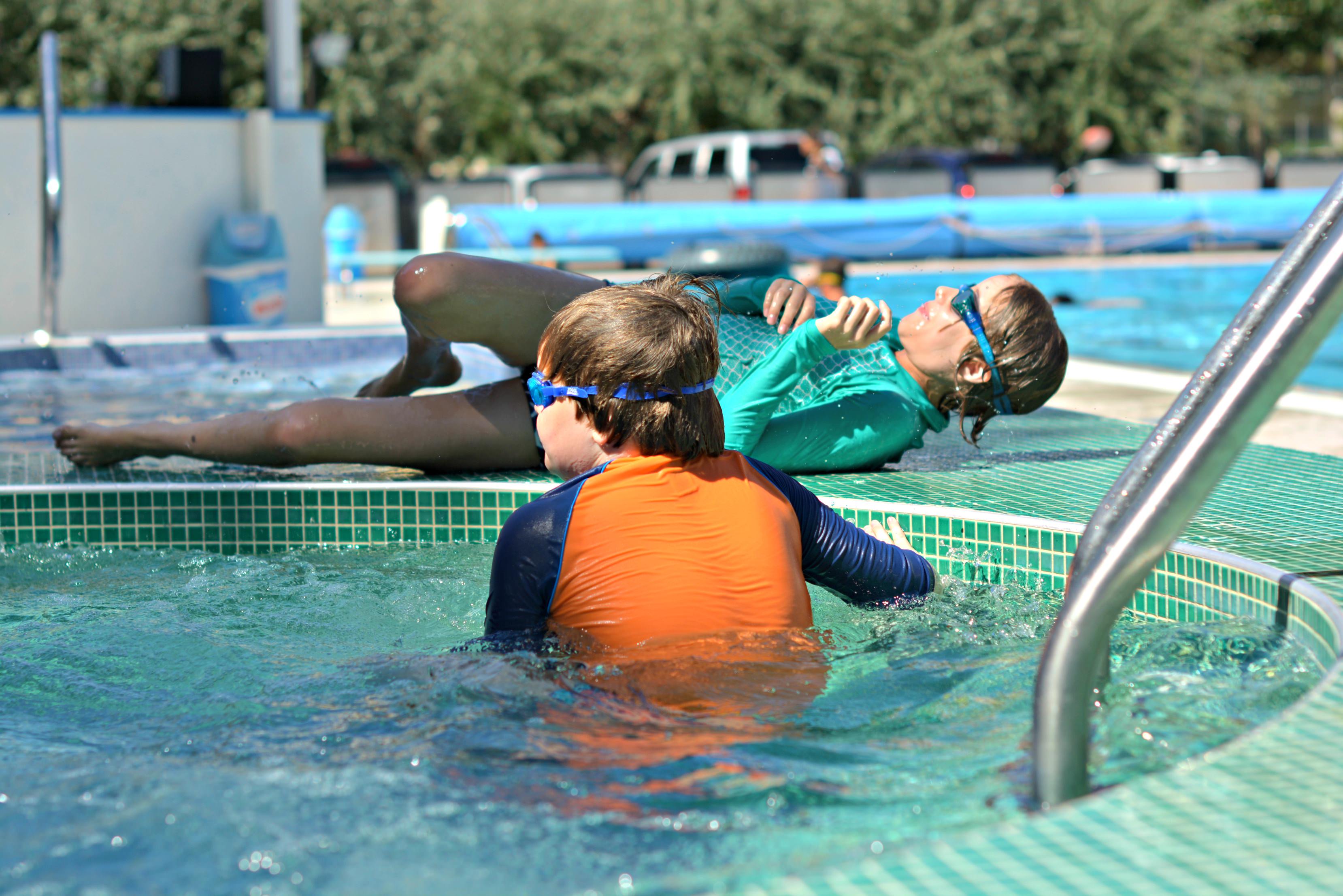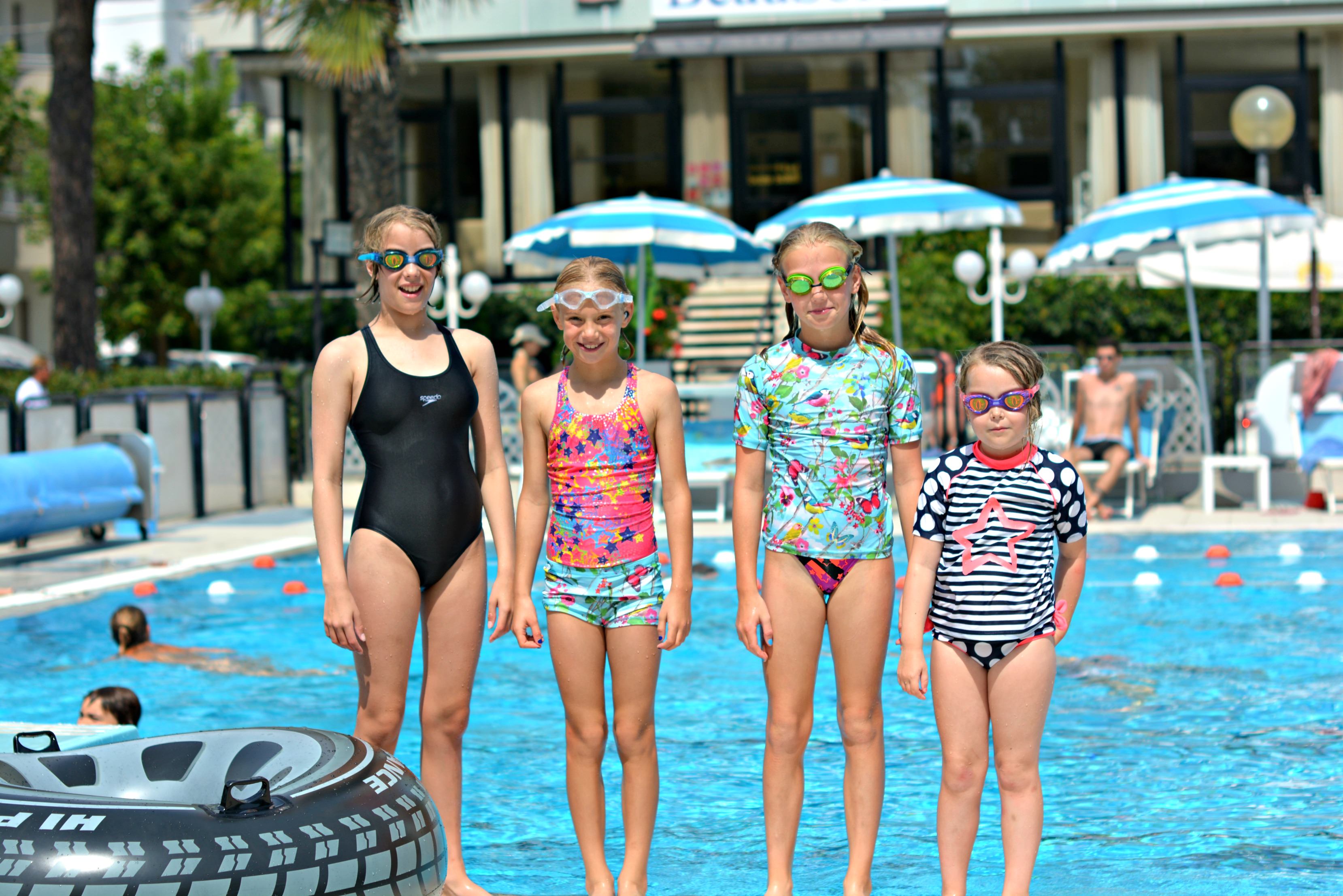 Making new friends on holiday
The vibe was a little different at the hotel this year because for the first time there were English-speaking children of the same age.
Don't get me wrong, when you have 3 who get along so well together as ours it's not a problem. However making new friends on holiday is a wonderful experience & right of passage that my 3 have never had the opportunity to enjoy. Therefore it was with sheer delight that Mark & I observed the kids playing & hatching plans. Naturally the 4 of us parents were eventually relegated to a separate table at dinner time so the kids could eat together.
You won't believe how grown up & well-mannered they were at their own table – Shocking!
Onto Holiday Swimwear
My swimwear is a mix and match affair although sadly the striped Boden boy-leg bikini has seen better days. I have a variety of styles yet all are from either Boden, The White Company or Toast. I always shop exclusively with these 3 brands because frankly they're the best fit & are excellent quality. I'll spare you the catalogue of amalgamations I wore although if you're interested you can see them all on my Instagram feed.
In my humble opinion now is a good time to purchase your swimwear. Although you won't be wearing it for a while & there won't be as much choice, you'll get it cheap as chips! wink
I forgot to photograph my fabulous Toast 1950's style high-waisted bikini bottoms this holiday. I also wore them earlier in the year when we went to Sardinia. However you can see them from last year in Tuscany in this post. The retro shape is a revelation when I'm bloated & feeling fat.
Notice how tanned I was at the beginning of the holiday – FAKE Bahahaha!
I always wear factor 50 & a hat when I'm outdoors even if I'm just running to the shop. This year I added a Boden rash vest to my collection of swimwear for the days it would be exceptionally hot. There is no better way to age your skin than sun exposure, do not do it people! Just don't.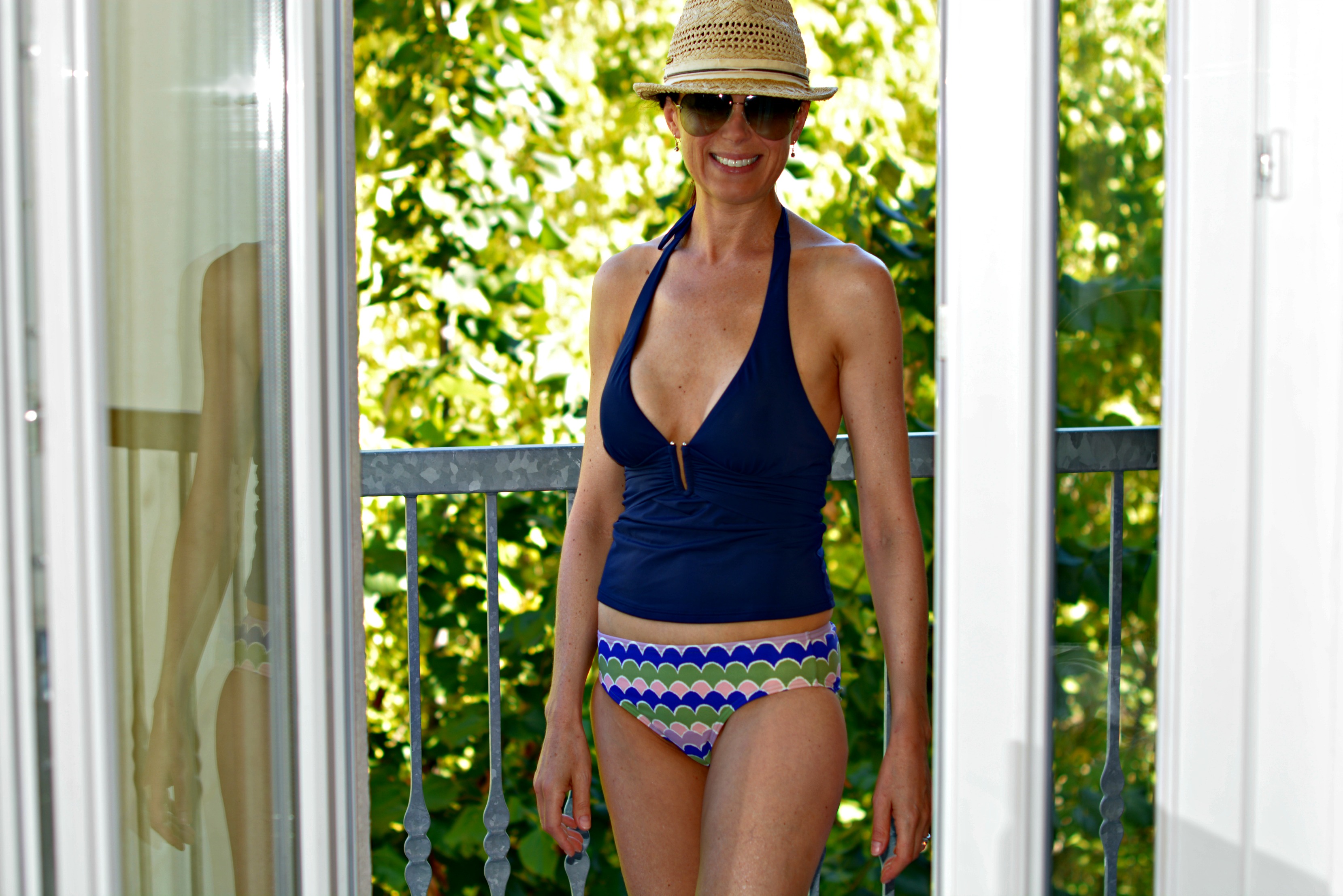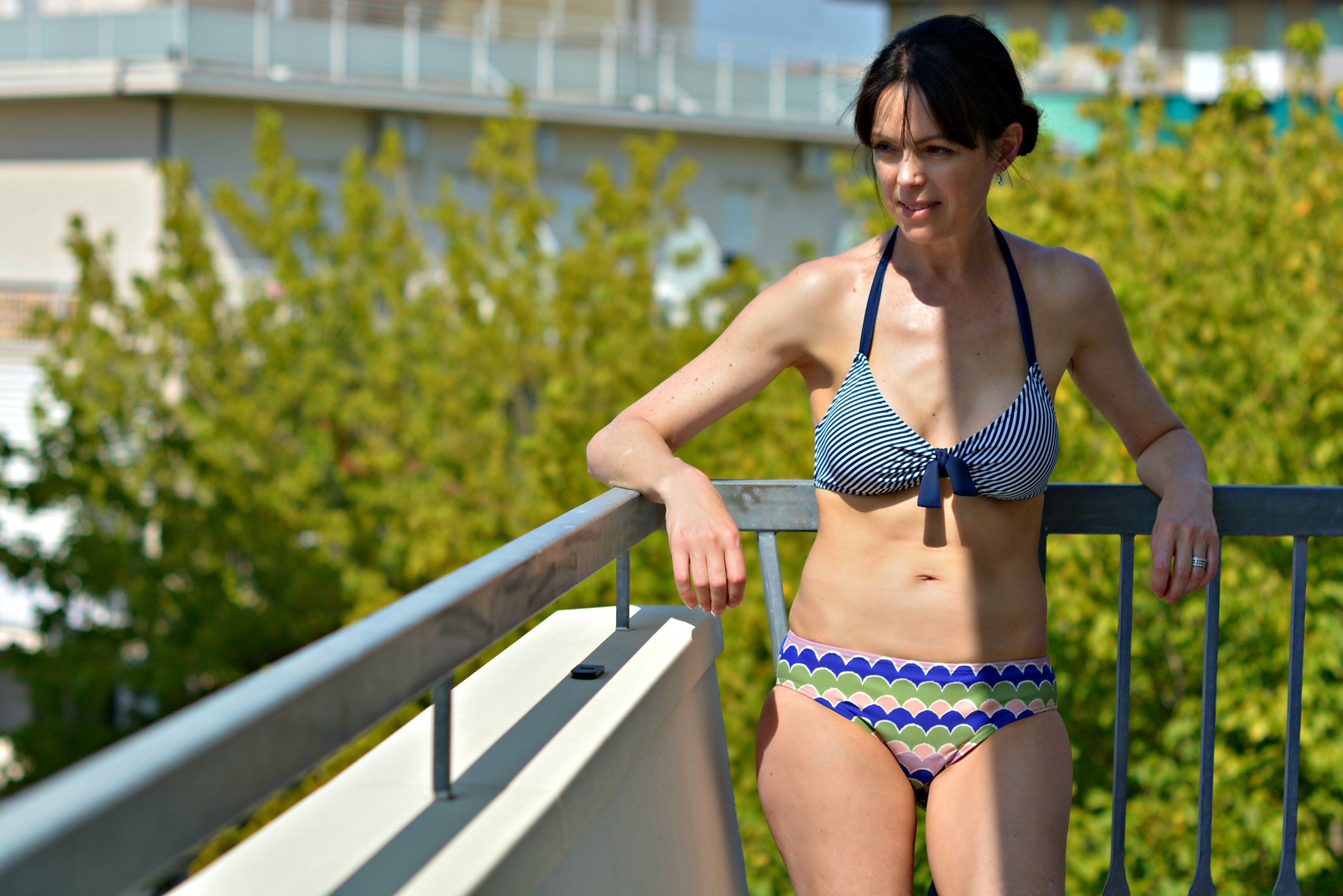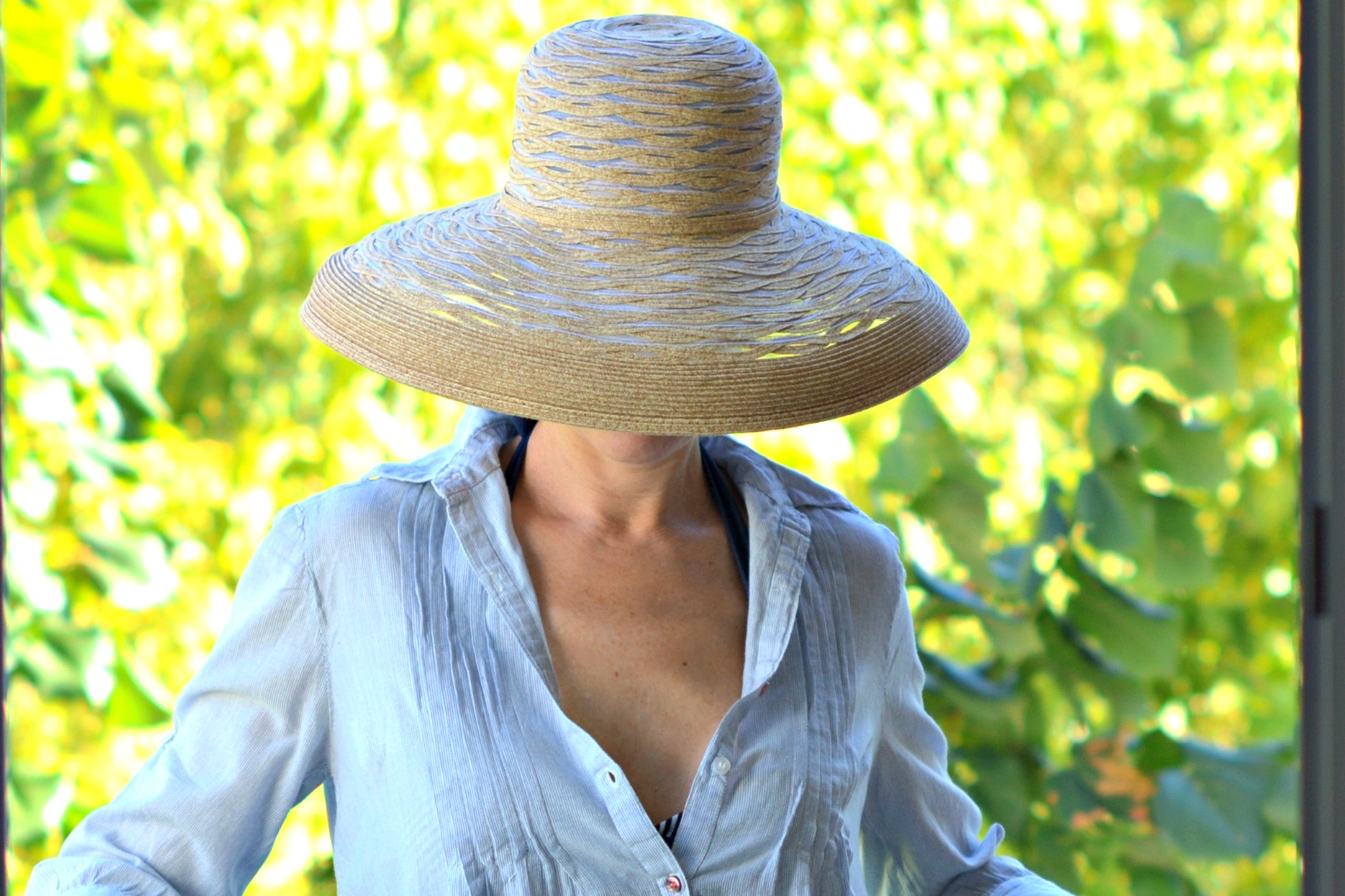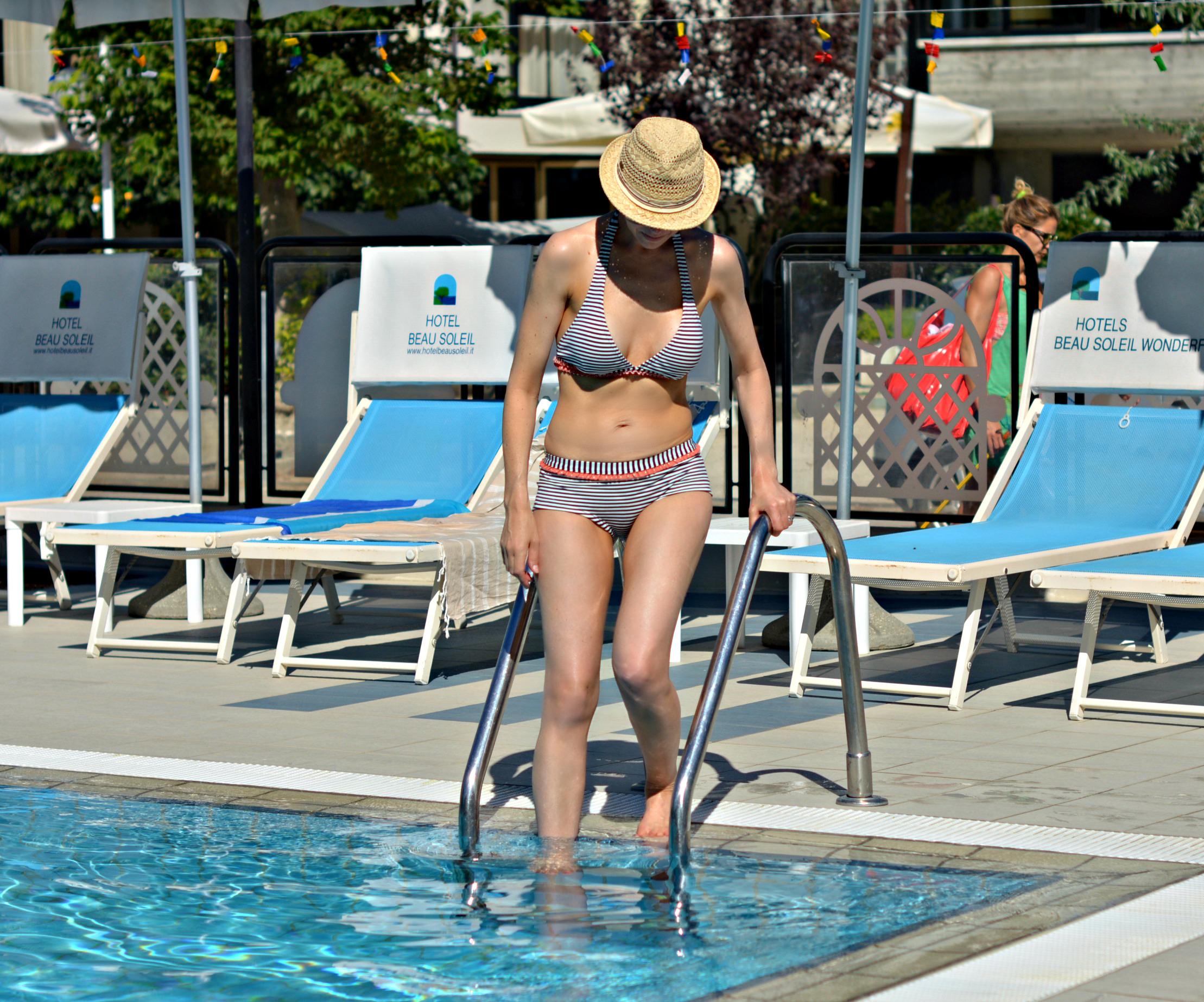 An Easy Breezy Holiday Outfit
As we went away in August this year I knew it was absolutely pointless packing anything that wasn't gossamer light. You may have seen my Dodo Bar Or dress in this previous post. It was the only substantial item I packed & it was rather heavy however being 100% cotton it wasn't at all hot or sweaty. I wore this amazing dress to the special Ferragosto celebration night that you can read about in said post.
I also took my very old Marni x H&M collab maxi dress that I always love to wear on hols, you can see it here.
Another dress that's fabulous for Summer is the Nicole Farhi shirt dress in the very first photo where I'm drinking a bucket glass of Aperol Spritz. I cinched the waist with a skinny black Prada belt & wore my Whistles block heel mules this night. Then another night I wore it loose with simple blue leather sliders also from Whistles.
Additionally I took white denim shorts (also Whistles) & a couple of T-shirts. Lastly I wore Zara black wide leg trousers & a sexy embroidered top I found at the back of a drawer minutes before we left! I only took one quick photo of that outfit for Instagram, see here.
In between I alternated the outfit below – Zara denim shorts with a really interesting Zara striped button back top that has funky pleats at the front. Paired with my Whistles mules one time then these turquoise Sam Edelman sandals I bought for £15 at Tk Maxx another.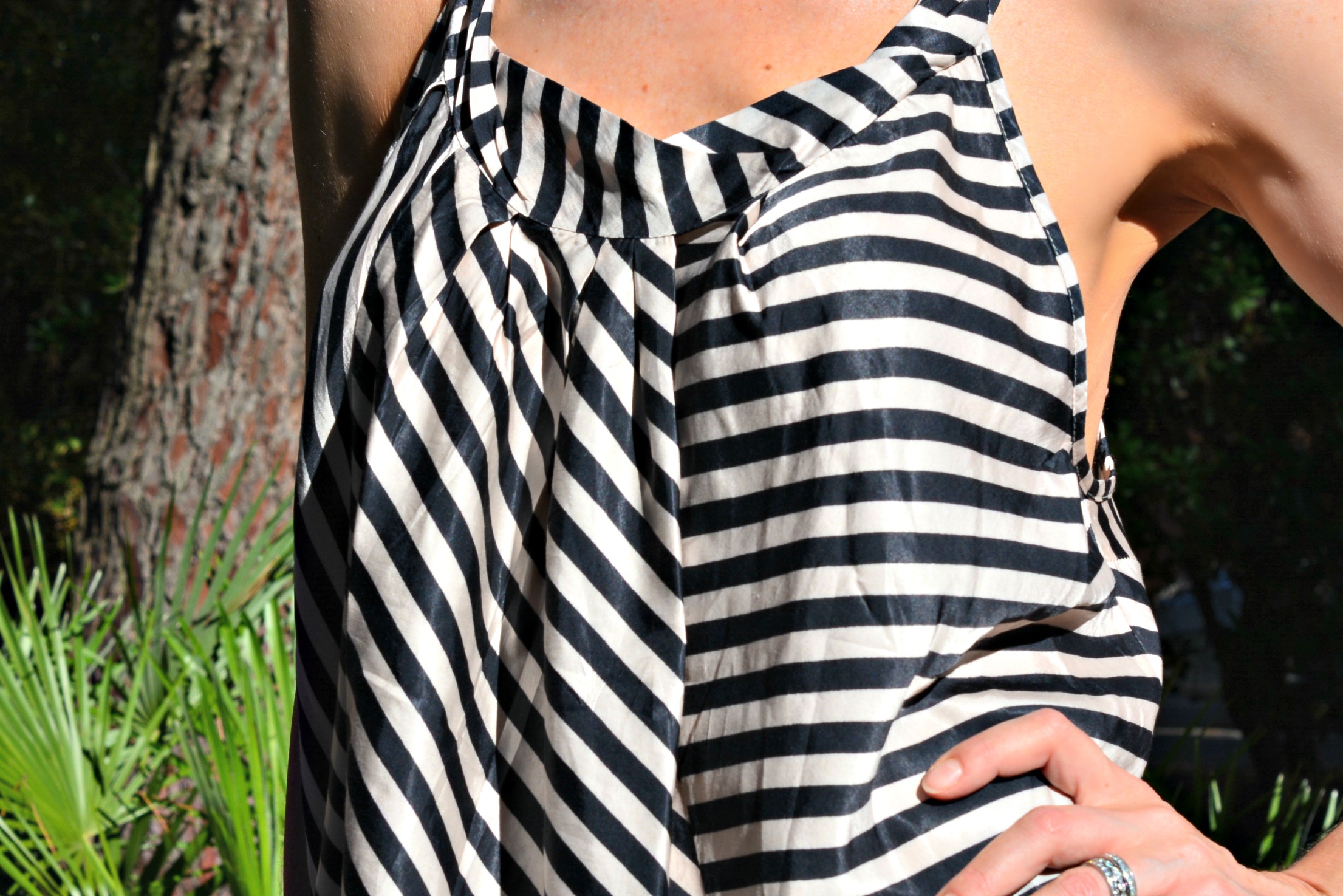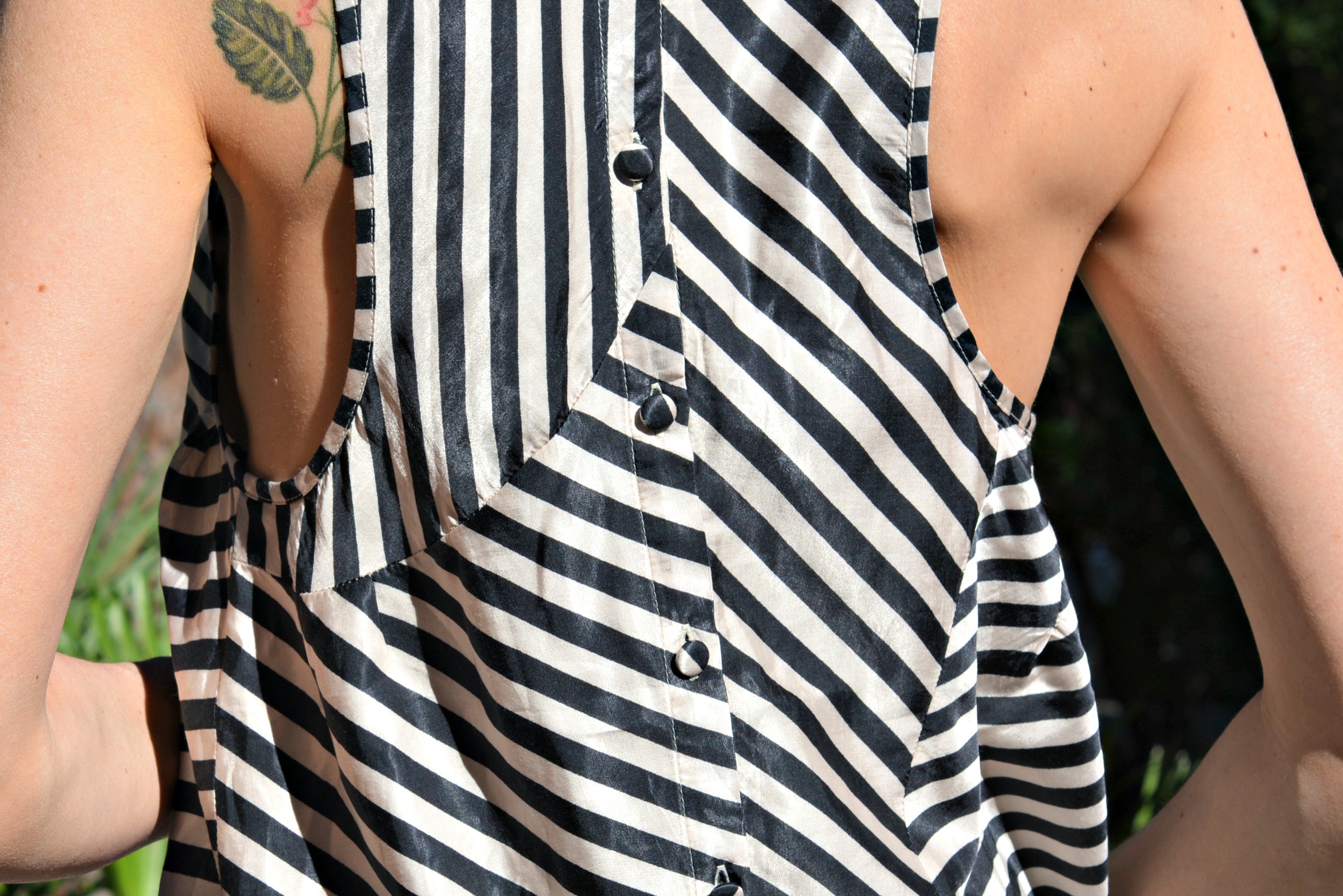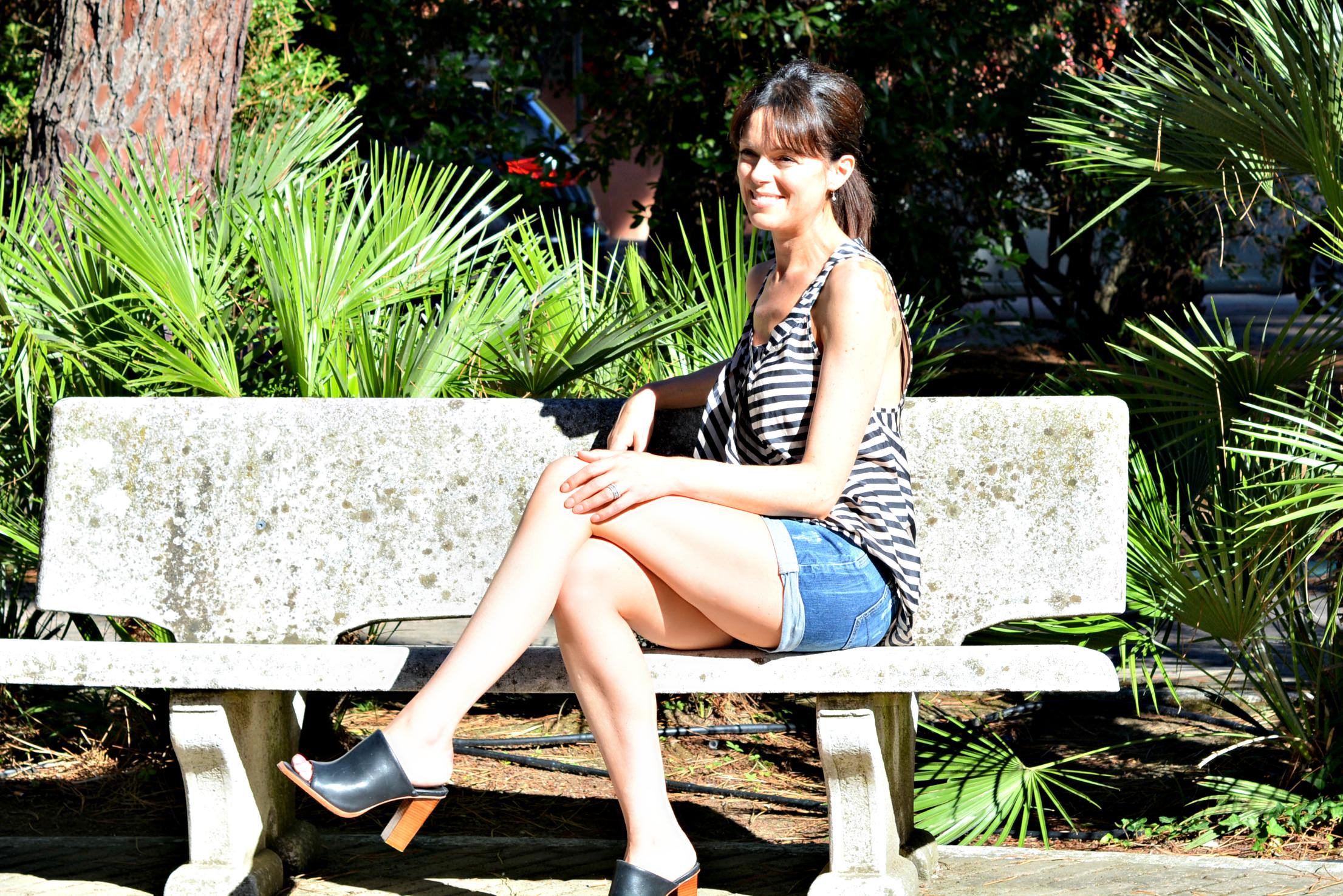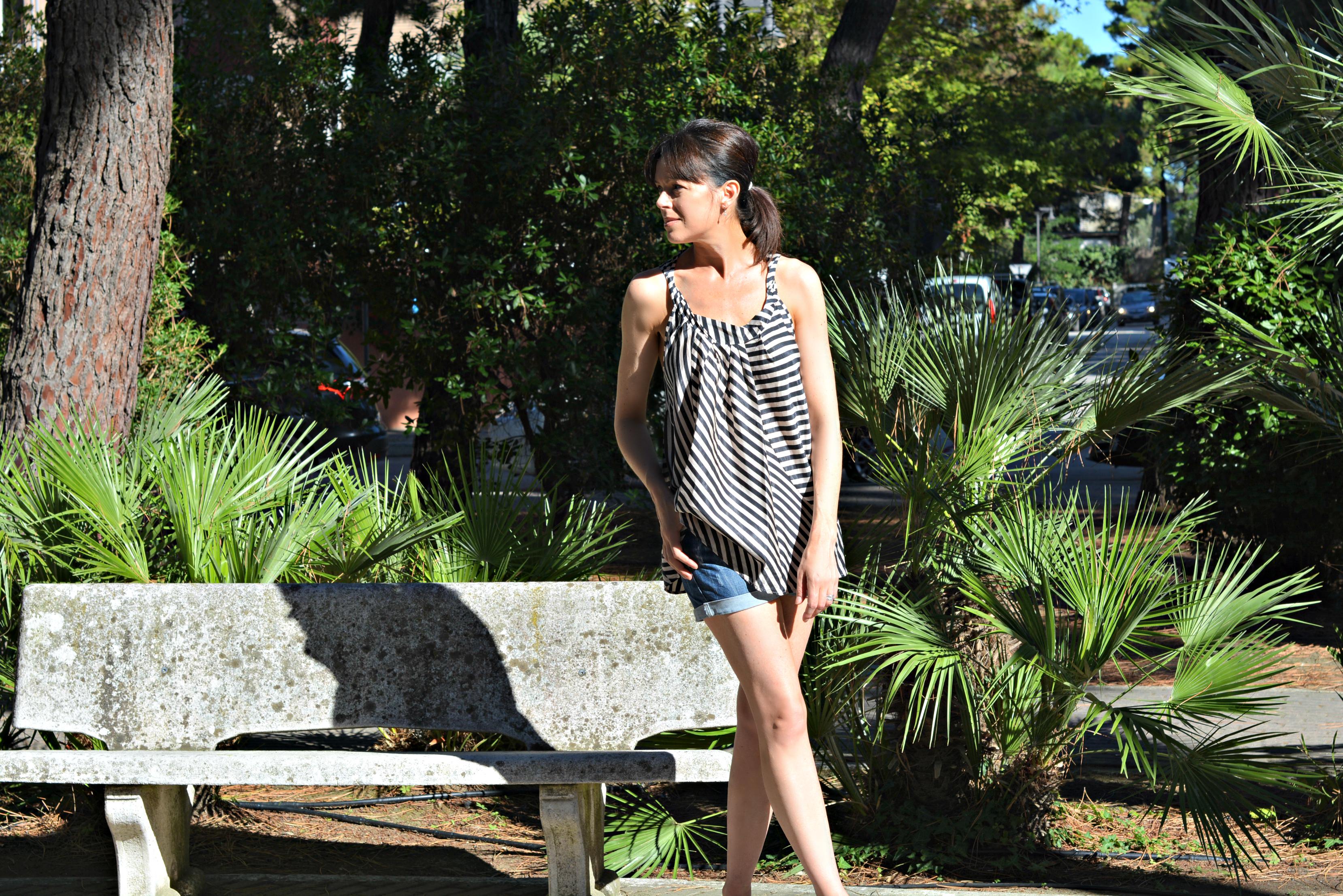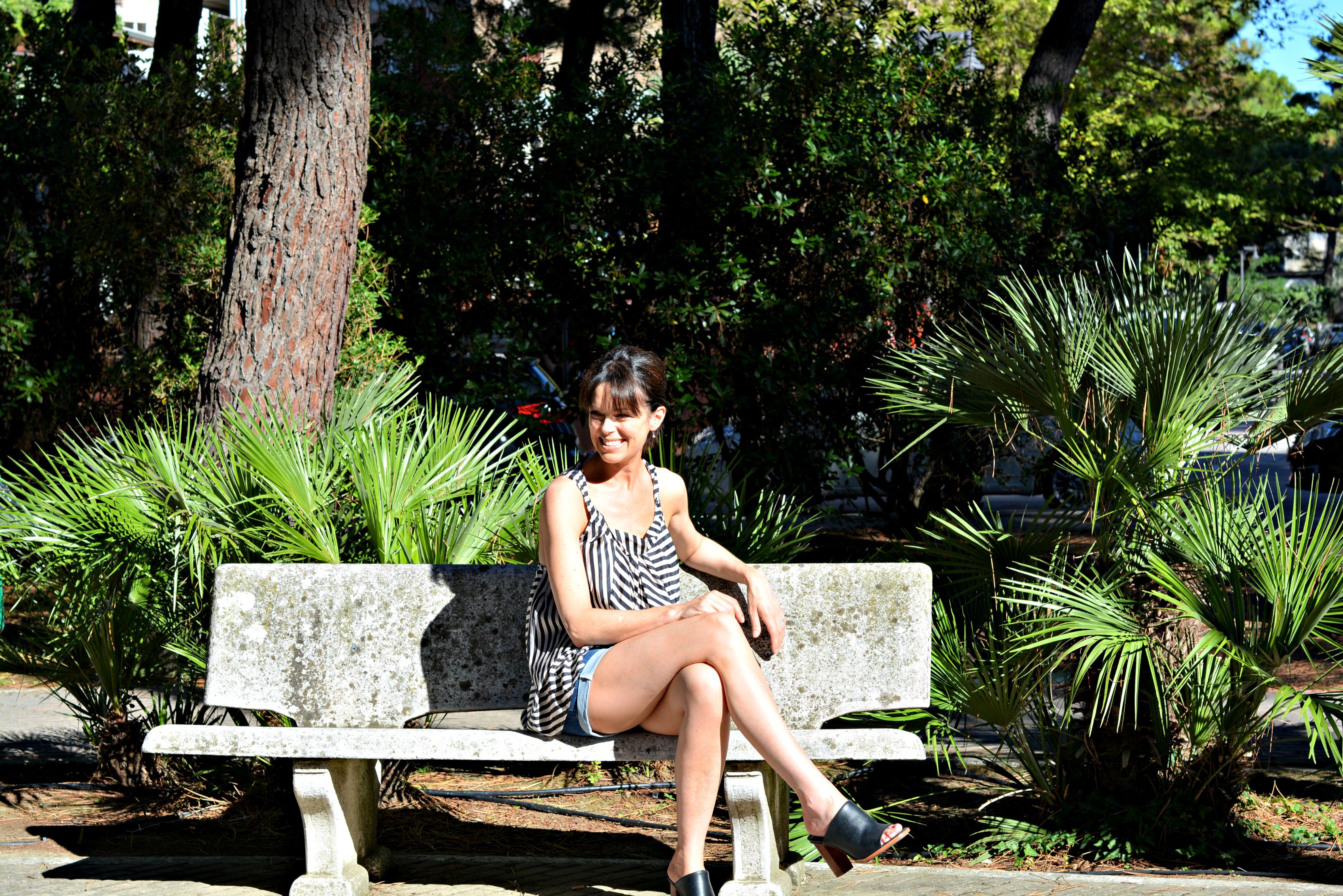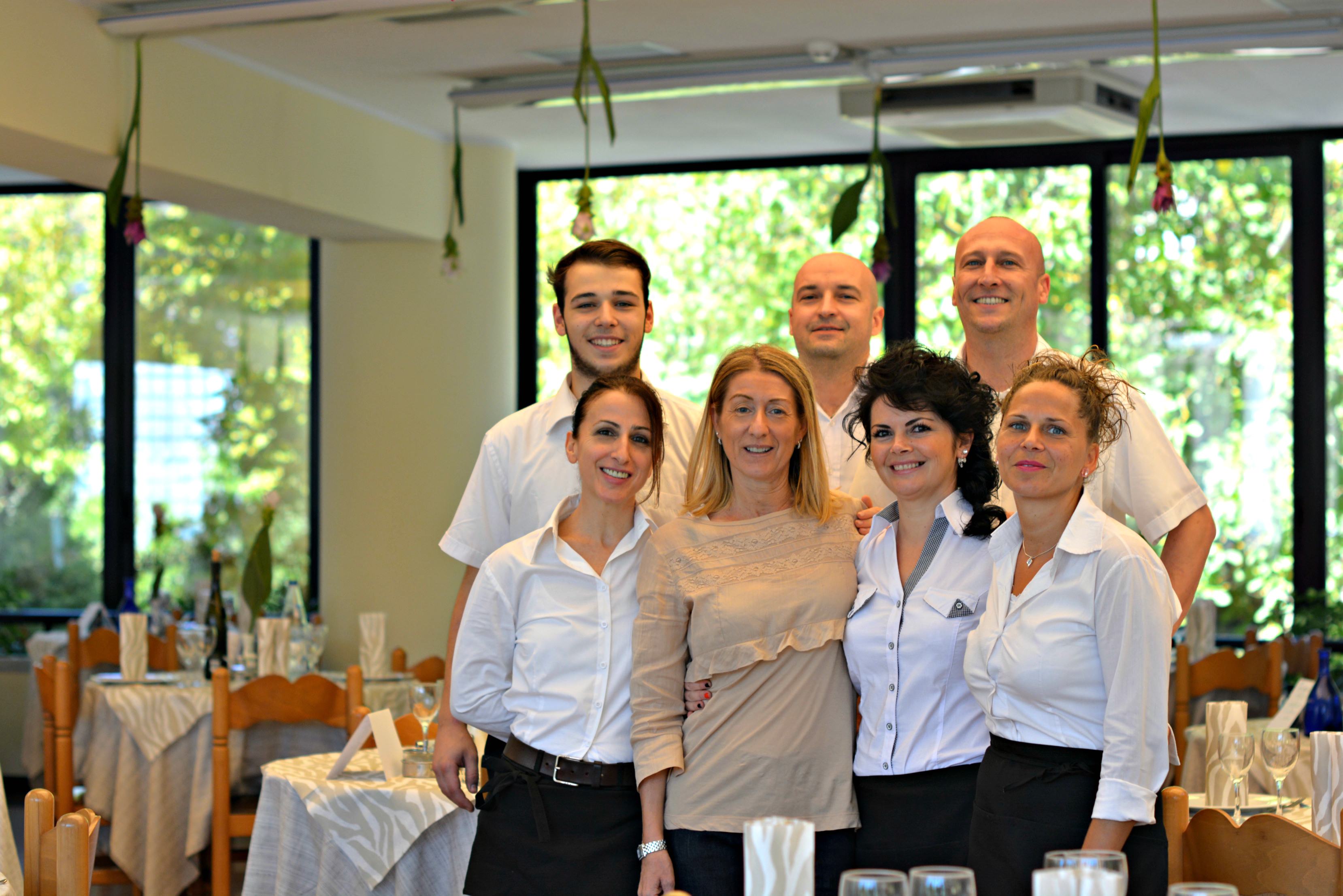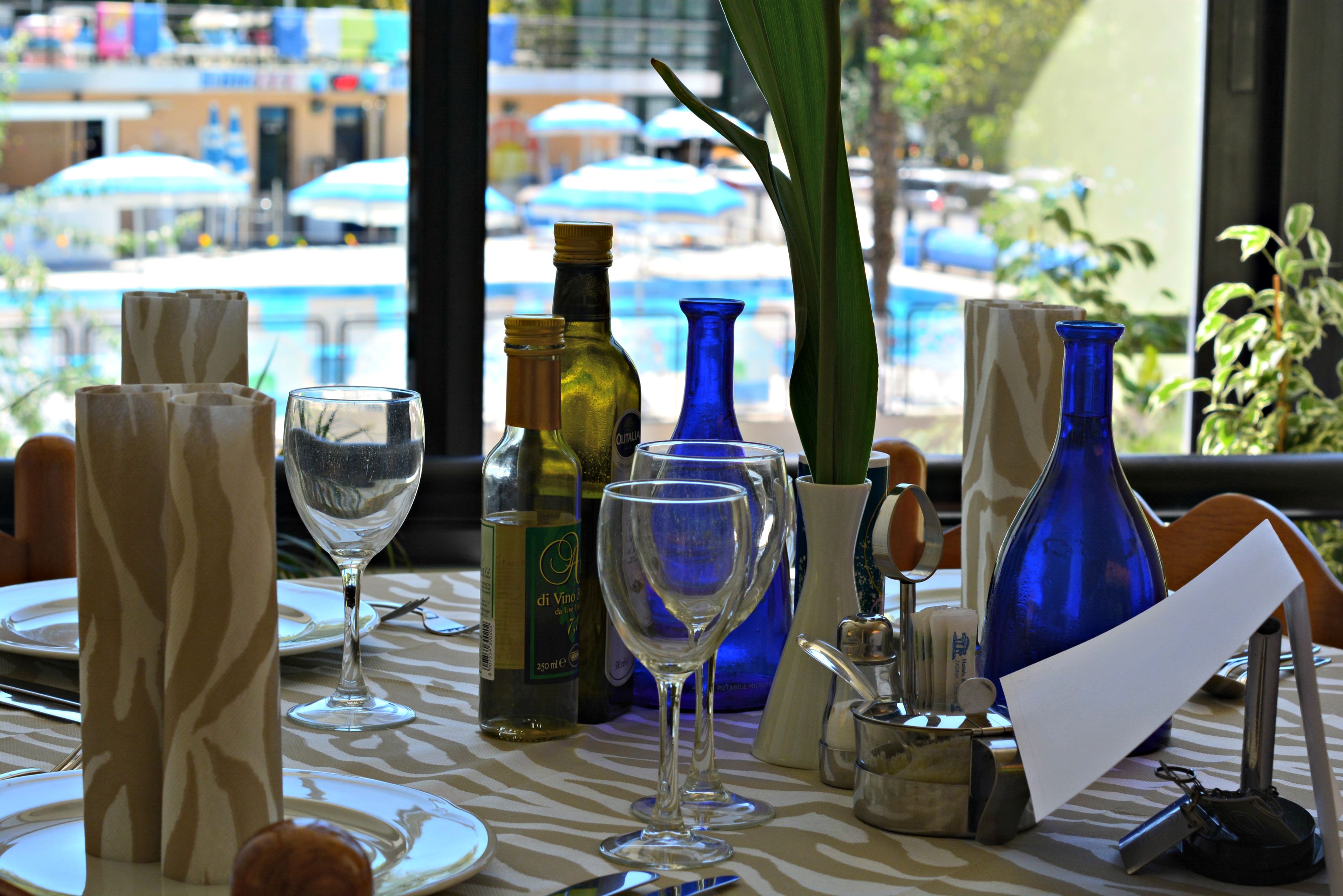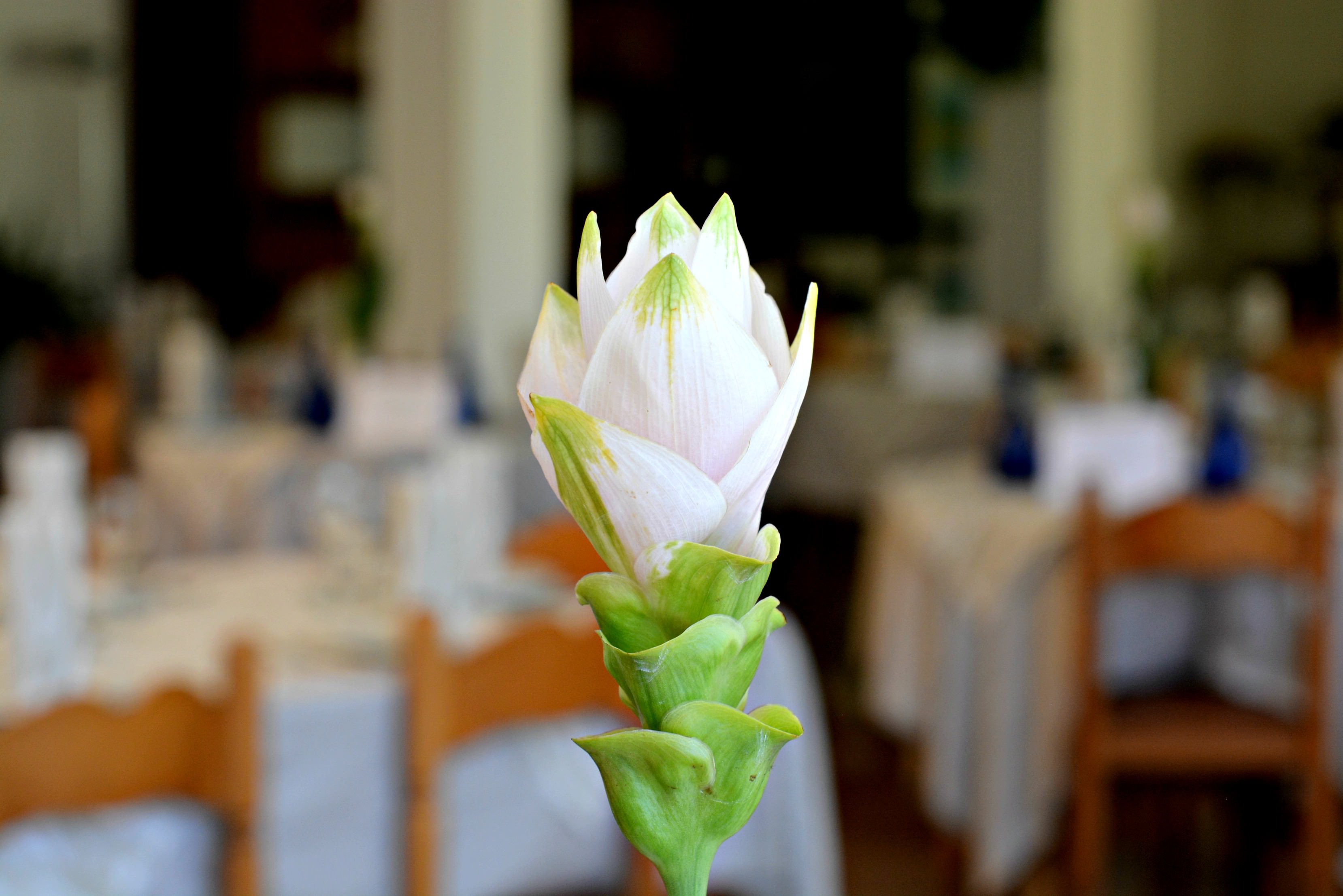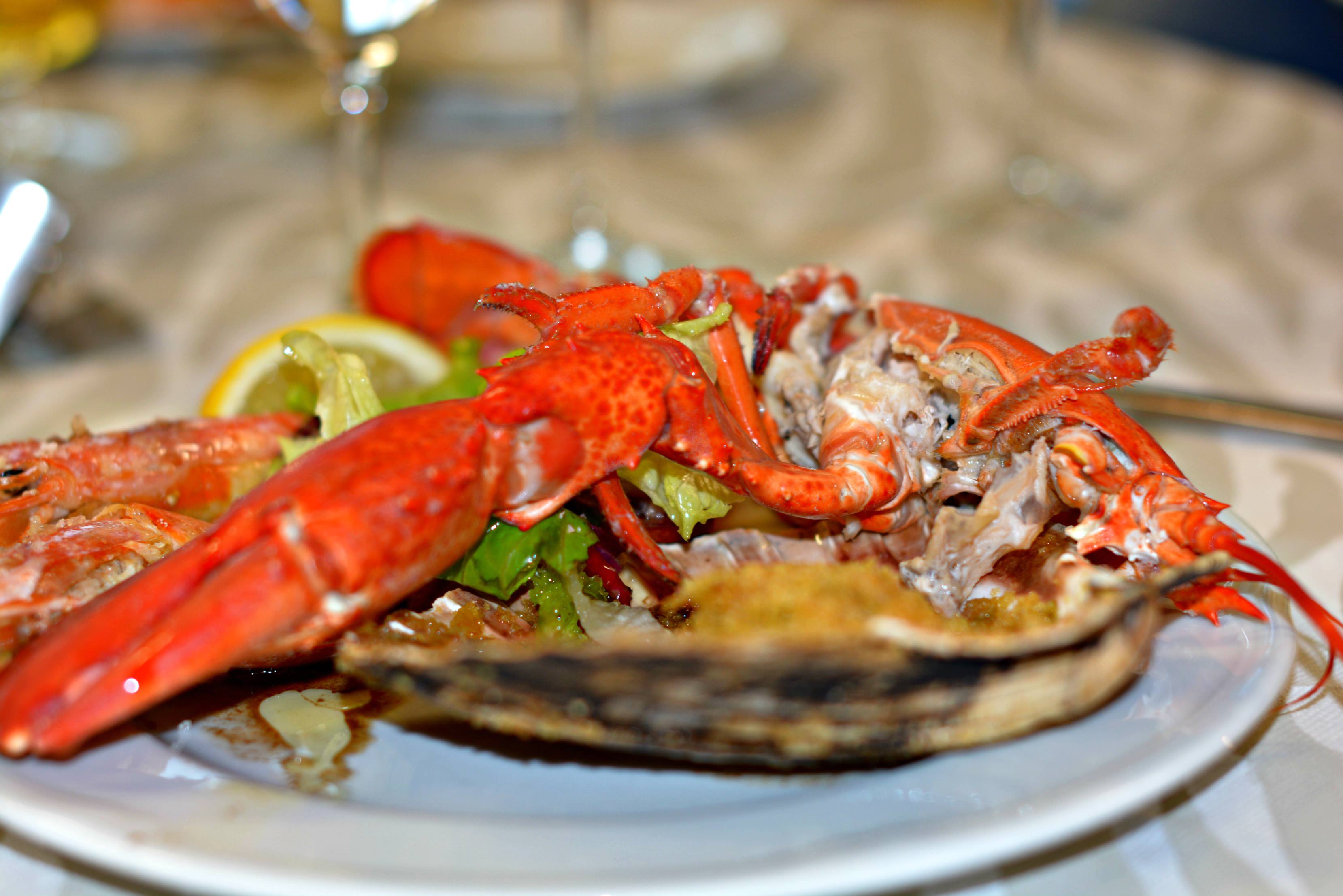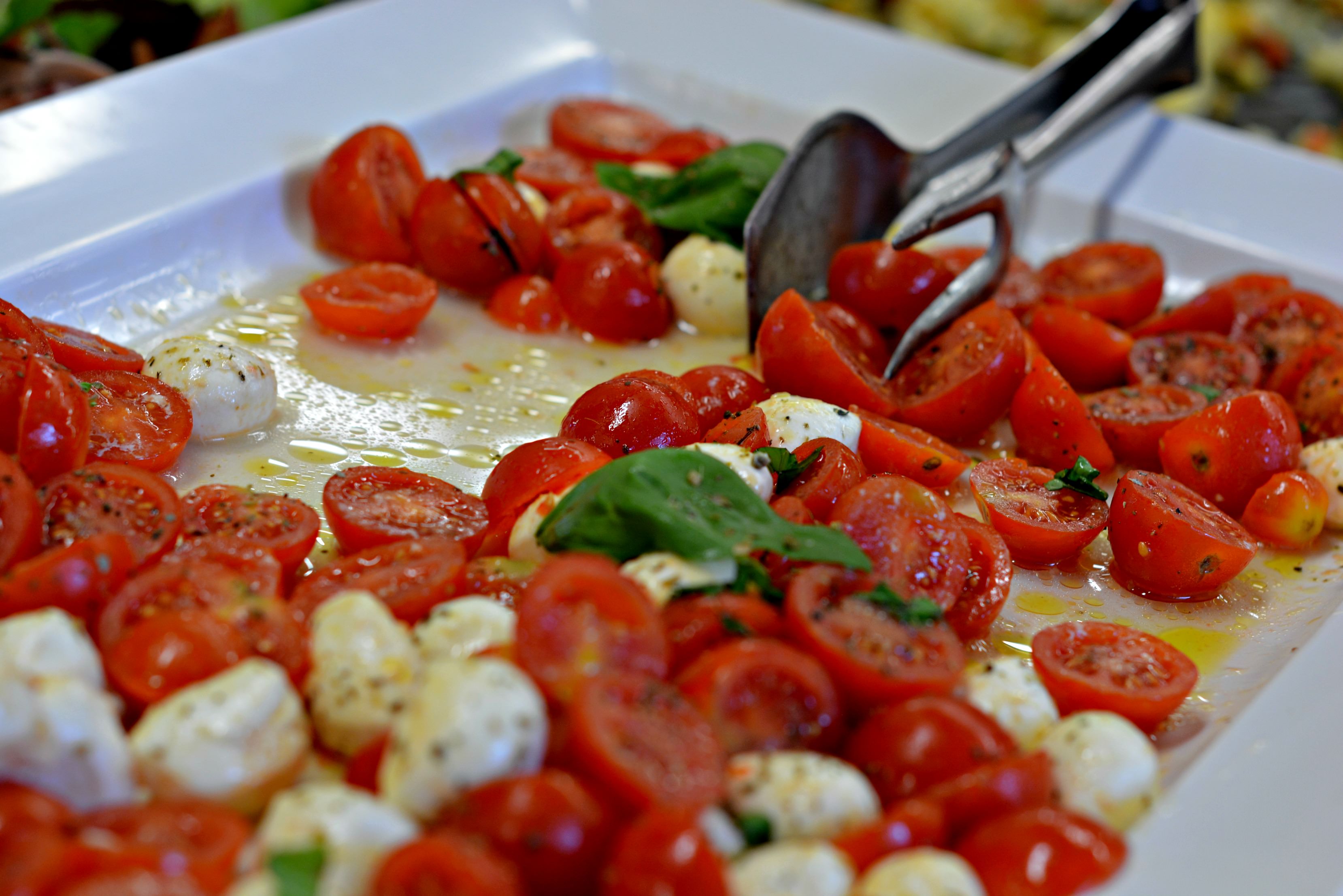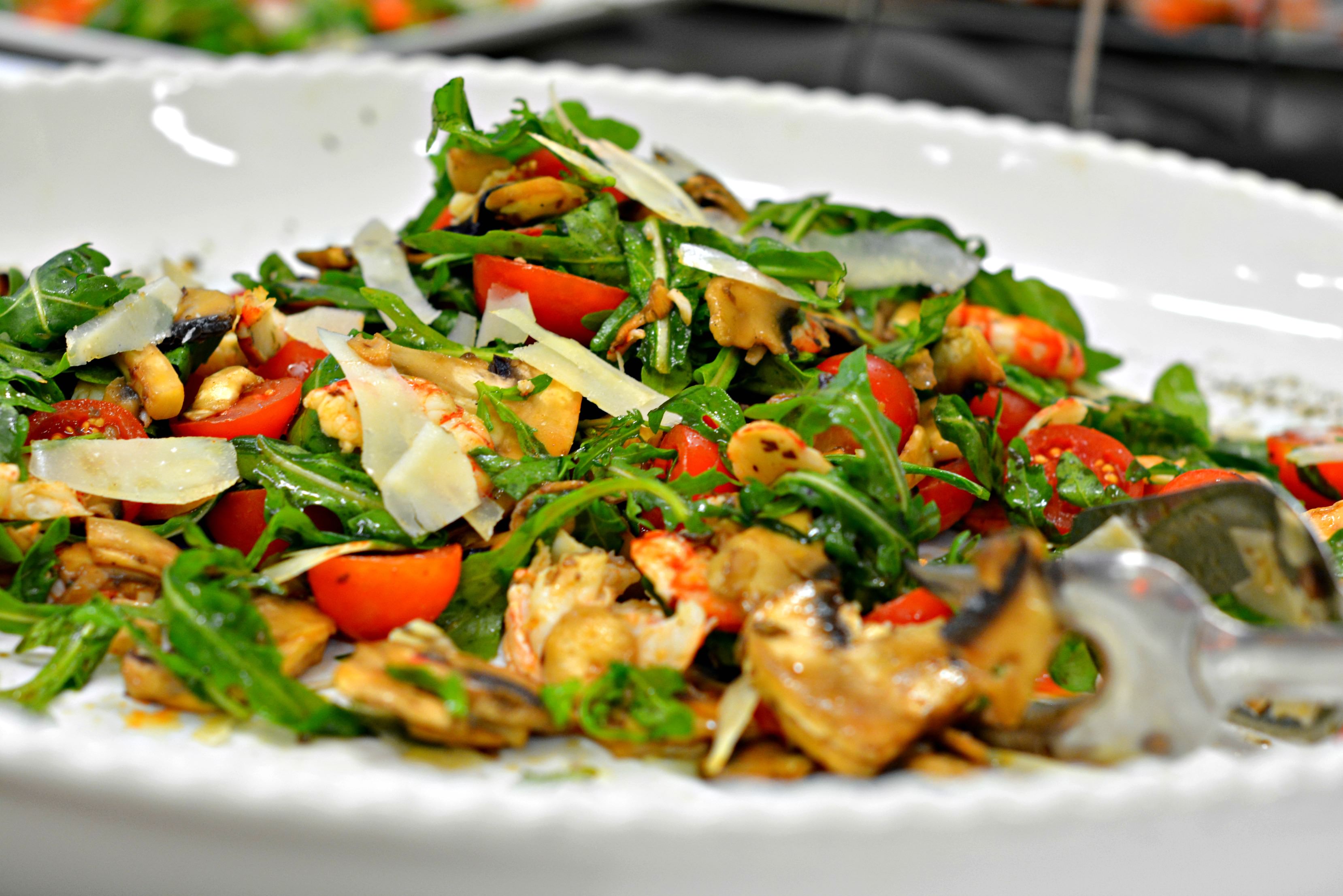 The Hotel Food is Divine
The kids are always thrilled by the desserts on offer & have a ball serving themselves. As you can see above it's all super healthy, fresh & cooked on site. I could have lived on salads there are so many combinations to choose from. However if you fancy going out or a change of scene the restaurants on the beach, a lazy 2 minute walk away, serve amazing local seafood delights with a view to die for.
What's more, the children can take off to play outside in plain sight allowing Mama & Papa some of that elusive peace…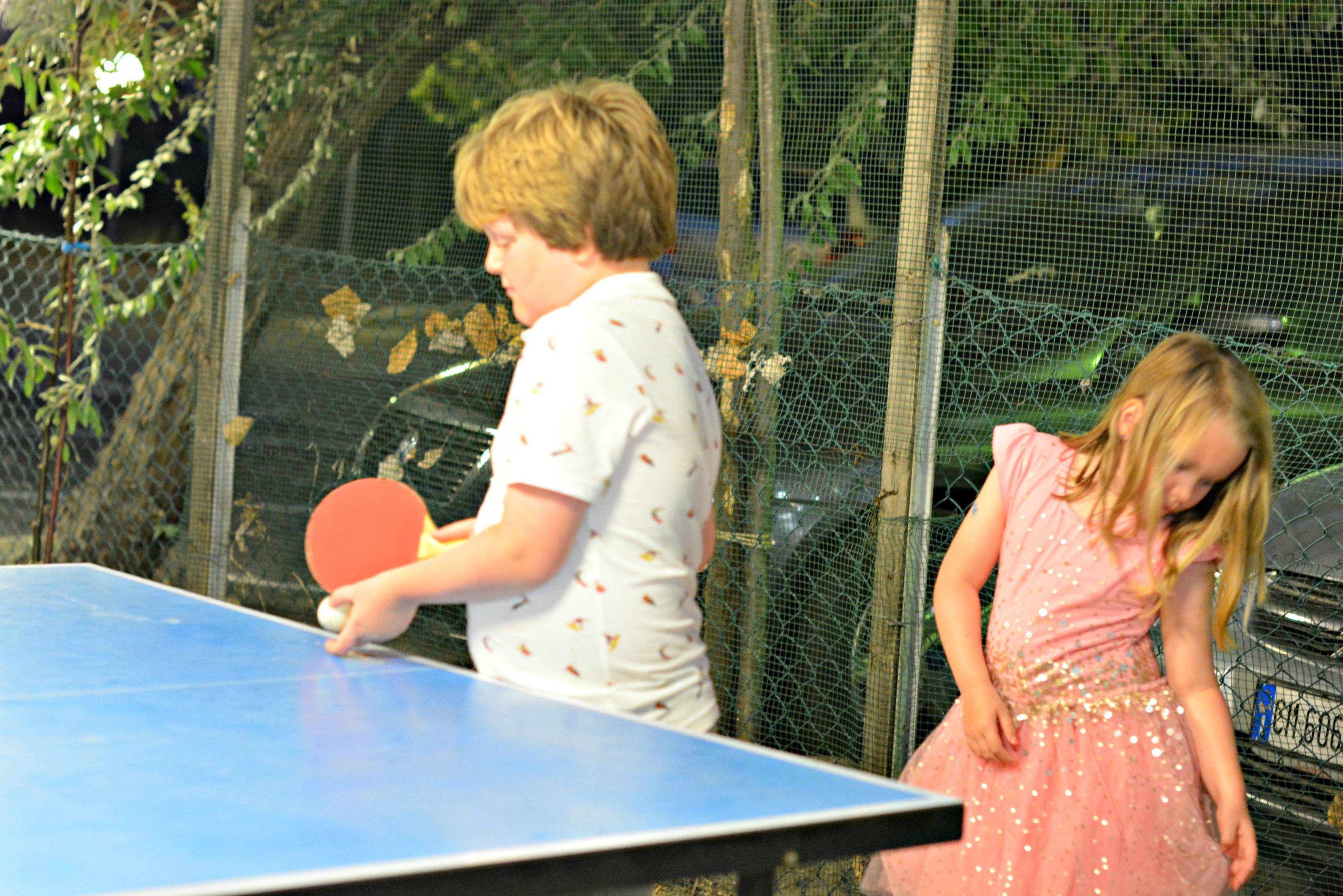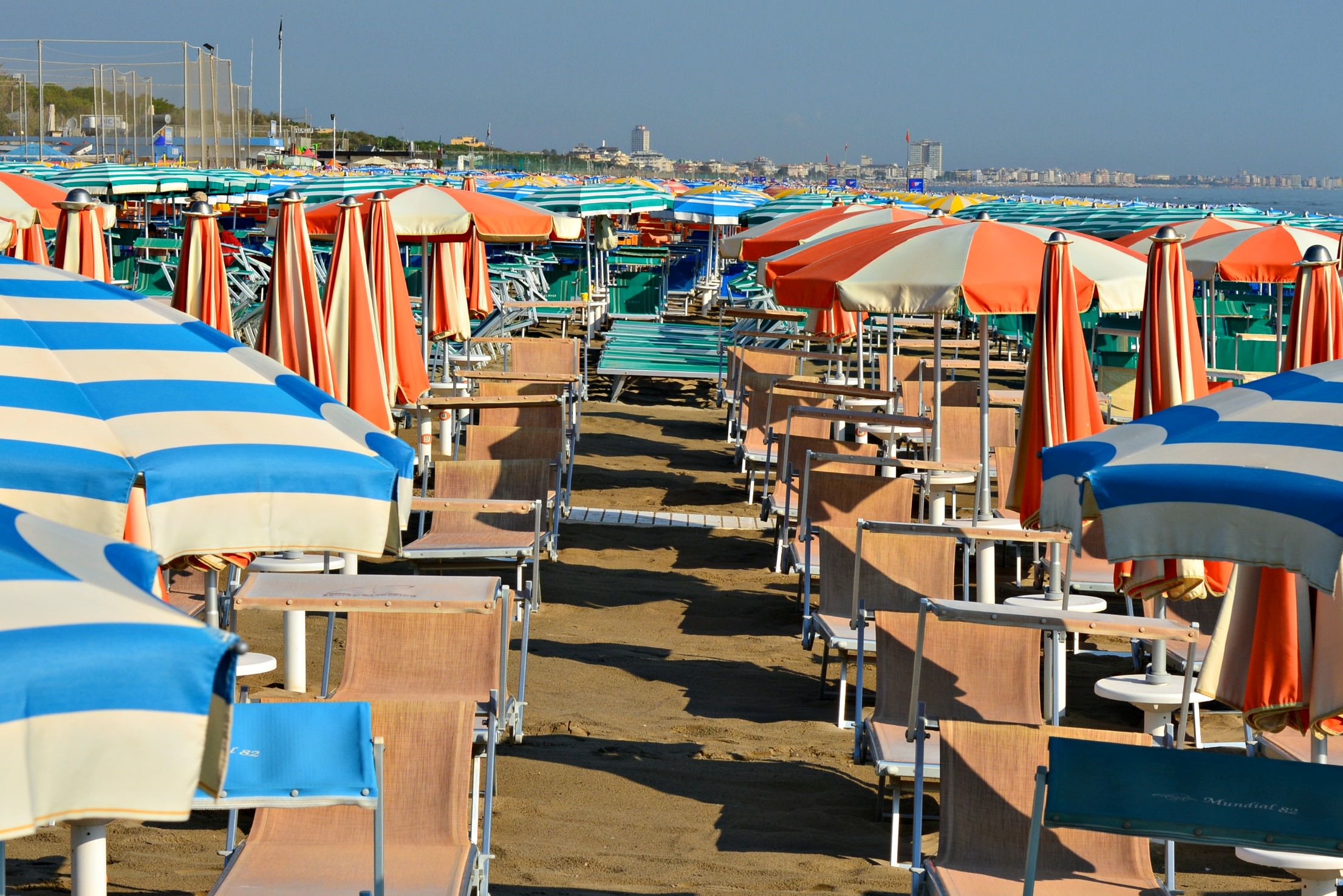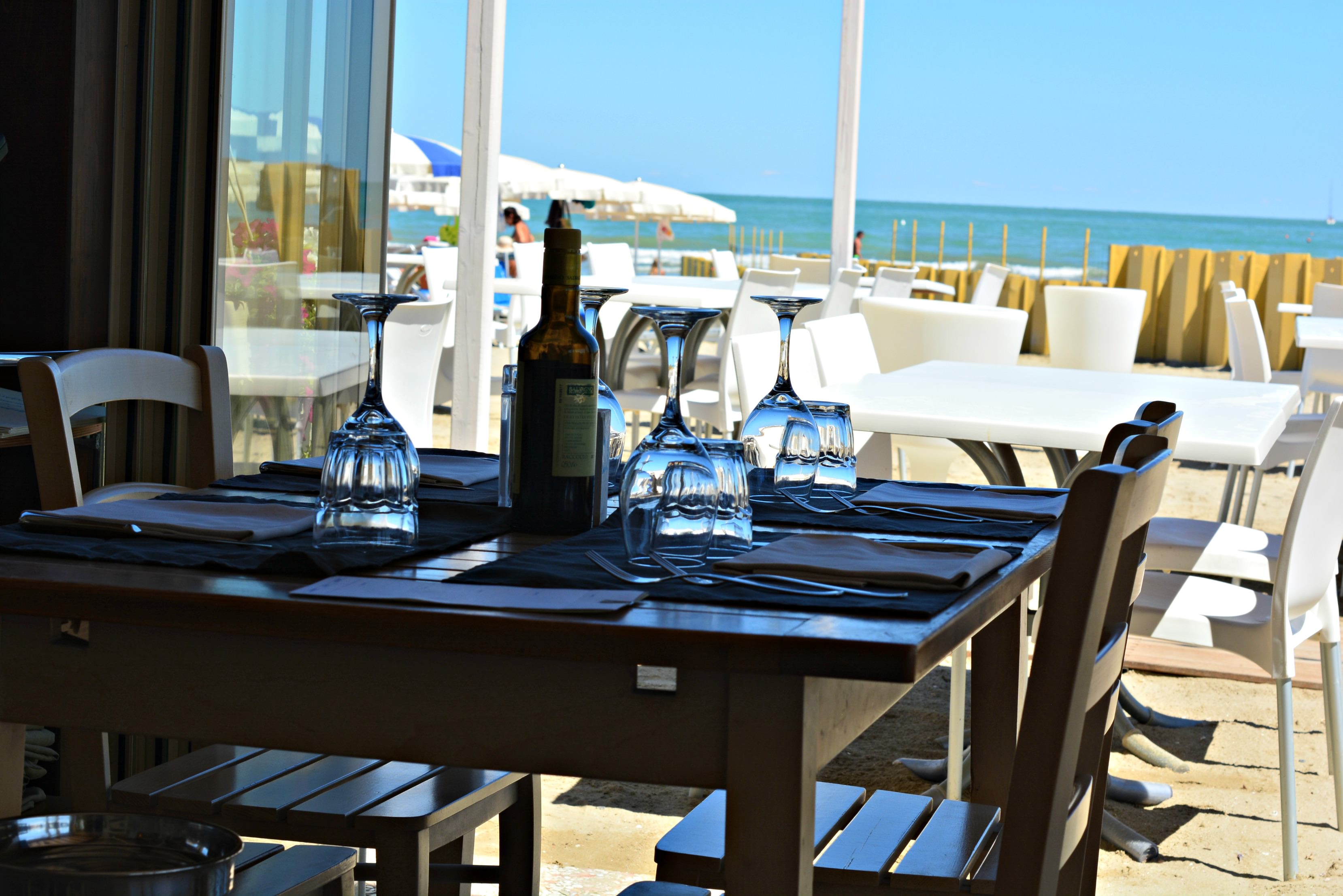 Jasper looking relaxed at the hotel, no small feat let me tell you.
Thanks for reading, Mx