Clip-In Hair Extensions may appear a lot of complicated faffing about but trust me they couldn't be easier to use. The reason is so ridiculously simple that at first glance I couldn't see how they actually worked! Do you ever do that? DOH!
I'm old school hairdressing, so far back in time that I had to fly across the planet to L.A to learn the art of permanent Hair Extensions. There literally wasn't a hairstylist in Sydney who could teach me how to do it!
Of course that technique is long dead, although I did make a fabulous tax claim trip to Los Angeles. Additionally it meant I could spend some time with my gorgeous ex-teacher the fabulous Make-Up Artist Miss Tina Hutchence, whom I totally adored. Ahh the city of Angels,
such wonderful memories….Whoops off track again, soz.
The Clever little Clip
So here it is the clever little clip that enables you to painlessly attach various widths of hair wefts to your scalp.
It works just like those simple snap clips we used as kids to hold back an unruly fringe or prevent stray side pieces falling out of a pony tail. Do you remember? Hahaha well it took me a few minutes to realise that's exactly how these clips also work because they clearly look nothing alike. All you do is snap the comb-like clip open before you begin. The thin rubber pad you can see prevents the comb from slipping & pulling at your hair.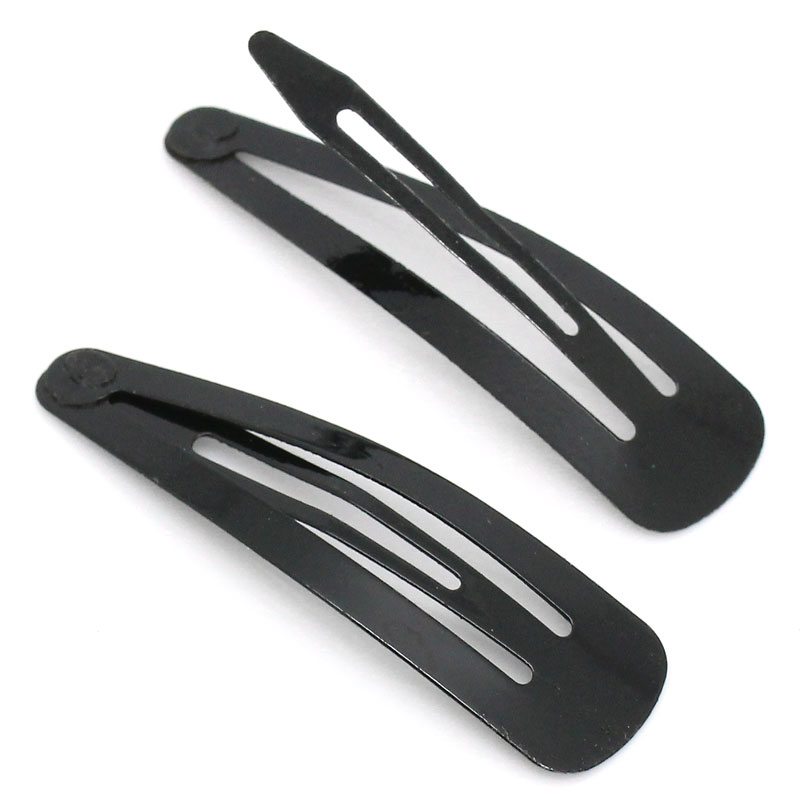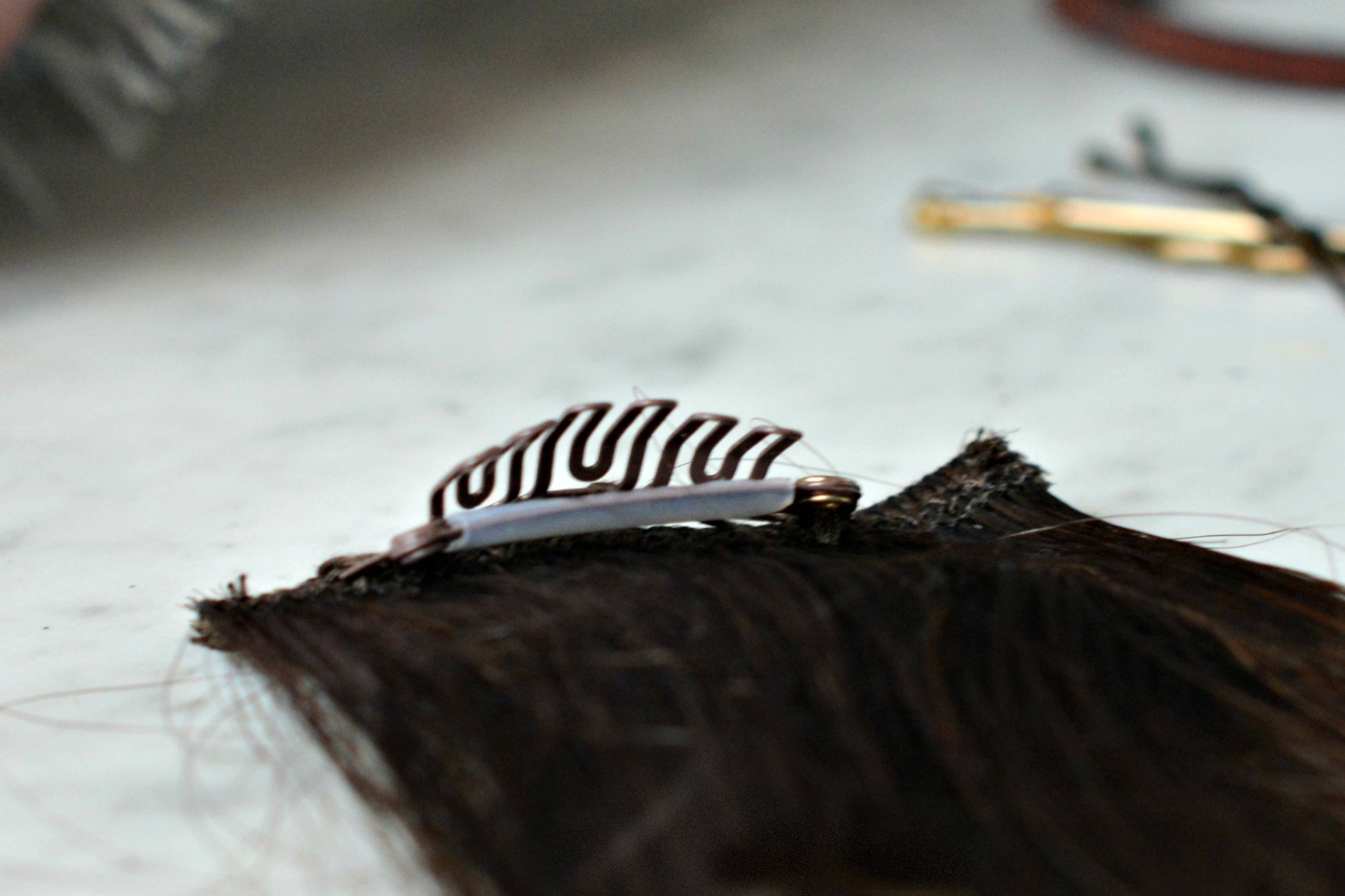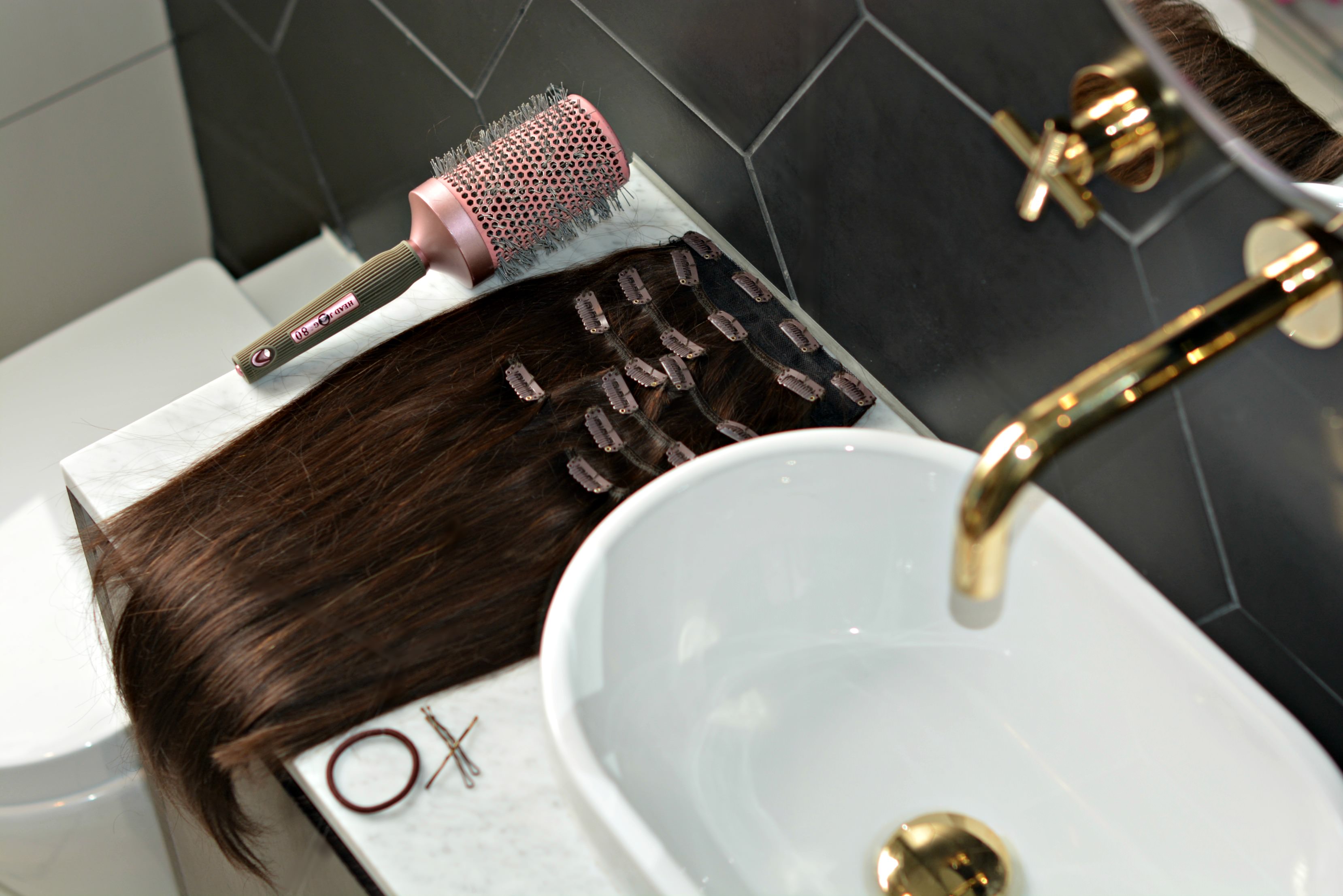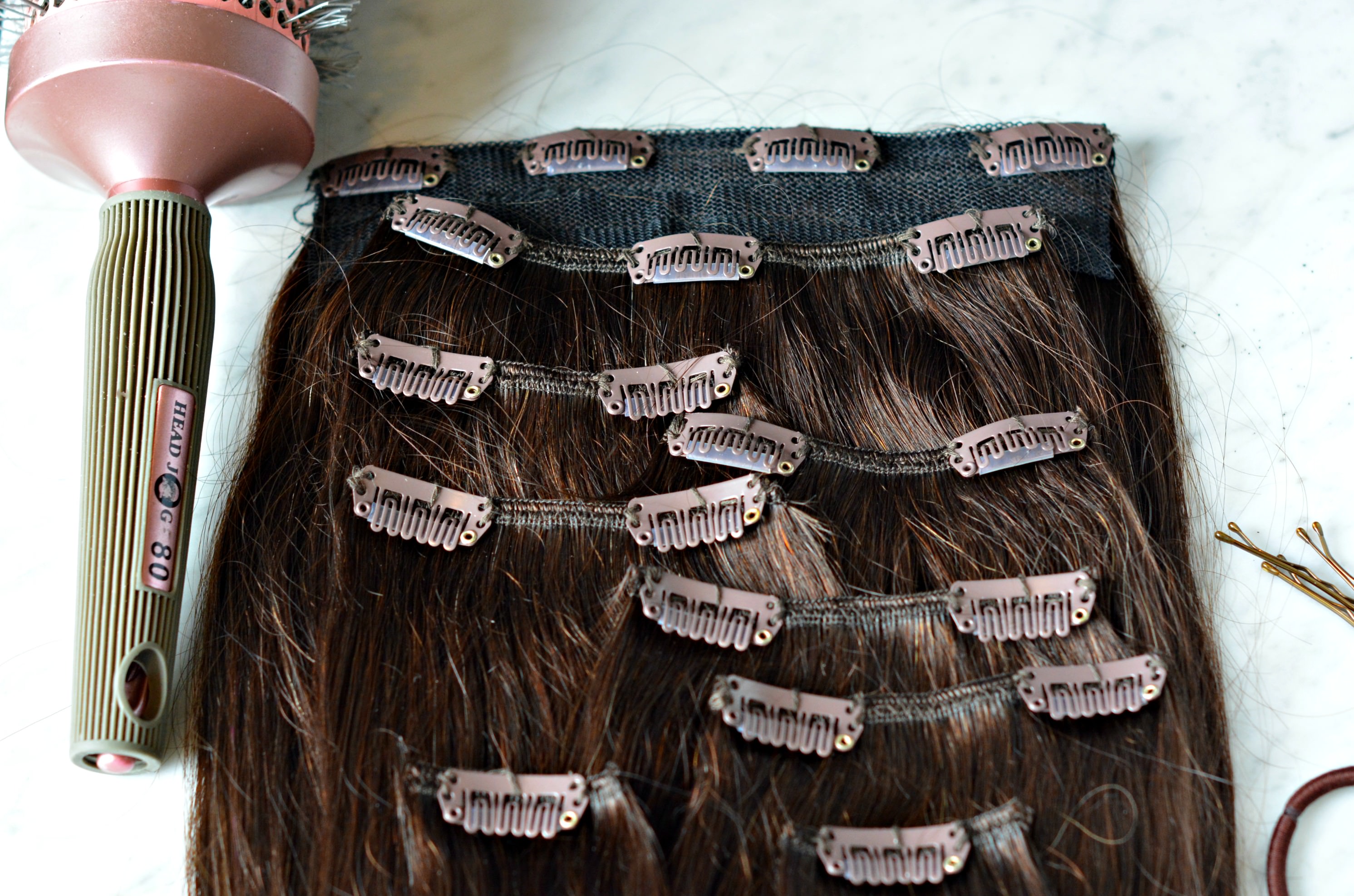 My full head of Clip-In hair
The full head of Irresistible Me Clip-in Hair comes with individual wefts of varying widths. These include the widest weft consisting of 4 clips, one 3 clip weft, 5 x 2 clip wefts & 2 single clip wefts. I've laid them all out to demonstrate the reason for these specific sizes is that our heads are curved. Each piece can be positioned to suit any particular head size, I mean good quality hats don't come in one size right?
So to fit the full head start by securing the 4 clip weft from just above one ear across to the other ear, basically the widest part of your noggin. Then you work your way down using the next largest weft of 3 clips followed by the 2 clip weft & lastly the single clip weft. Finally, secure another 2 clip weft in front of the first one or if you have enough surface area, you can use 2 of these side by side. Each person will have a slightly different fit depending where they space the wefts out & how much volume is needed. For example you may not need to use the single clip weft or one of the doubles at all. Does that all sound a bit complicated? It sounds way too time consuming for my liking & to be honest, I wouldn't bother with it.
Never the less I do recommend buying the full head as opposed to a single pony tail piece & here's why – Individually these wefts all have purpose more over some work exceptionally well when combined. In the hairstyles I'm taking you through today I've utilized every single weft, beginning with the largest made up of 4 clips.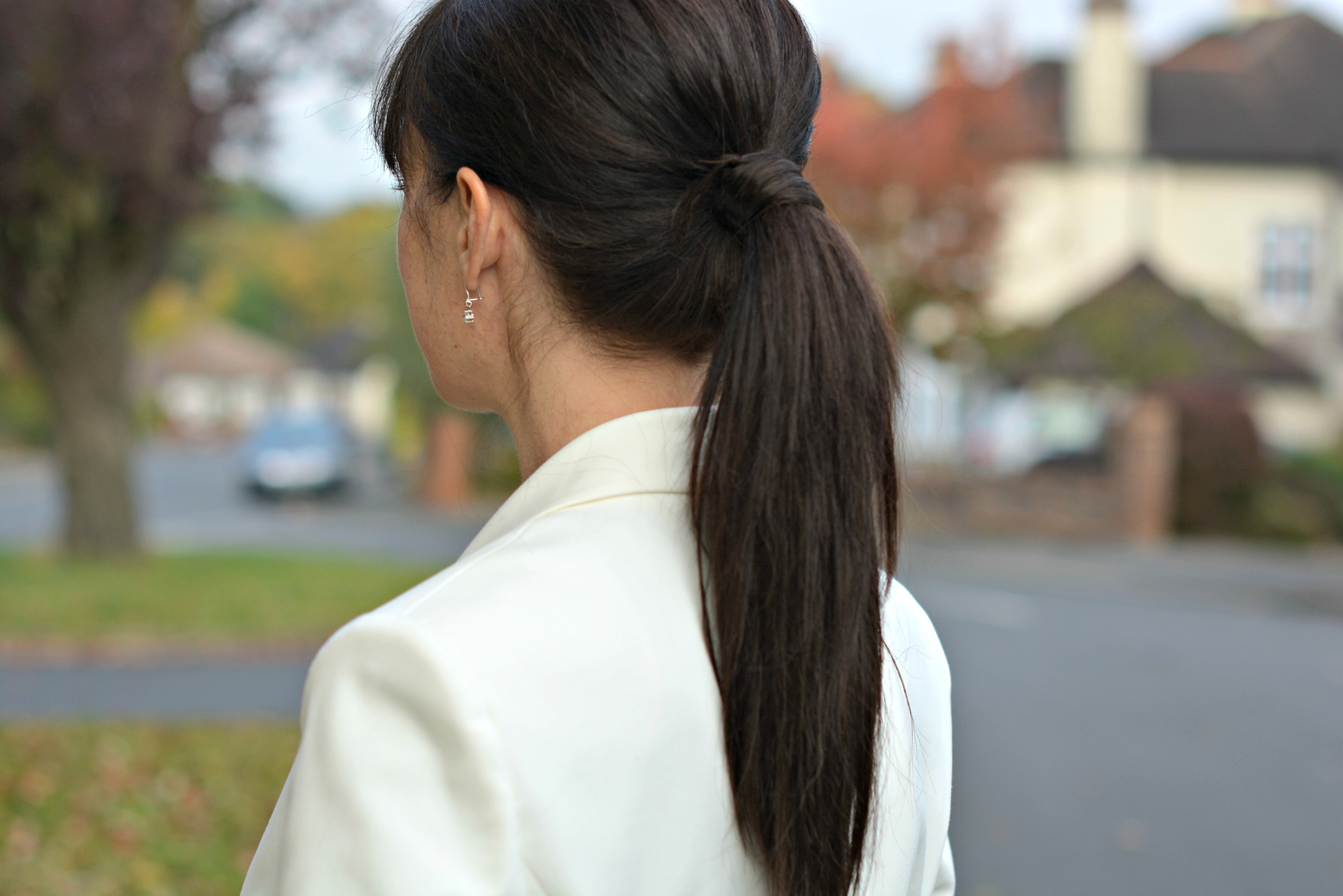 The Pony Tail
O.K lets begin with the easiest hairstyle in the world, the pony tail. To achieve a luscious thick pony is to elevate this look beyond utilitarian & you can do it simply by using the 4 clip weft. Before fitting the Extension piece straighten your own hair & apply a gloss then straighten the weft & put it to one side for a moment. Be sure to also style your fringe (if you have one) otherwise it's hard to avoid messing up your finished perfect pony if you wait until the end. Next make a part from just above one ear across to the other ear & clip away the top section of hair. For clarity you can watch me do this in the Vlog above.
Now snap open all the clips & hold the hair piece against that part you made ensuring the clips are level at either side of your head. Starting in the middle, gently slide one clip at a time against your scalp into your hair & snap closed. Hey Presto!
Next take the hair you clipped out of the way & give it a light back comb with a barrel brush to create a little lift off your scalp. This part is optional although it does tend to give the look a hint of glam, wouldn't you agree? When you lightly brush all your hair into one bunch you should position the pony tail either at your nape or just underneath your crown where mine is in this instance. You merely hold it all together with a hair band that's the same colour as your hair then take a small piece of hair & wrap it around the band to disguise it. Secure that hair in place with a bobby pin. If you want to spray it all you can yet there's probably no need in fact the pony tail will appear completely natural & soft if you don't use hair spray at all. You can see more of this look here.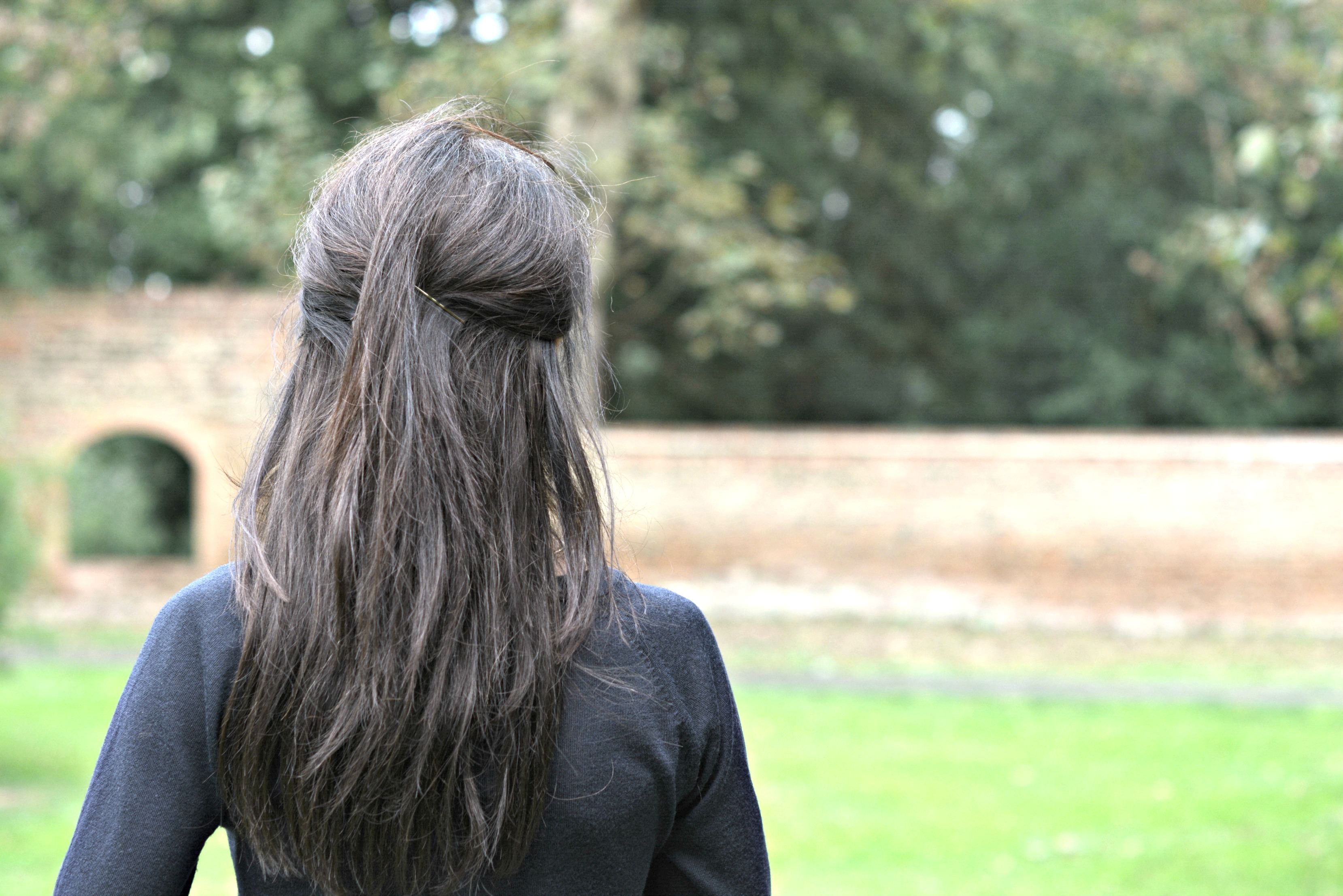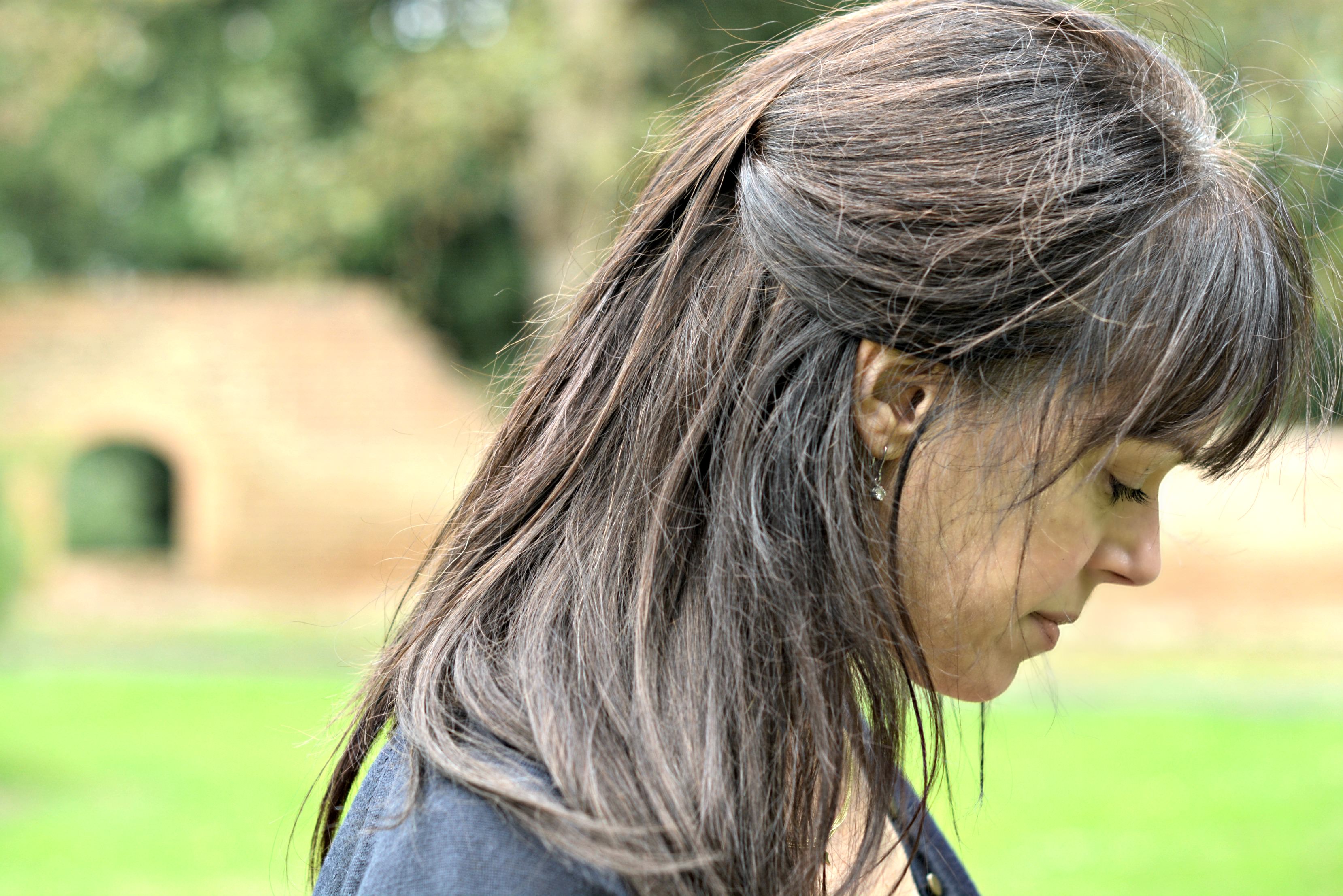 Half up Half down hair do
This hairstyle starts the same way as the pony tail in as much as you're using the 4 clip weft first although their isn't much need to straighten the hair unless you really want it poker straight. After you've attached the wide weft make another part just below it for the 3 clip weft to be fitted. By adding the second largest weft you're effectively giving a natural graduation to the layers therefore blending all the hair together. You see that in the photos I hope. Next if you wish you can do a little back combing to the crown as I've done then simply take each side section of hair in front of your ears & pin them together at the back.
For me this style works best when it doesn't look too "done" so I carefully pull out some loose pieces at the front to make it slightly messy. God forbid I end up looking too prim & proper, Heeheehee
More angles of this style here.
Messy ballet bun
OK so this is super easy & probably my most favourite of all. Go ahead as if you're doing the pony tail low down at the nape but without straightening the hair beforehand. Once you've got your pony in the hair band simply twist it then wrap it around itself & secure with a couple of bobby pins that match your hair colour.
After it's all nicely in place what I do is kinda mess it up a bit by gently pulling at the bun. It's hard to explain so take a look at this Vlog I made a while ago. And just by the way, I know the video is too dark but please bear with it, you will see the way I messy up a bun at the end. Don't worry it's not very long. I really should re-shoot that Vlog actually….
For more images of this extra full ballet bun click here.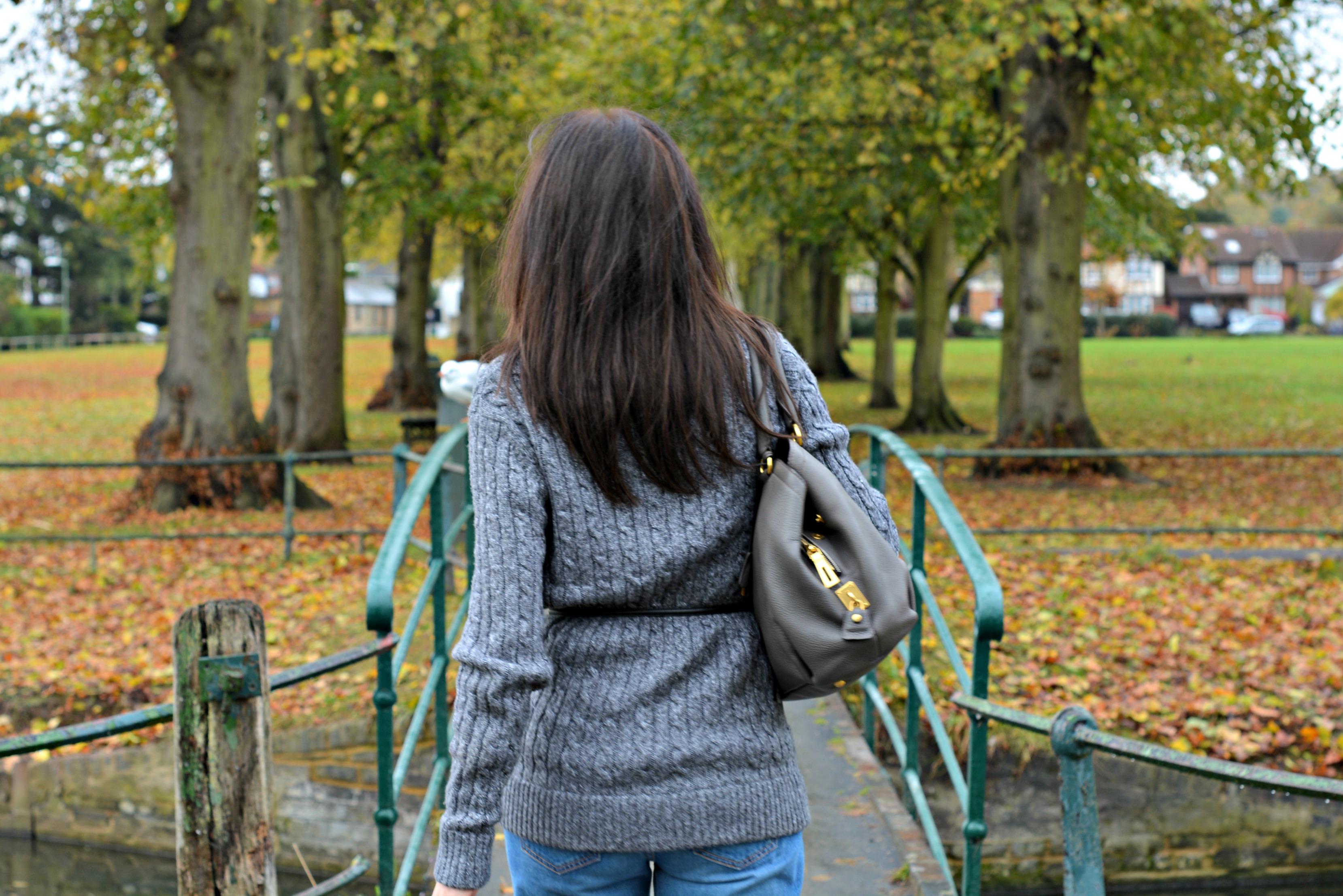 Hair down with extra volume & length
This final hairstyle for today's post was for my MENOPOST!
Yes I've coined a special word for my posts about Menopause – Why not?
It really is incredible how young & nubile one feels with a thick head of luscious hair. Totally mental really but hey ho there it is. Now for a casual hair down kinda day I wanted a little extra volume & length however I wasn't up for doing the full head thang & frankly I didn't believe it was necessary. Therefore I gave this a whirl, let me know what you think – Personally I'm feelin' it & importantly for me this hairstyle remains natural looking. You can see more of pics of it here. If you need a reminder of how my hair looks without extensions this post is recent.
Again I started with the wide weft of 4 clips although I positioned it slightly higher. I then added the 3 clip weft directly underneath, which is pretty much where the bigger one would usually be. Immediately under that one I secured a 2 clip weft which finished off a lovely cascading layer.
To add volume to the naturally sparse sides of my hair I fitted a double clip weft horizontally at either temple. The entire process took about 10 minutes which is longer than I usually spend on my hair but perfectly acceptable for the odd occasion.
I quite like the appearance of the end result which is a bonus as I definitely wouldn't tolerate having the entire full head clipped in. And although the comfort factor wasn't as high as the other styles, particularly the bun which was imperceptible, It was absolutely fine for a day.
For full disclosure I should add this is not a sponsored post. I haven't tried any other brand of clip-in hair extensions so I can't comment on what else is available but I can in all honesty highly recommend these ones which are made from real hair & genuinely feel amazing. This brand ship internationally so if you'd like to purchase a full head online click here , they start at US$90 – An excellent price for what is essentially a hell of a lot of hair!
Oh one last thing, make sure you watch their video on how to choose your colour match, it was really helpful for me.
See ya, M