You know when you want comfy casual but you don't fancy wearing jeans? What style of pants do you go for? The soft legs & elasticized waist or the stretch cotton trouser? Personally I love both & find them equally comfortable so either way I'm happy, it all depends on my mood I guess. My only requirement is that they look a million times more stylish than they feel on, if you get my drift? Basically I want to feel like I'm wearing tracky daks but be presentable in public. By the way I really don't like leggings so let's just get that out there now. Sorry if I've offended anyone but no, not ever. Leggings are terrific for the gym (which I also don't like) or little girls. So that's me out. End of. Now let's move on…
Merino, Silk & Cashmere blend Loungewear
This lounge suit is probably more commonly worn with ballet flats or trainers. However when I first laid eyes on the most elegant tracky I'd ever seen I knew that my toffee coloured Blahniks would scream out "pick me!". Of course I'm wearing what is essentially a high-end tracksuit, well to me the laziest person on earth, it is. My perfect off duty sloth out uniform elevated to glamour puss with one simple addition – sexy heels!
Since my awesome day at Stoke Park I've practically lived in this outfit due to the weather being so erratic. I love it with my Chanel ballets & it also looks gorgeous with my turquoise sandals but with these Loubys it is simply divine! So you see although it is essentially one style you really can alter the outfit quite a lot merely by changing your shoes.
Now ladies you are in for a treat because Winser London is having their sale & this tunic top has gone down to a measly £79. Not only that but the Miracle dress I wore here is now reduced to £99! You're welcome.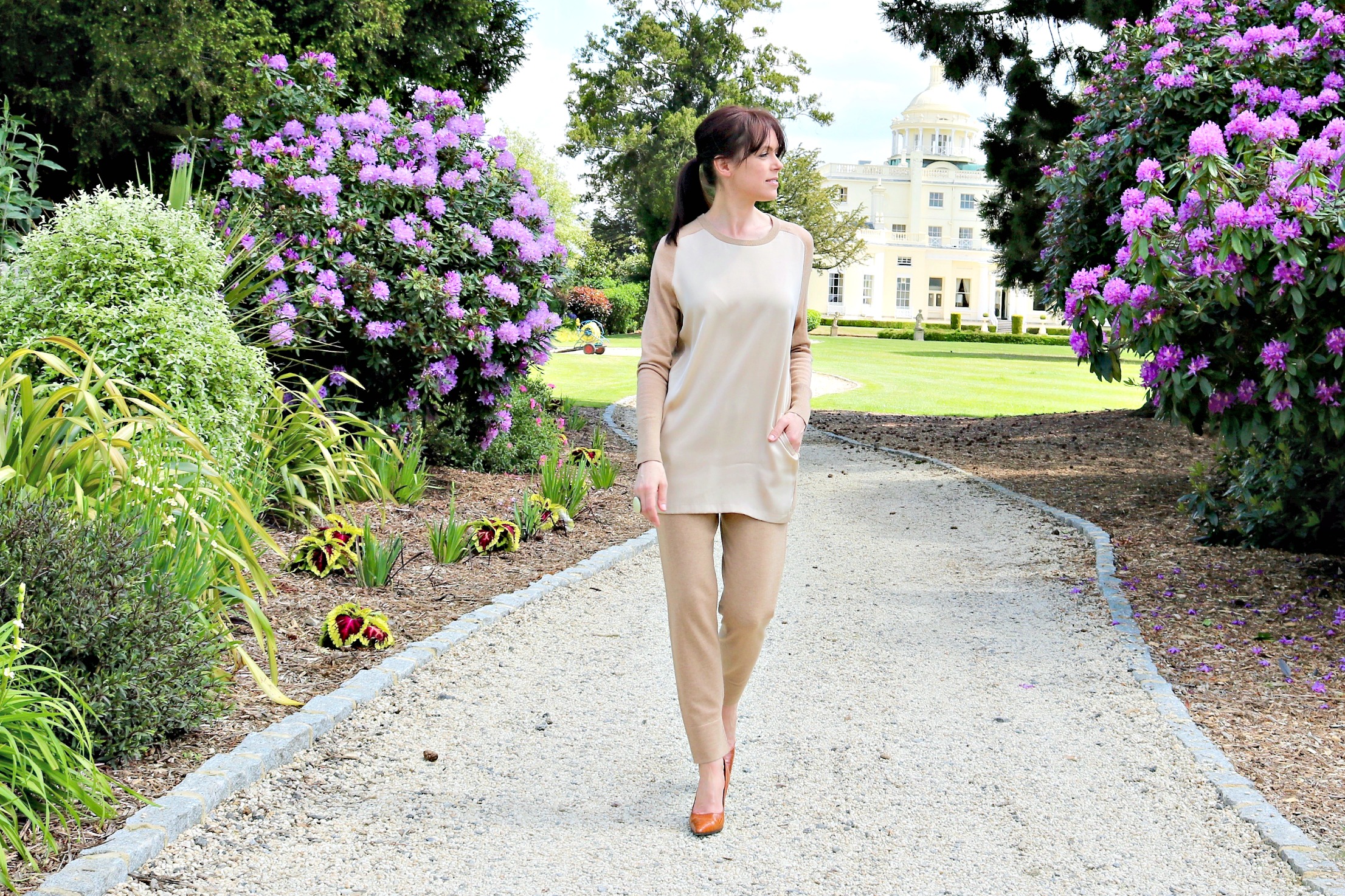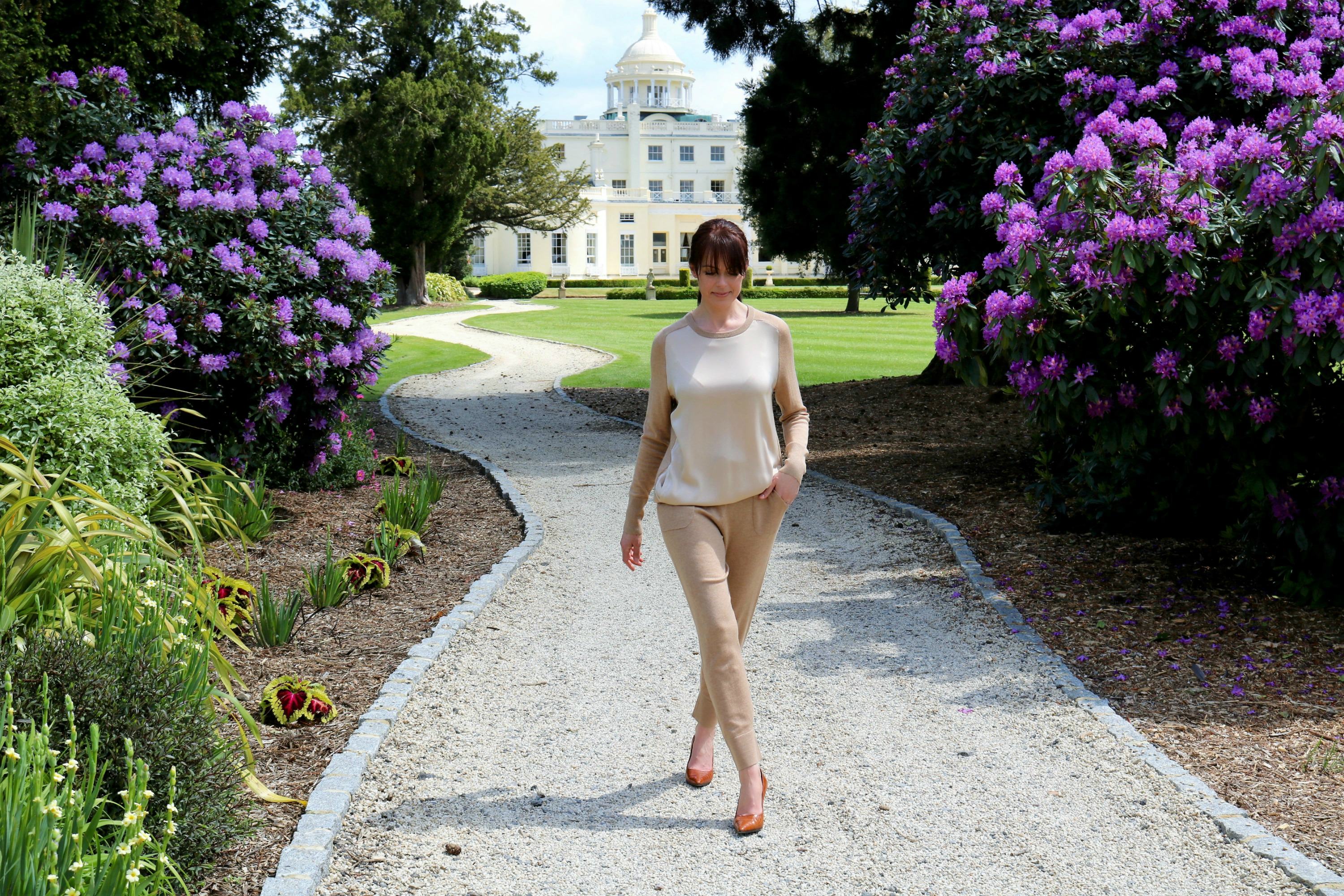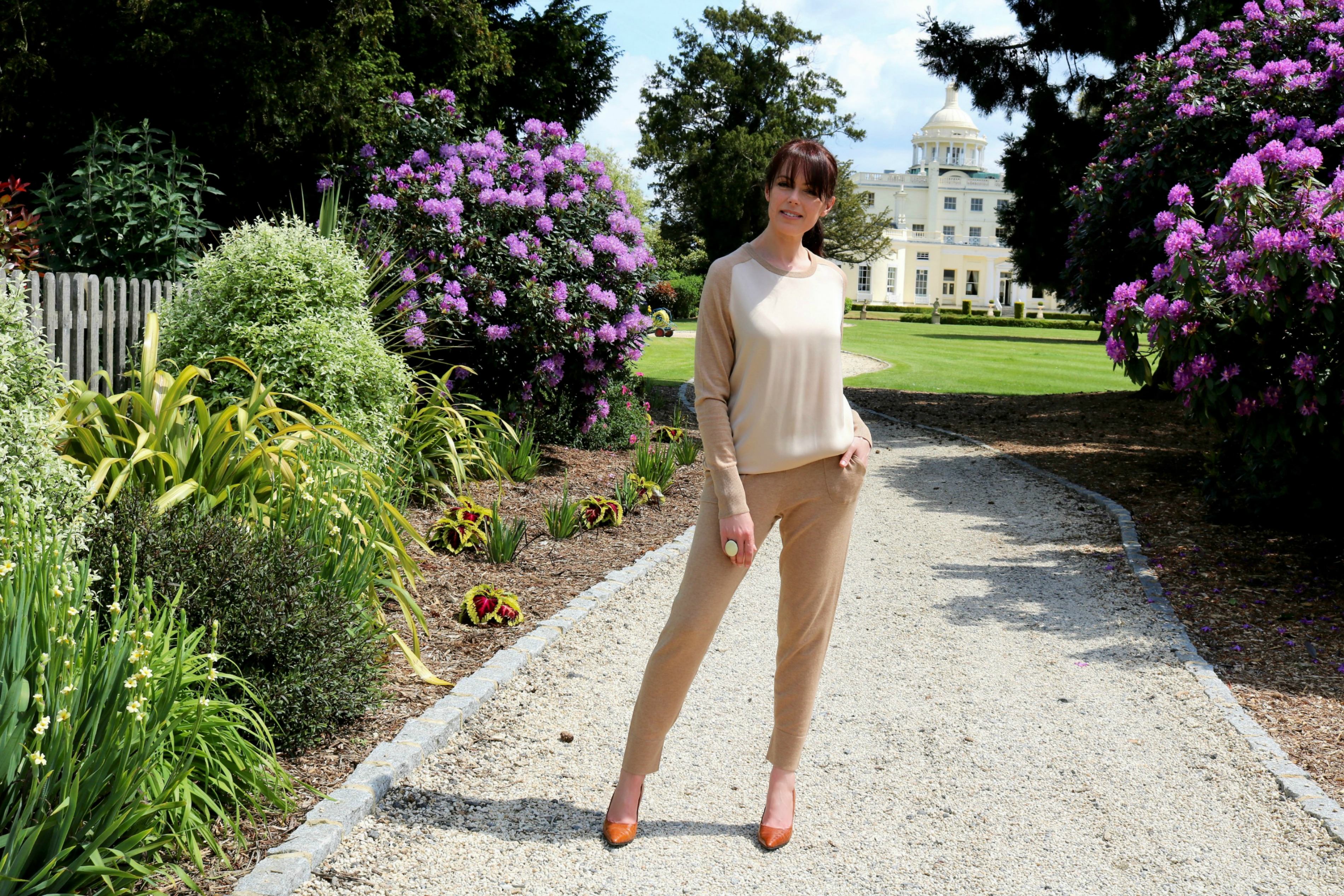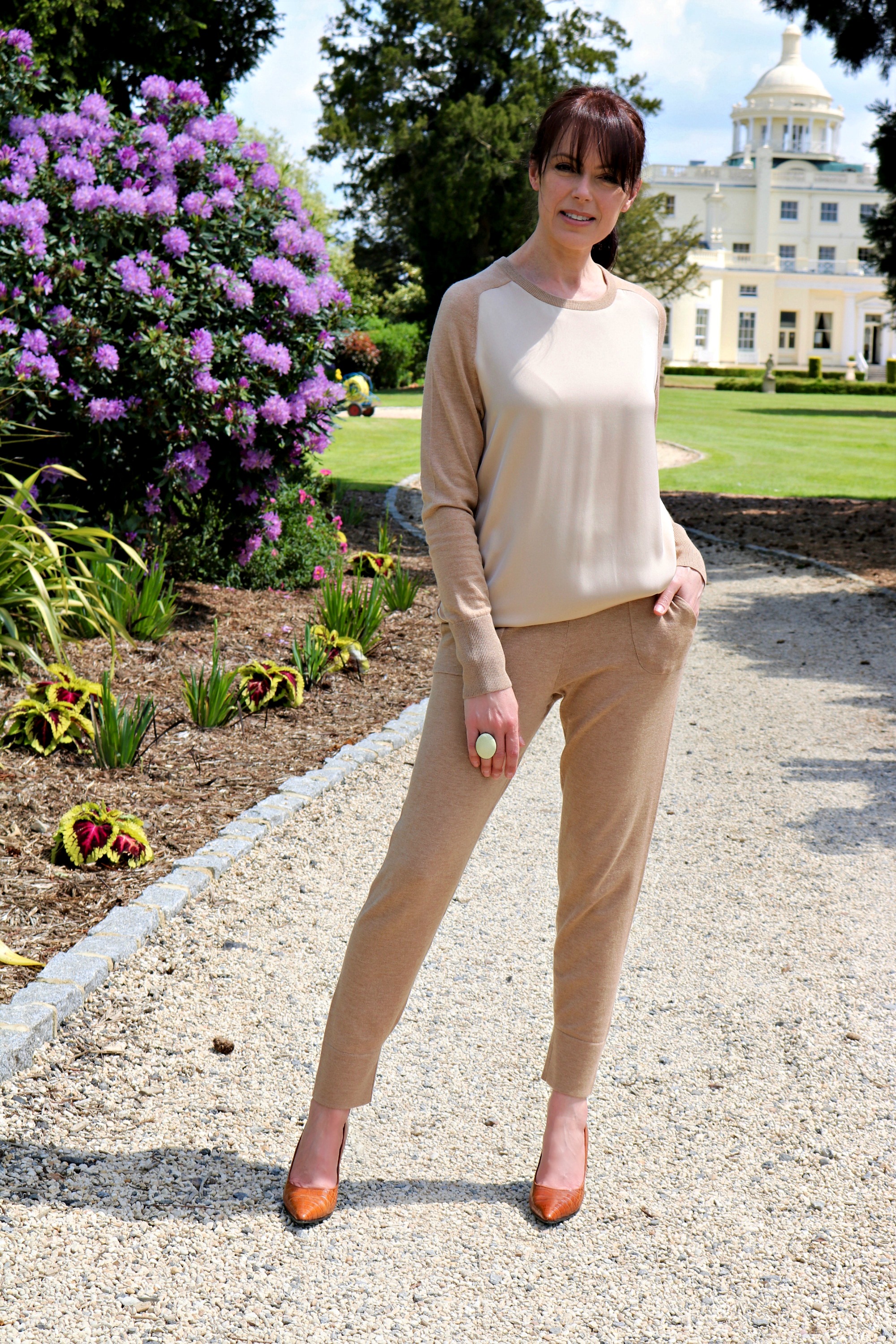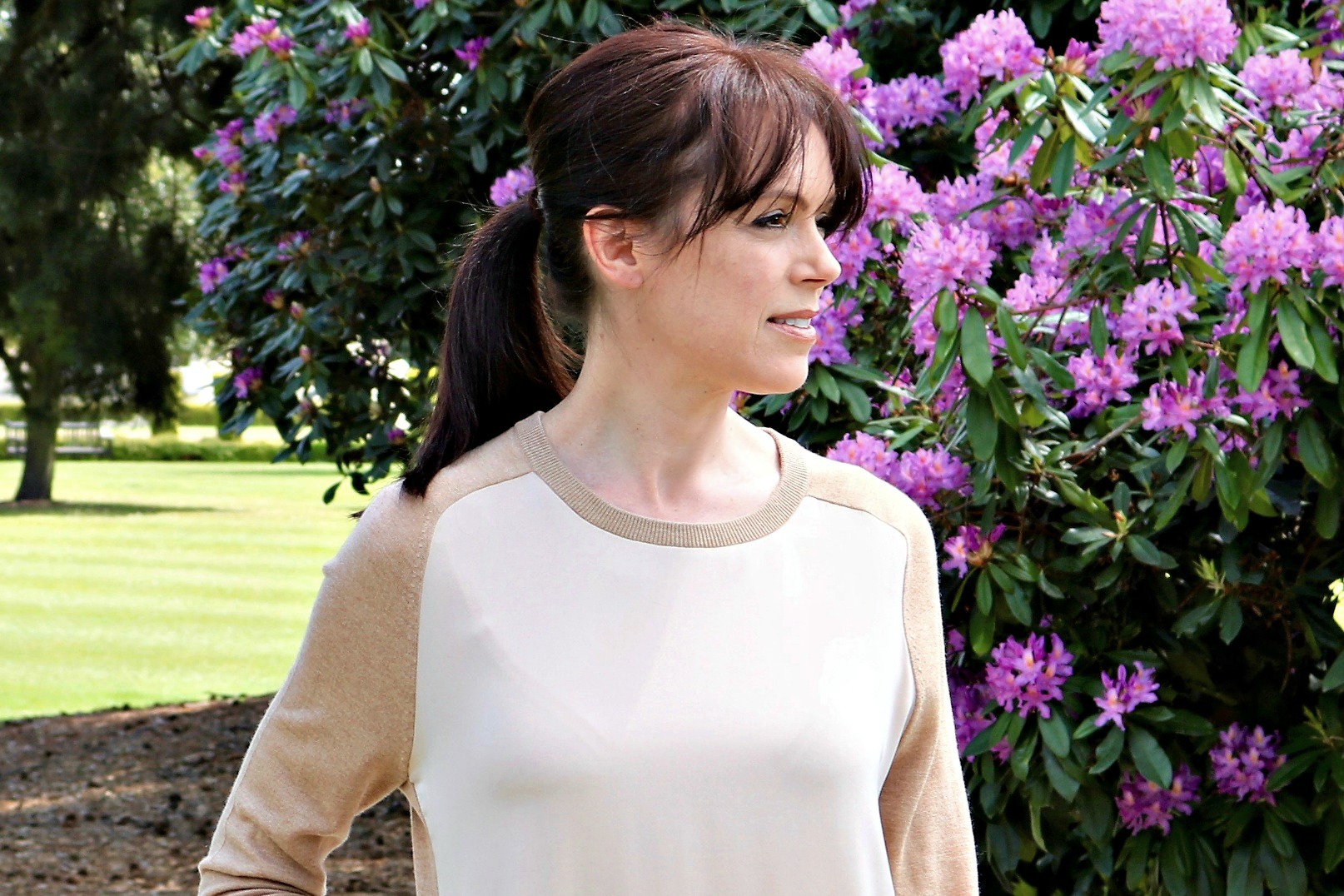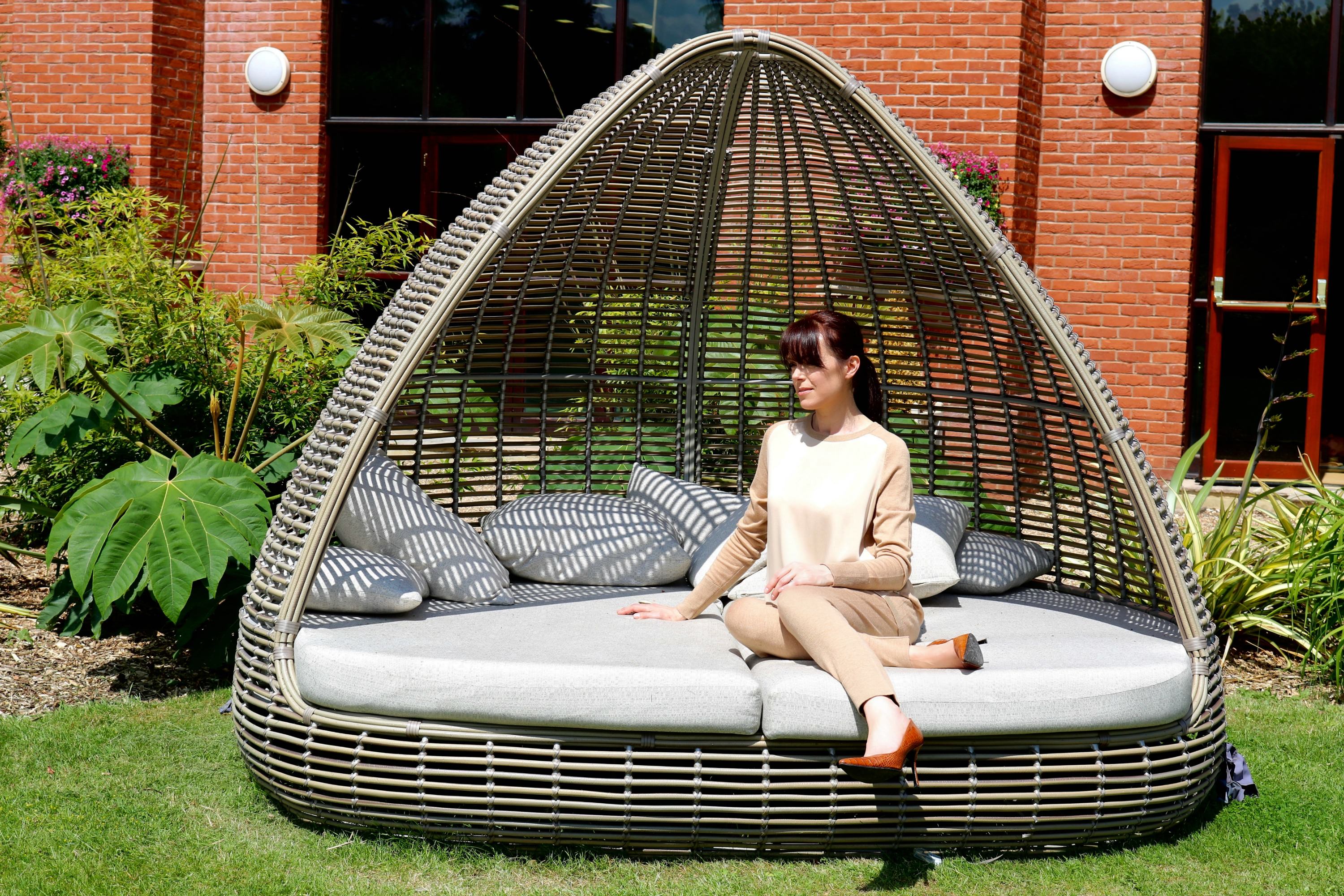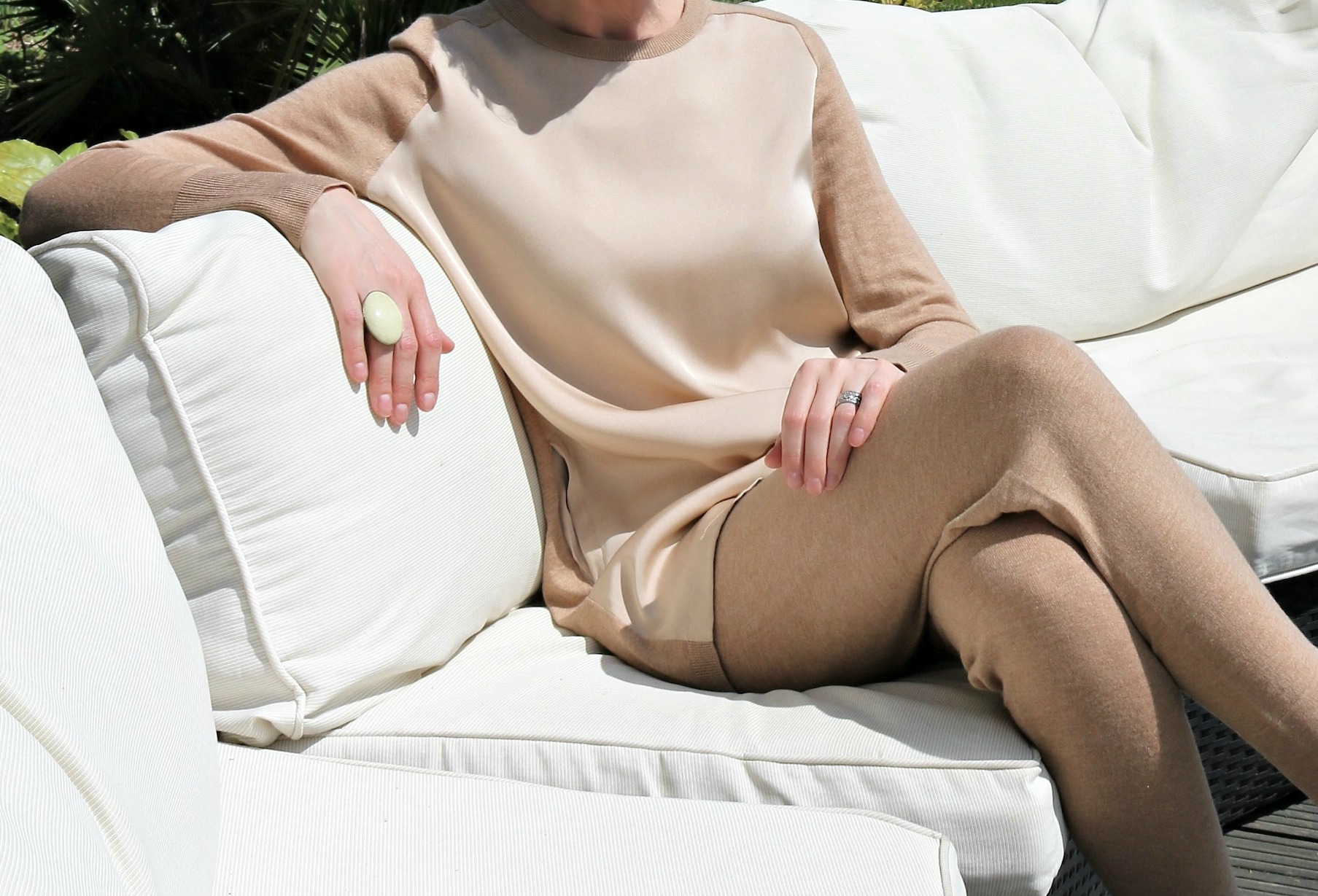 Lightweight Cotton Twill Trousers
Next up are my other favourite comfy casual pants, Winsers stretch cotton twill trousers. I paired this khaki pair with a contrasting pink preppy style Tee. Hopefully you can see how comfy these stretch trews are although they actually look super smart don't they? I'm wearing a tiny size 8 would you believe? I'm not sure if they appear too tight but I am certain they definitely don't feel it! I suppose a 10 would work just as well although if I were you I'd go a size smaller than your usual because the stretch makes up for any discrepancy & the cut is slim – Sexy slim, not we can see what you had for breakfast  tight. The side pockets not only add another stylish element they also disguise any lumpy bits. Plus I just really like pockets in pants, well skirts too actually. These classic trousers also style umpteen different ways as I'm sure you can imagine & they come in five fabulous colours! I also love them in white although I'd fold up the hems to get that Summer in Capri  vibe. Imagine how fresh & chic they'd look with your white shirt, roman sandals & basket bag? Oh please take me back to Positano now! These pants also make the ideal holiday hero piece & at £79 it's definitely worth buying a couple of pairs.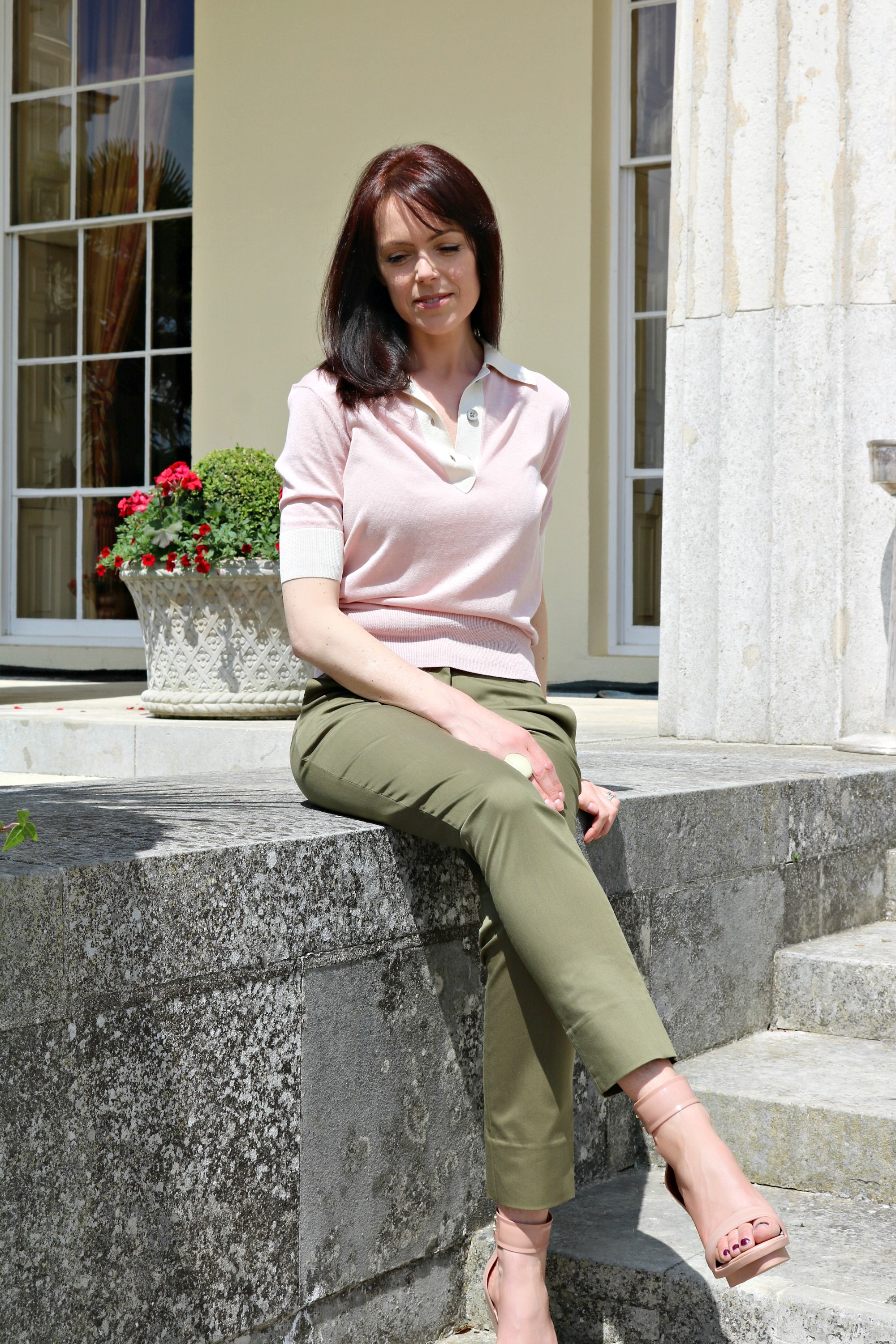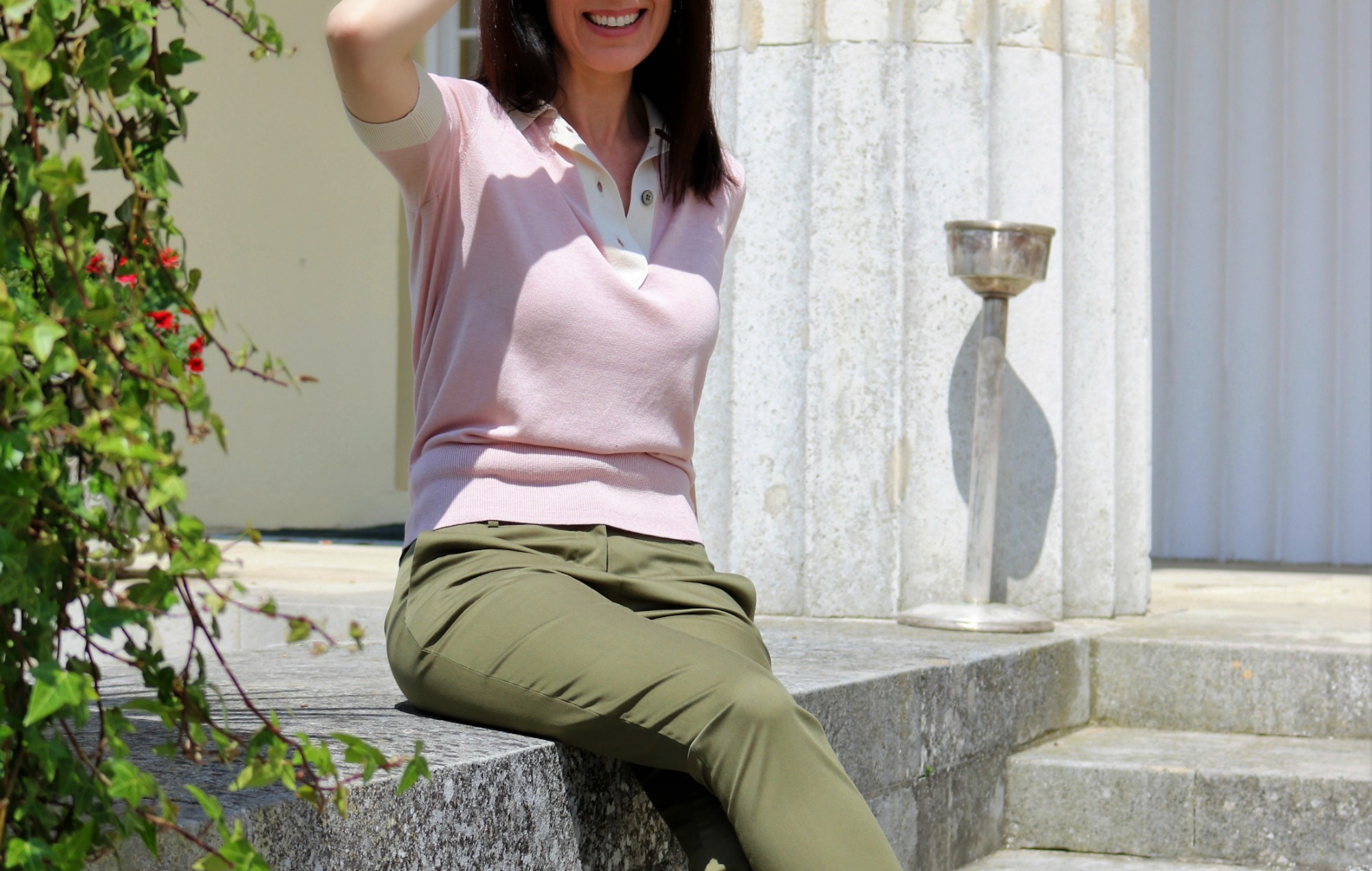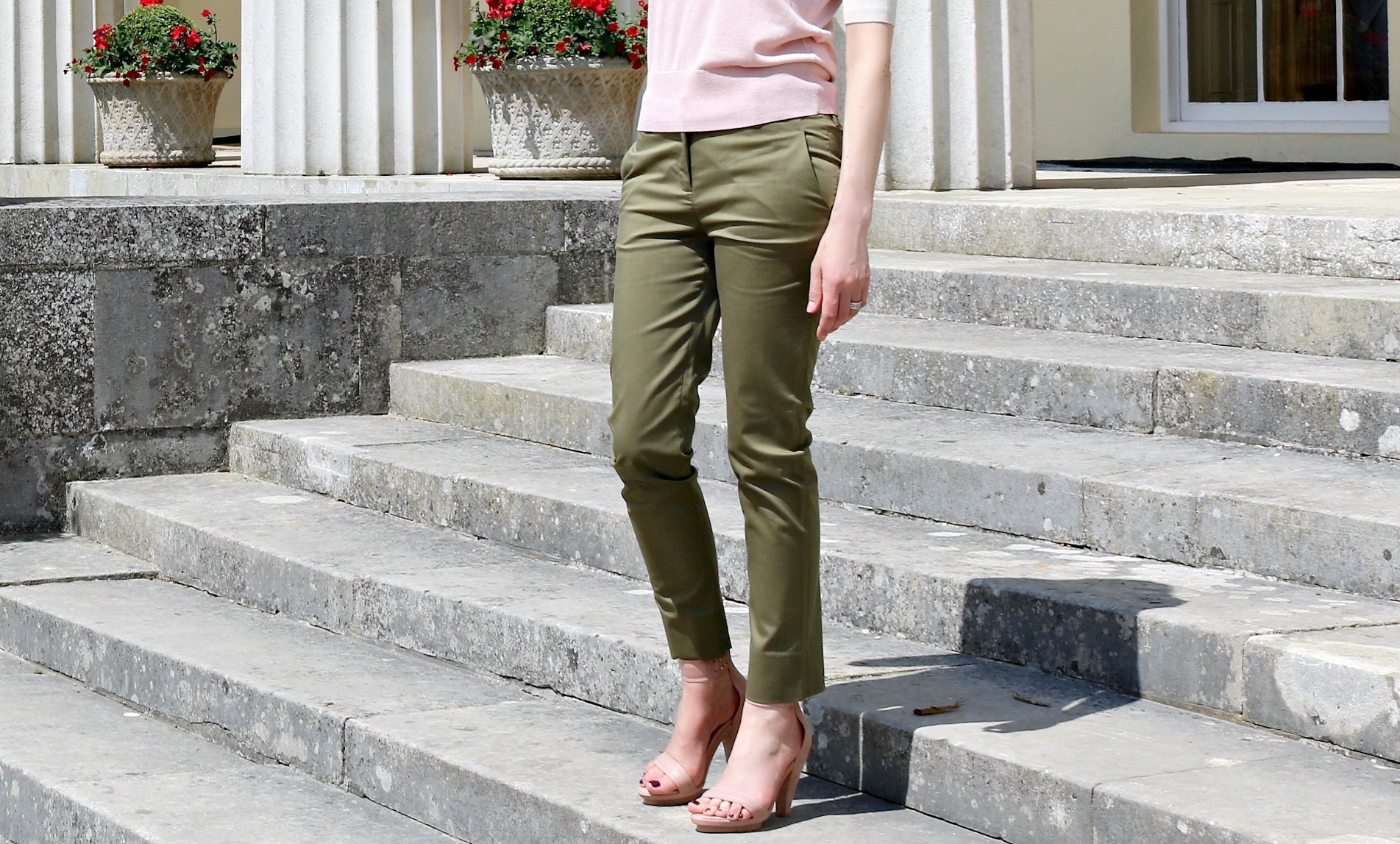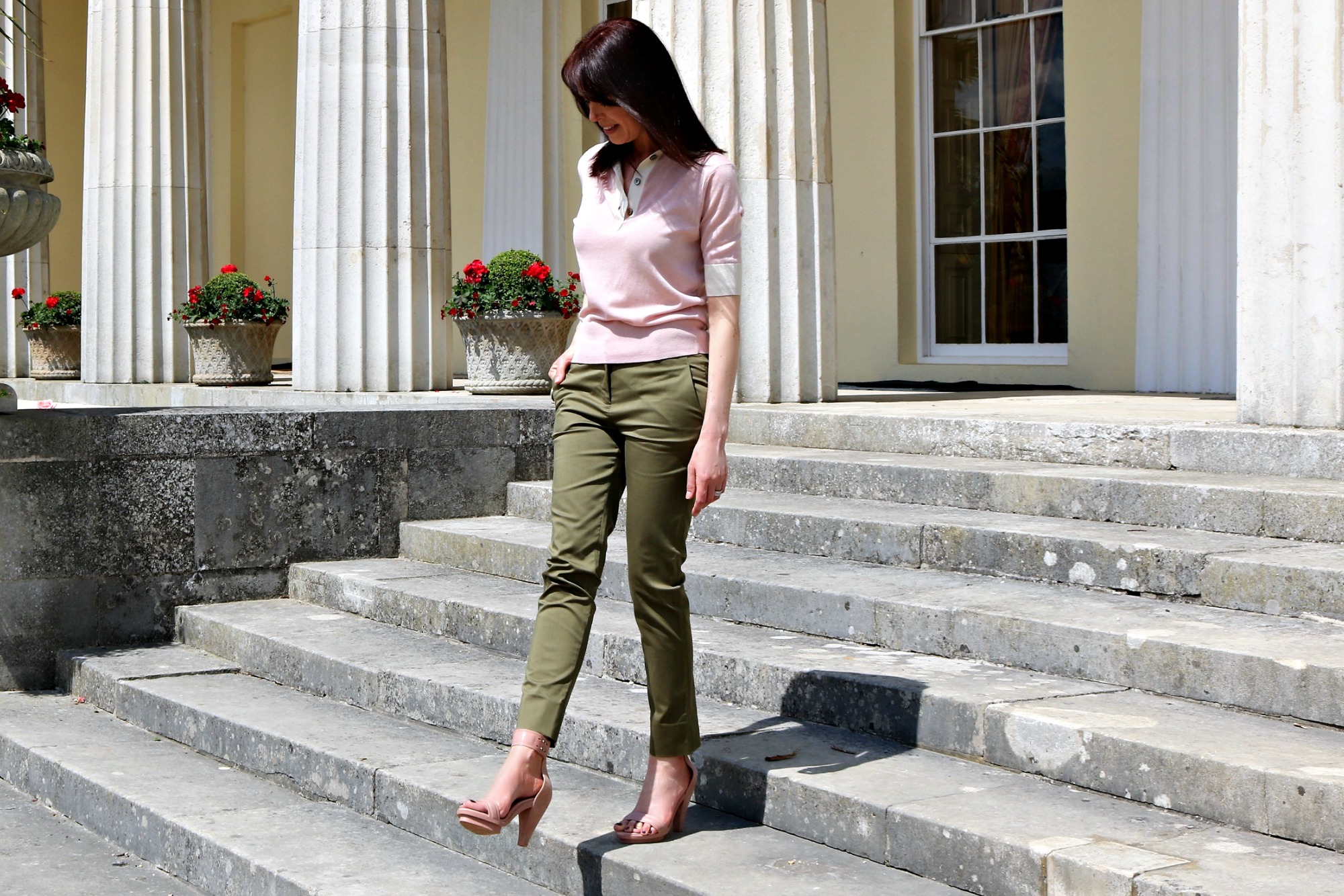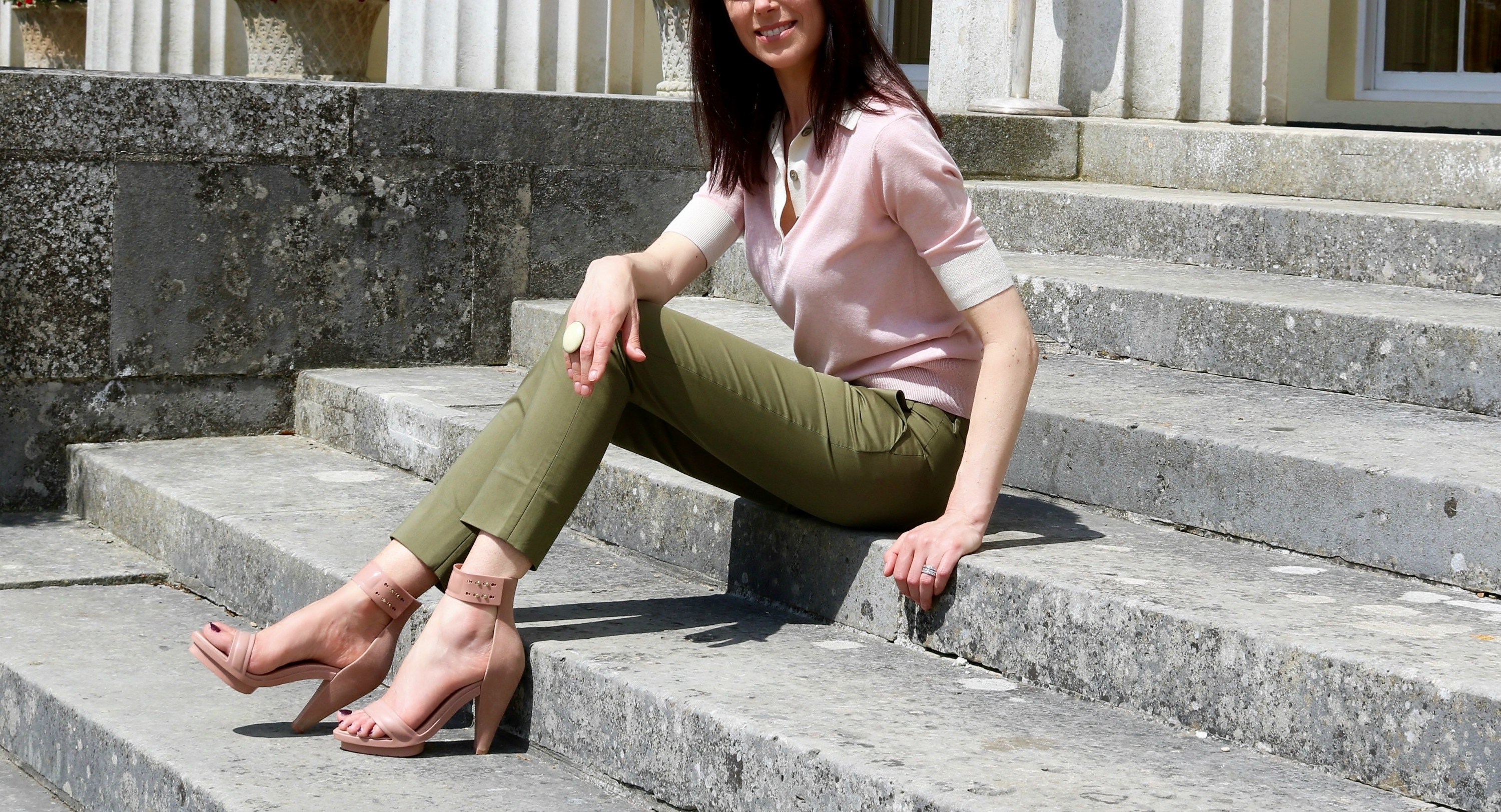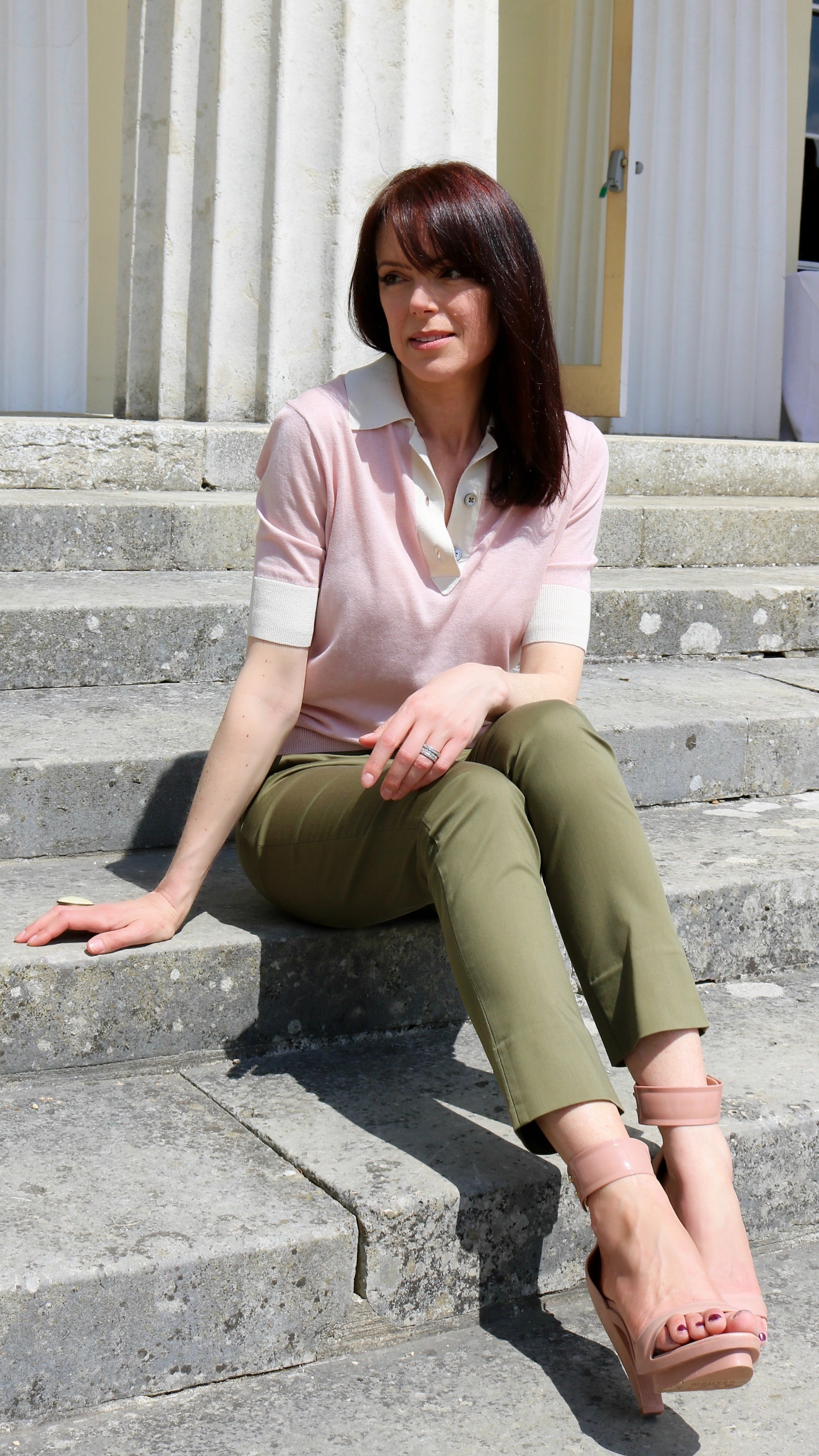 Many thanks to Winser London for providing all the outfits for this shoot & to Stoke Park for the wonderful location & facilities. Photographed by Libby Mclaren
Ciao mie Bellezze, I'm off to reminisce about my days in Positano xx
Summer Capsule Inspiration