Dubrovnik Old Town blew my mind…
In case you missed the back story on Instagram
my GF Suzy had organised a mini break for the two of us to celebrate my impending 50th birthday. She'd meticulously arranged a fabulous 4 days in Lisbon Portugal. However two days before we were due to leave RyanAir had a major meltdown of disgruntled pilots who made a mass exodus forcing the airline to cancel hundreds of flights! First our outbound flight was unceremoniously cancelled then a day later our inbound flight followed suit. This left poor Suzy with a day to re-book an entirely new trip from scratch!
What my clever & cunning friend decided to do was a fun way to also save time checking back with me on every detail. With my blessing she went ahead & made it a magical mystery tour. What is this you say? Well let me tell you this turned out awesome fun for me! I had absolutely no idea where I was going until I sat down at the terminal gate. Although Suzy did prep me with a few key factors before we set off…
Weather would be 24 degC during the day & slightly cooler in the evening so perhaps a light jacket was sensible.
Prepare for cobblestones. i.e. comfy shoes.
Take swimwear
We're flying out of Stansted
Don't take Euros
With those clues my Husband Mark had fun trying to work out where I was going but I quite enjoyed the mystery of not knowing. In hindsight we could've carried the game on further with the aid of a blindfold. It really was hilarious & a bit mad which is exactly what you need when you're about to turn 50 right? If you fancy taking your friend on a magical mystery tour let me know how far you get. I was absolutely stoked to discover we were going to Dubrovnik. I knew very little about the place so was excited to visit somewhere new. What I wasn't expecting was to fall madly in love with the charming Old Town.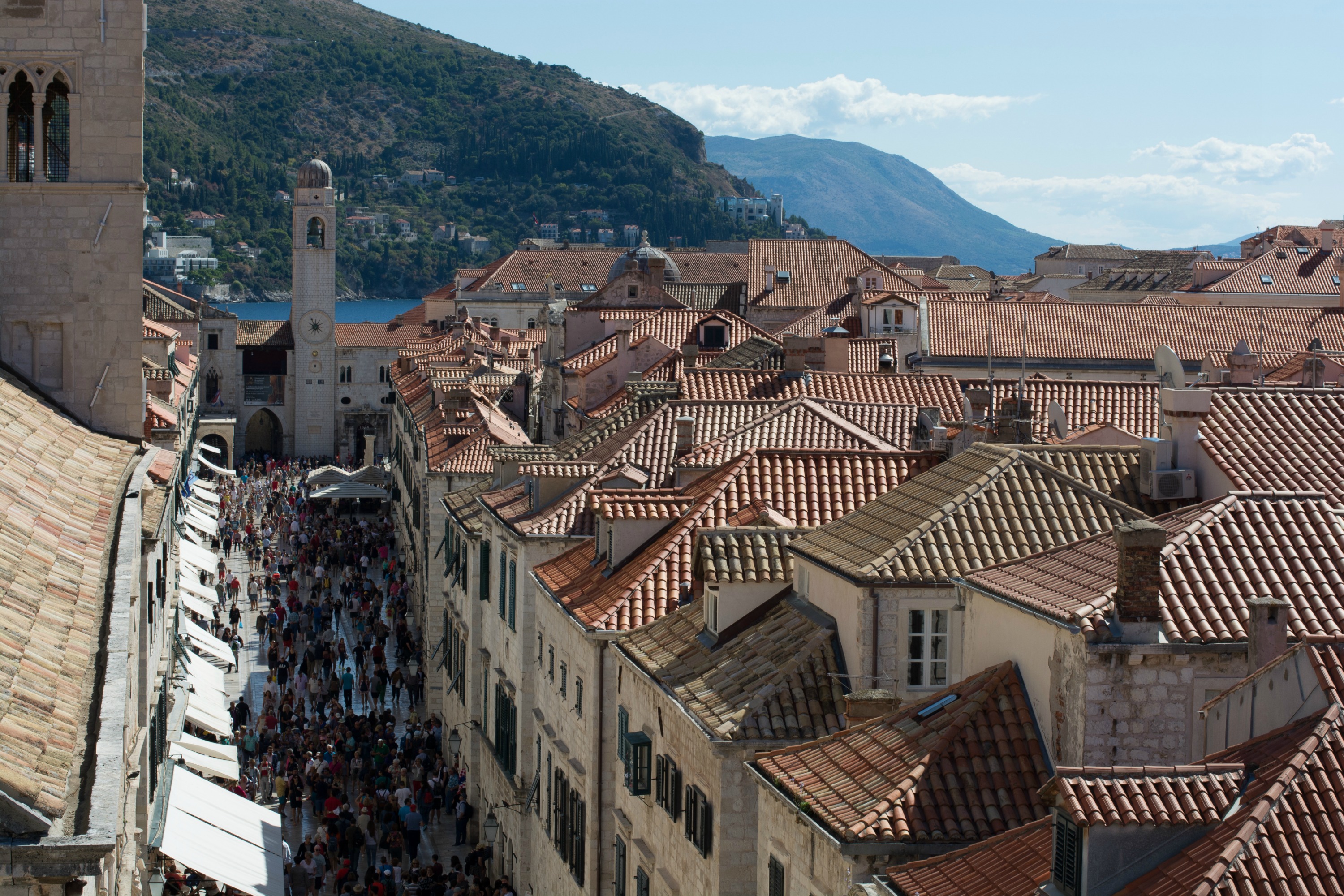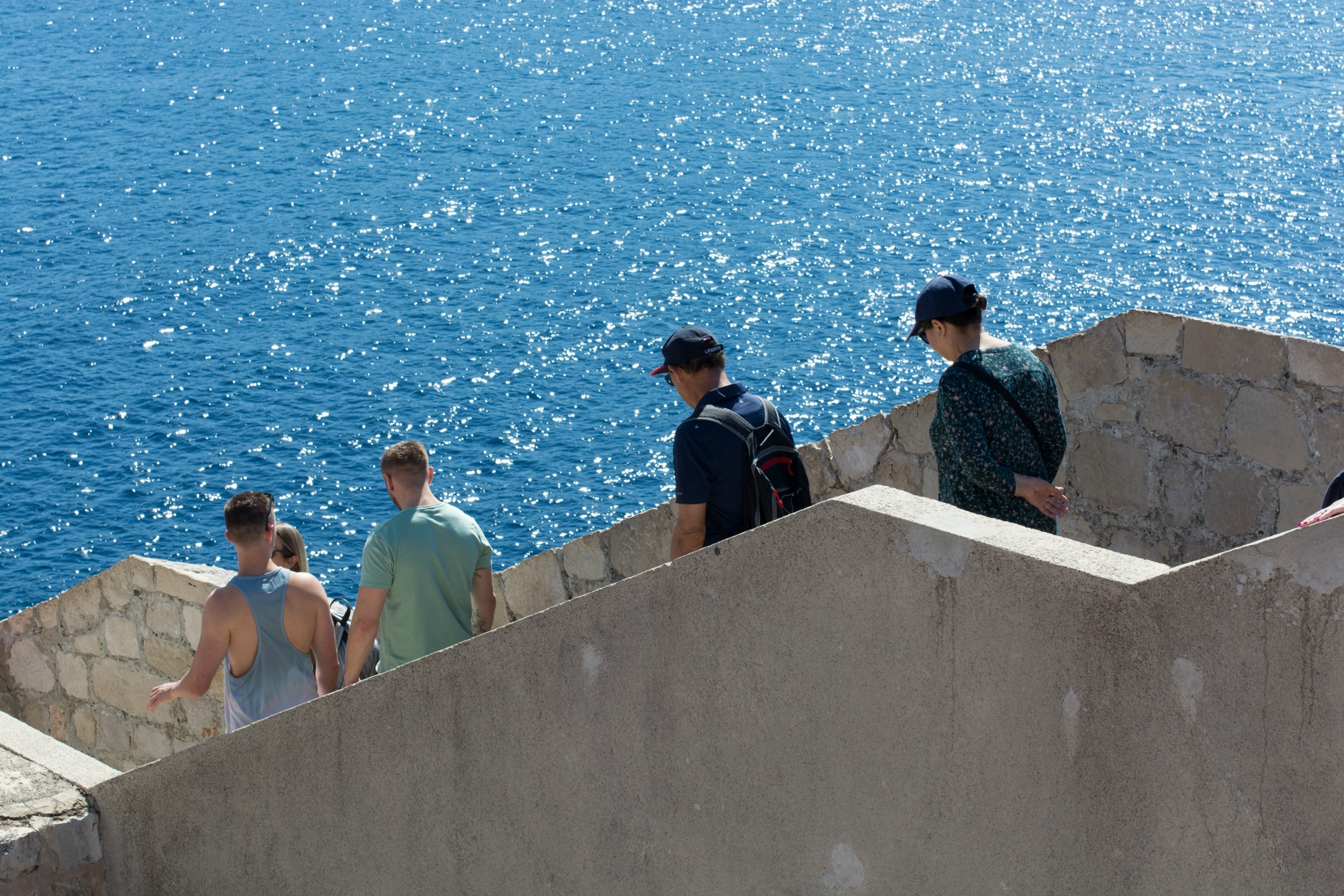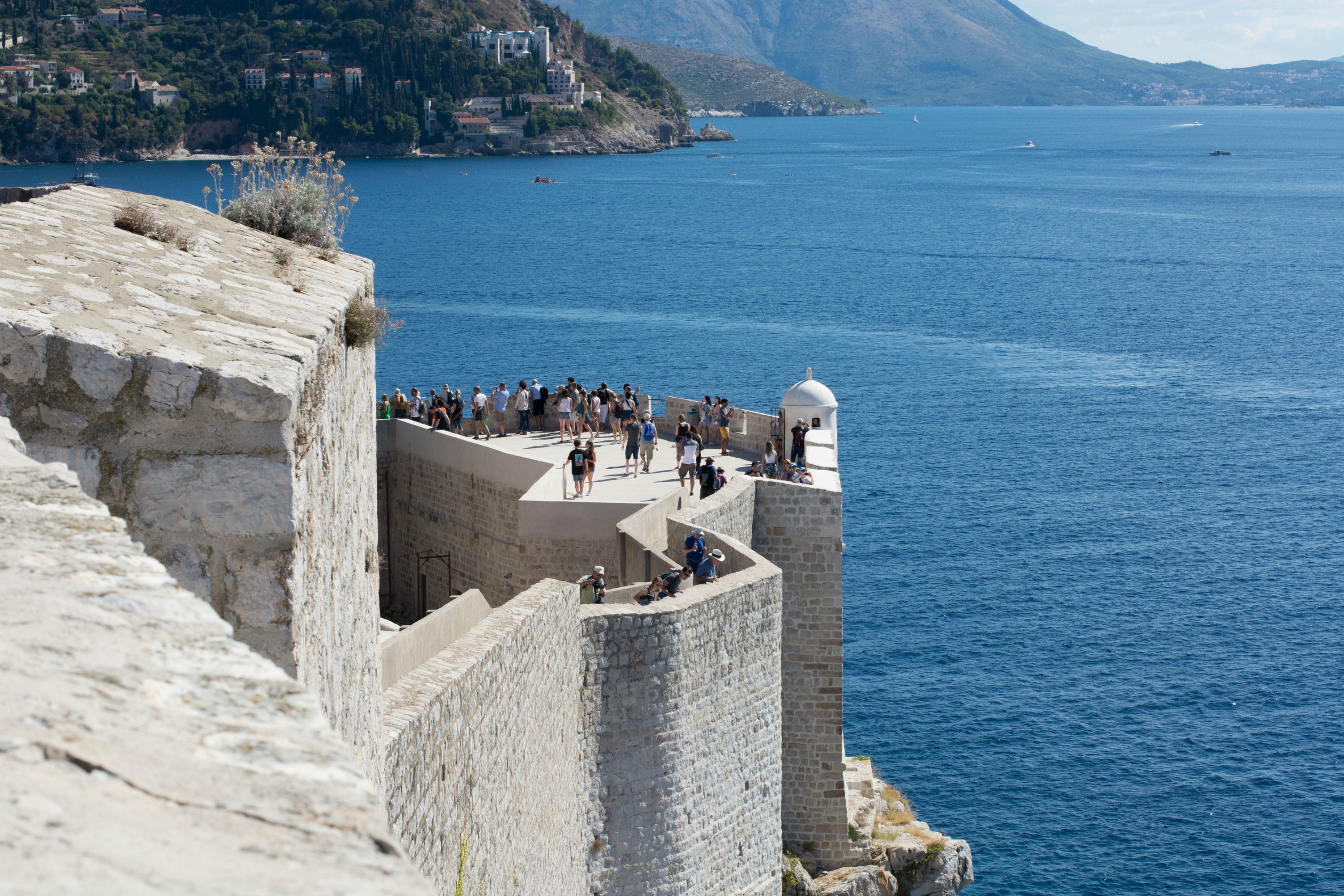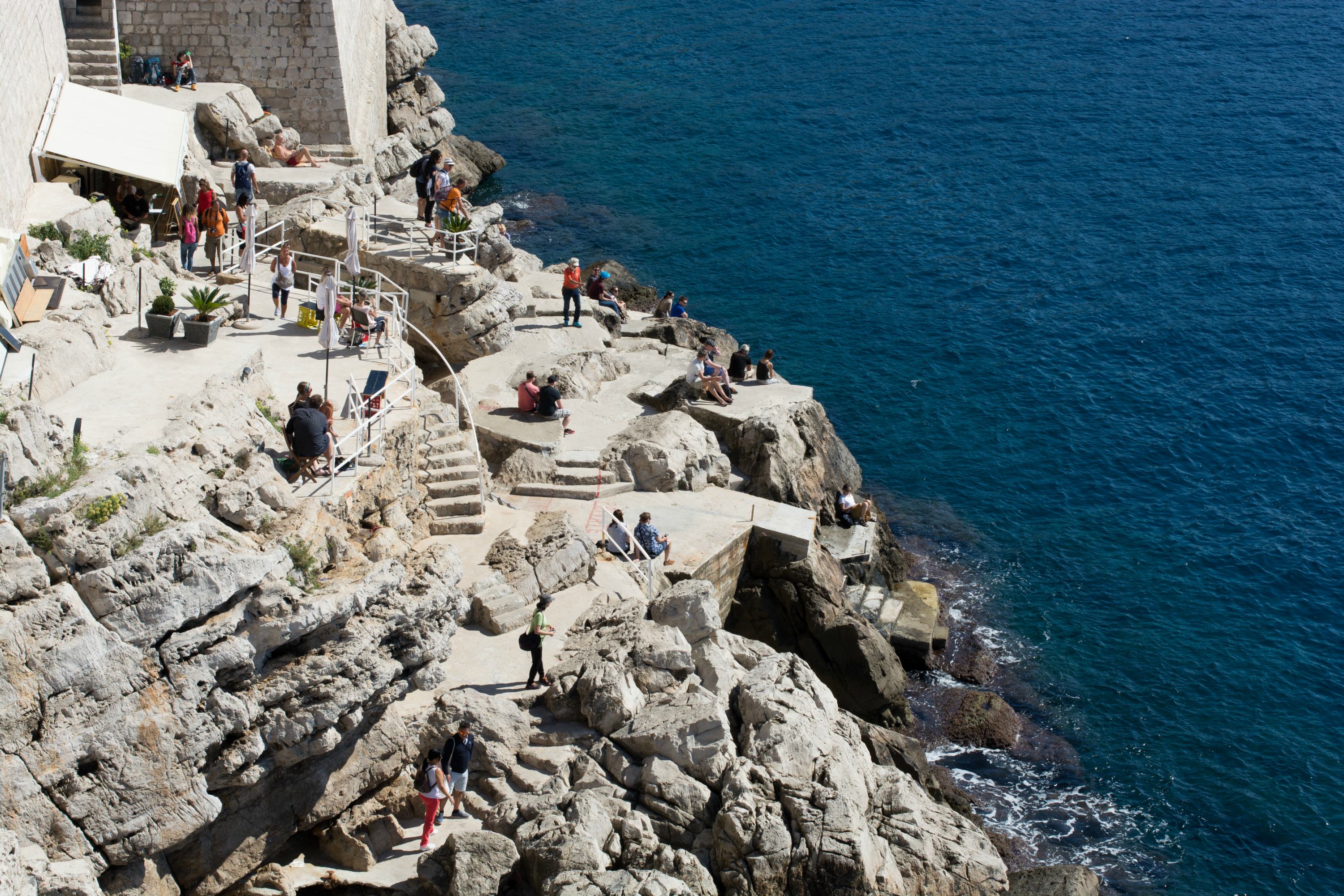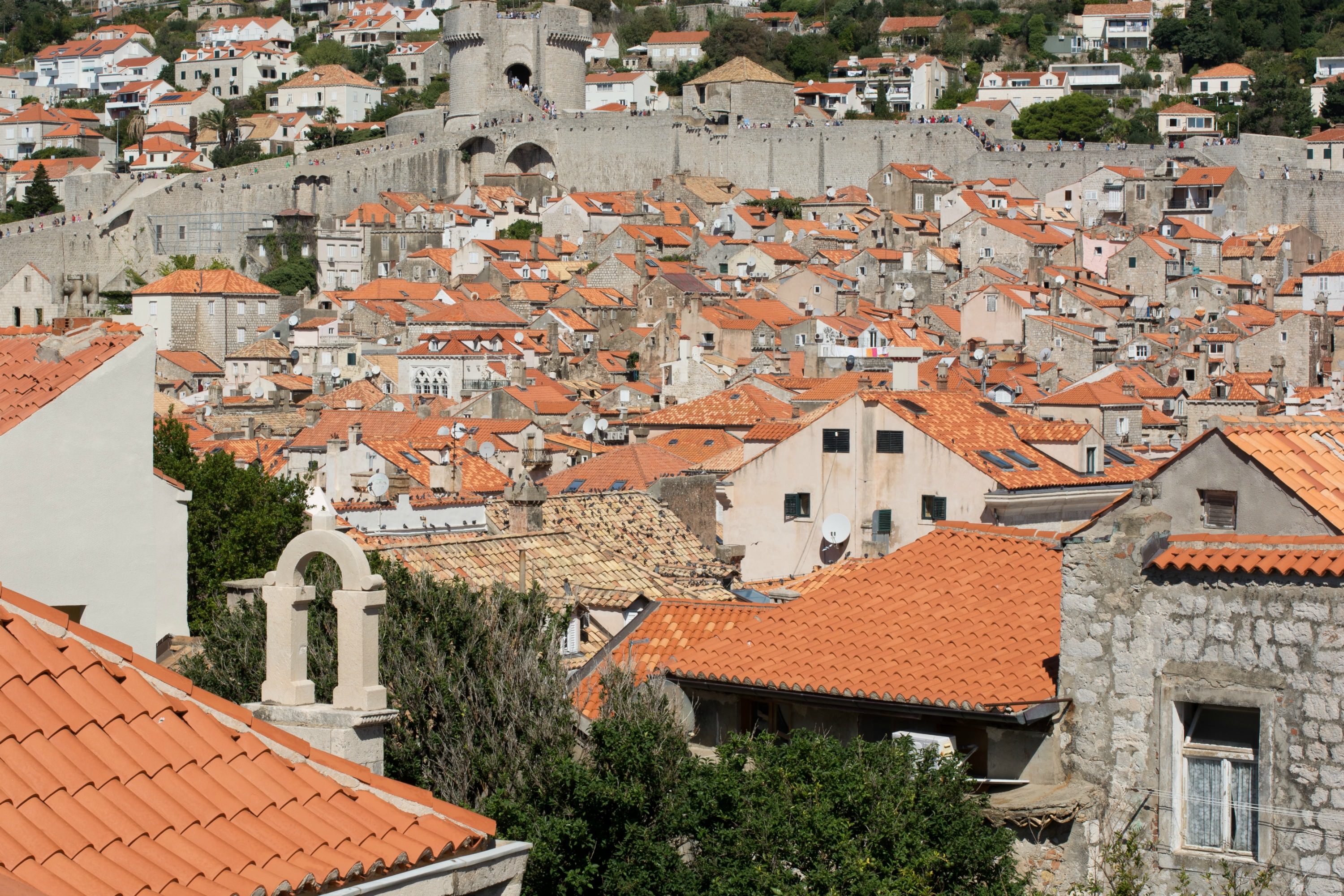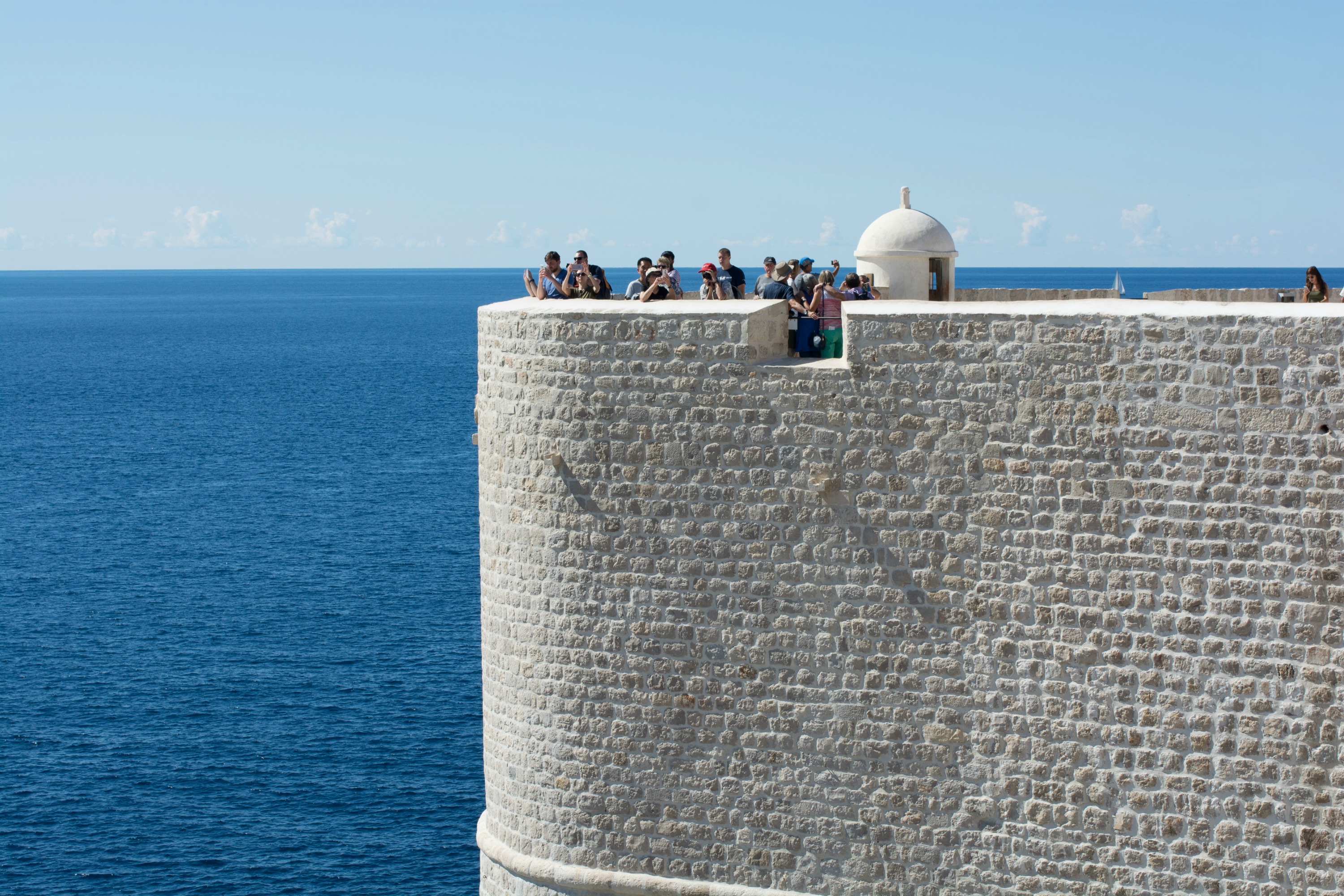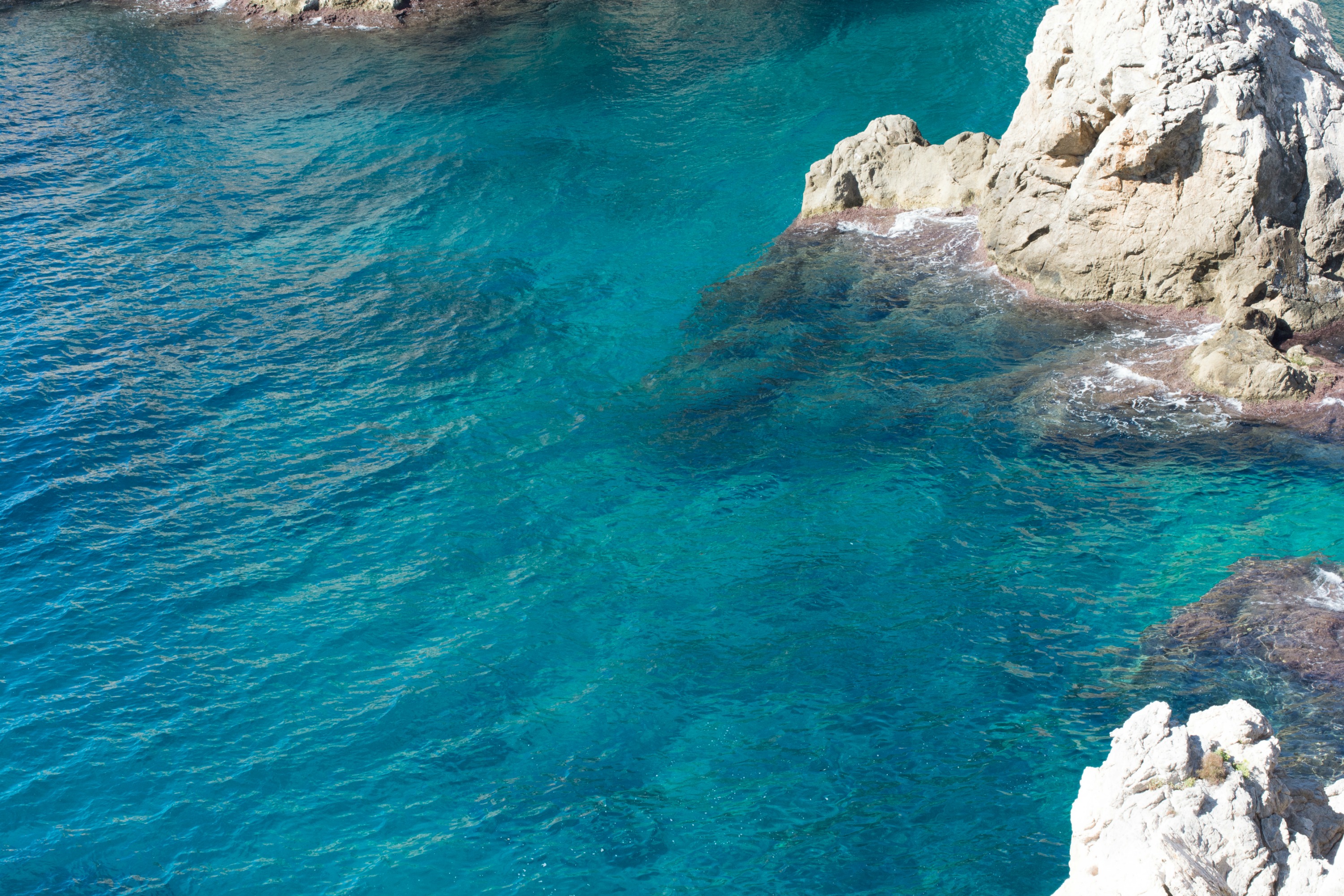 3 THINGS YOU MUST DO IN DUBROVNIK OLD TOWN
Clay roof tiles, tick. Cobblestone alleyways, tick. Ocean views, tick…Who am I kidding? It's tick tick tick to infinity!
So much beauty & wow was it pristine clean! Even outside the Old Town city walls Dubrovnik is pretty as a picture. However I recommend staying within the old town for the quick access necessary on a mini break. There are loads of quaint little apartments like the one we stayed in, family owned & found on Booking.com. The Old Town is small so you can easily get your bearings on day one by taking the walk around the city wall. From the entrance at Pile gate we bought a ticket for 150HRK which is approximately £17 or 23USD. The wall circumference is an easy 2km accessed via heart attack steep steps on the left. Dotted along the top of the wall are sweet little cafes where you can have a rest if you need it. Enjoy the sensational ocean views over a freshly squeezed orange juice or grab a bottle of water to re-hydrate en-route as we did. I think the entire walk took us a couple of hours although we strolled quite leisurely. The 360 degrees of breathtaking scenery was so mesmerizing why rush it? From the vast Adriatic on my right to the birds eye labyrinth view of the town below on my left. You'll get the idea from my photos in this post but honestly you have to go to really feel the magic.
After the wall we kept hold of our empty water bottles. We re-filled them at the large fountain next to Pile Gate. This fountain was originally built to supply the town with fresh water & still gives a constant flow on tap today. Which is perfect for an armchair eco warrior like me.
The second thing you have to do in the old town is watch the sunset from Bar Buza which will properly BLOW YOUR MIND. Now you may struggle to find this bar which is not visible from the street as it's literally set in the cliff side. Fortunately we stumbled upon the bar by accident the moment we set off on our first afternoon. It was only because I noticed a line of people coming out a small doorway that looked as if it led directly off the face of the cliff. Curious, I said to Suzy "Let's see what they're all looking at"  So through the hole in the wall we went & wowszers what a vista! I turned to Suzy & said "We've hit the jackpot here mate".
Down the steep steps (no heels ladies) we found a little table right at the front & ordered a couple of glasses of wine. The wine was served to us in a mini bottle each with a plastic cup (ick) but it tasted lovely. So there we sat in awe watching natures best event of the day unfold before our very eyes. The younger crowd climbed down from the bar to perch on the rocks, one guy even jumped into the sea! I was gobsmacked & certain we'd witness a death sooner or later. Oh what a worry wart I've become hahaha. The place was so incredibly spectacular that we couldn't resist going again the following night!
Finally the 3rd thing you absolutely must do in Dubrovnik Old Town is take the cable car ride. You could quite easily spend several hours at the top where there's a perfectly placed outdoor restaurant, terraced to optimise everyone's view. Once again we were greeted with excellent service & a cosy blanket to ward off the ever so slight chill.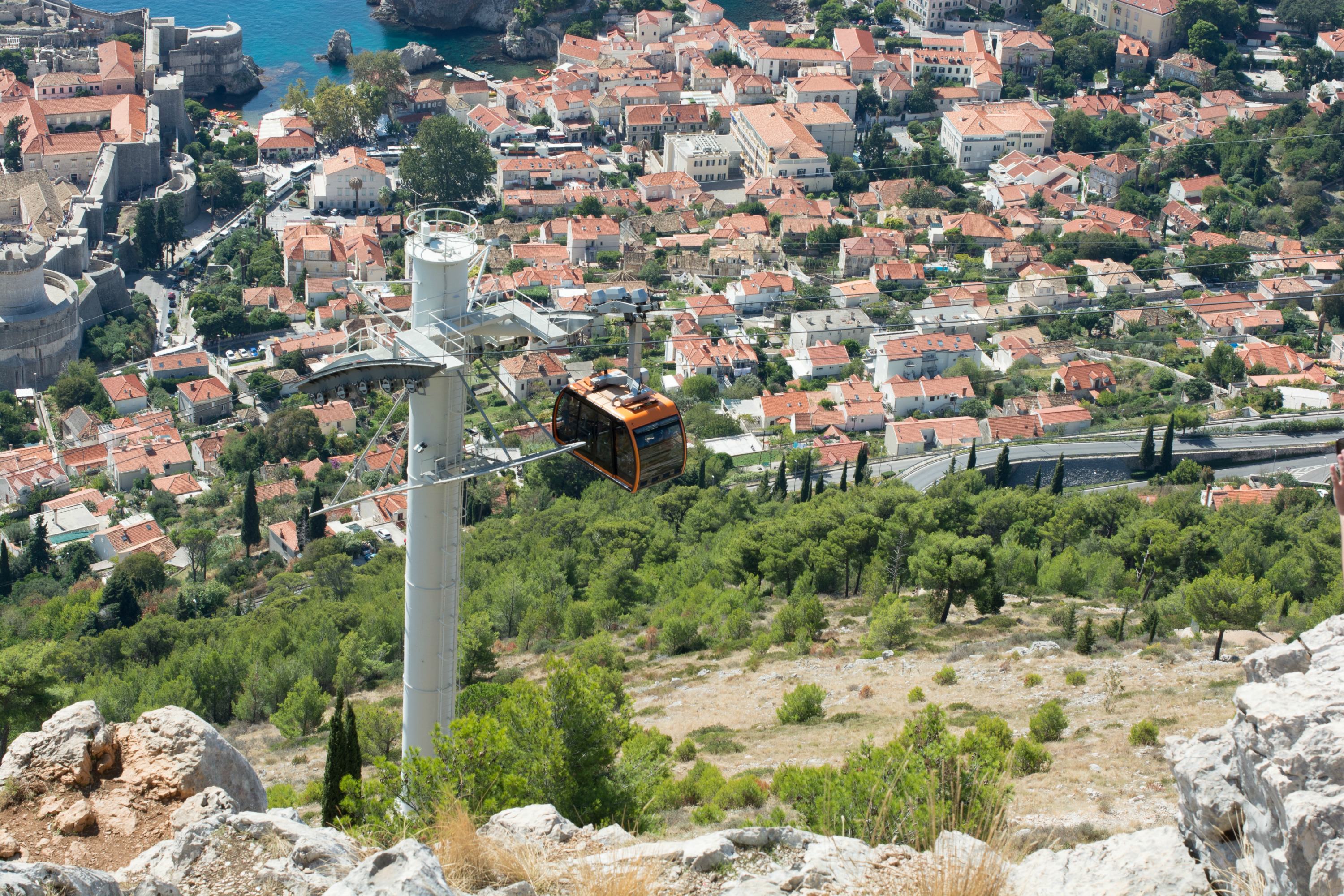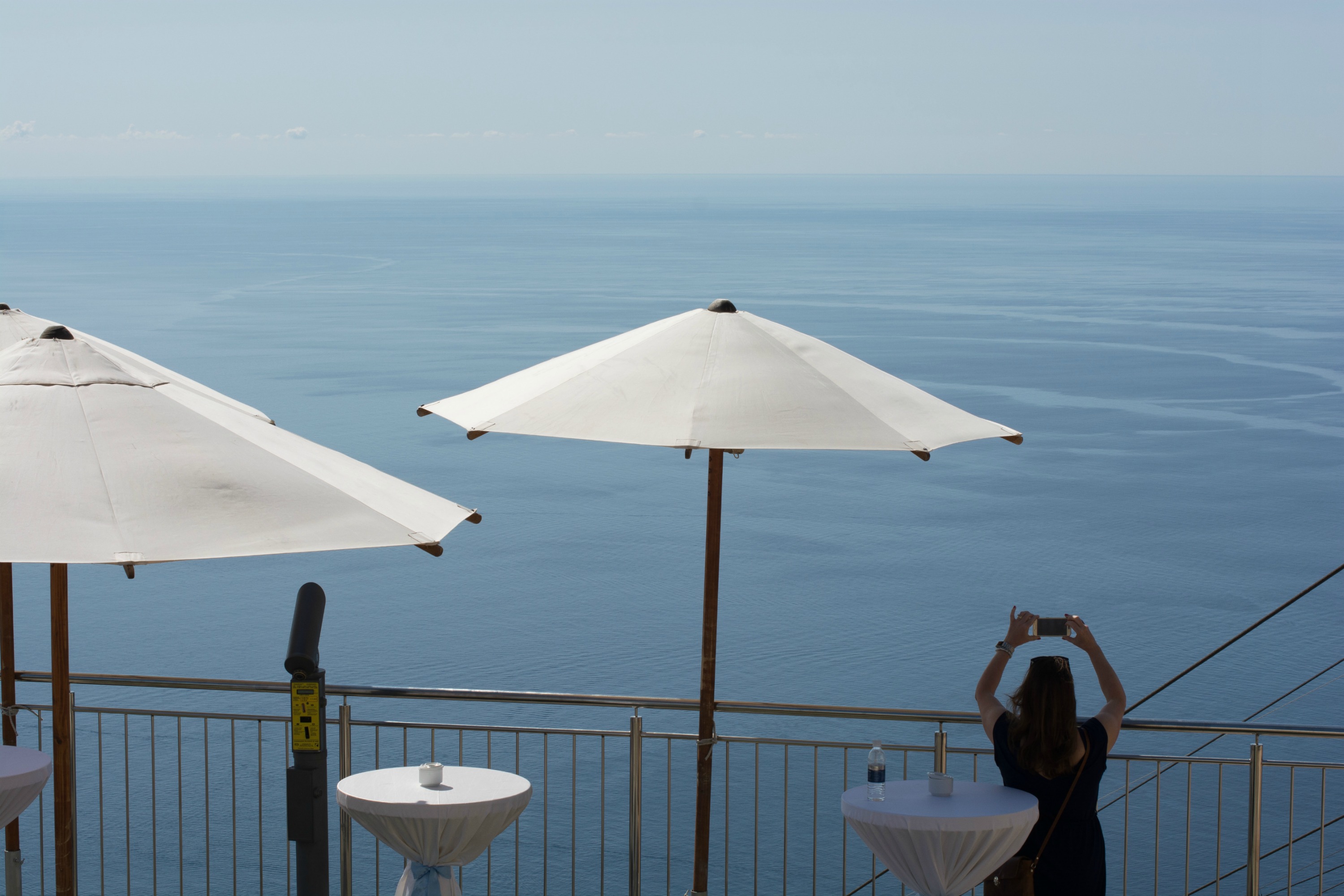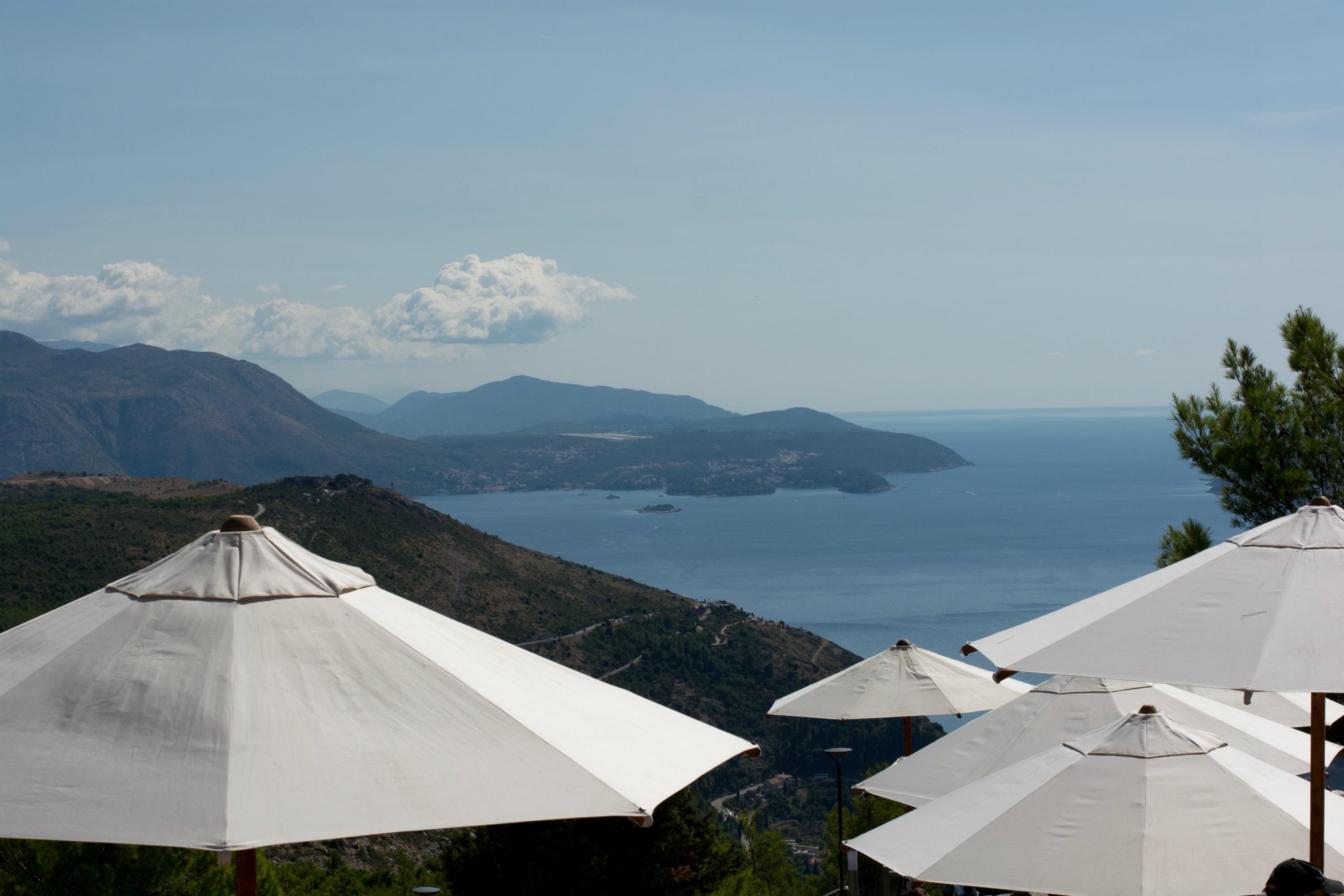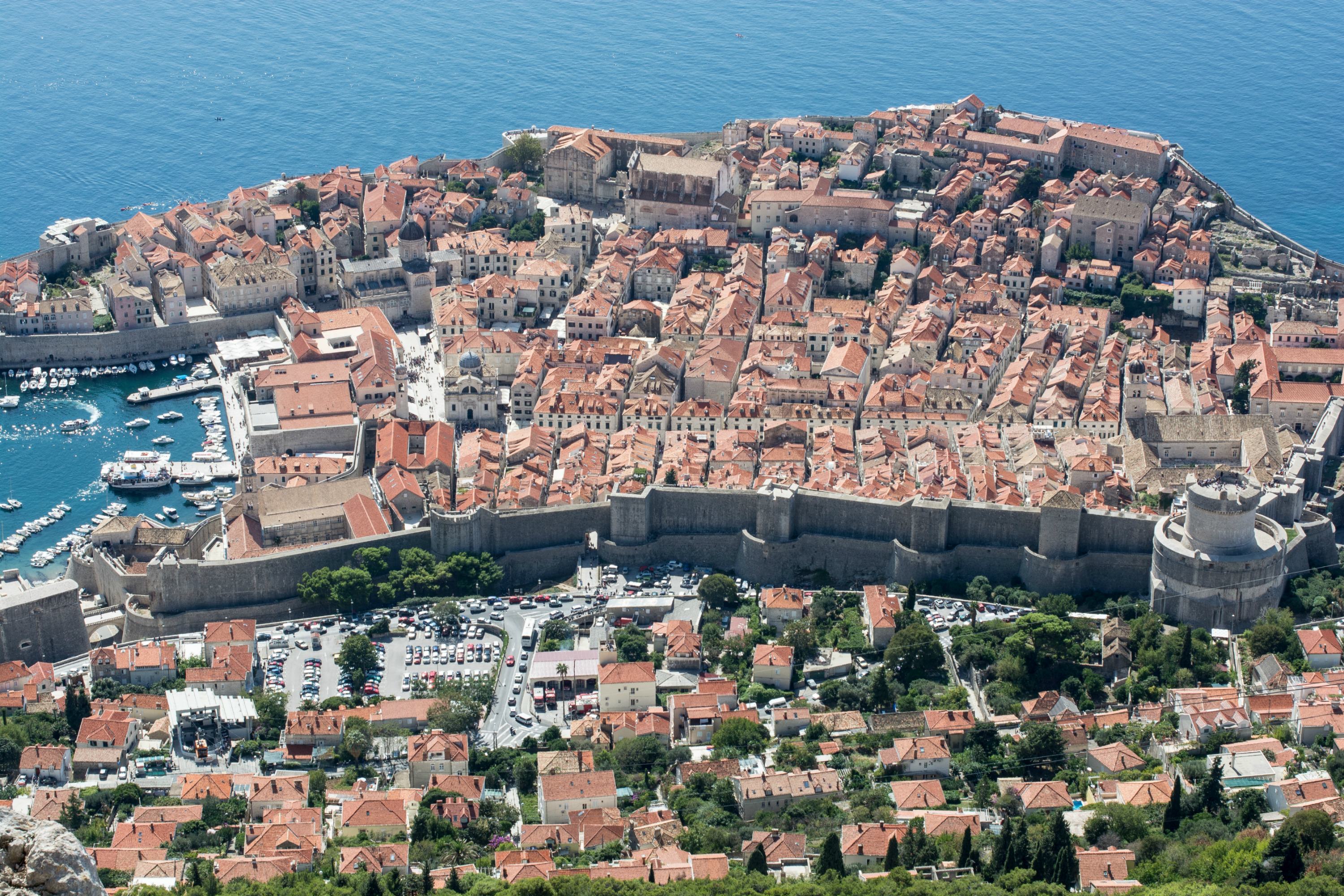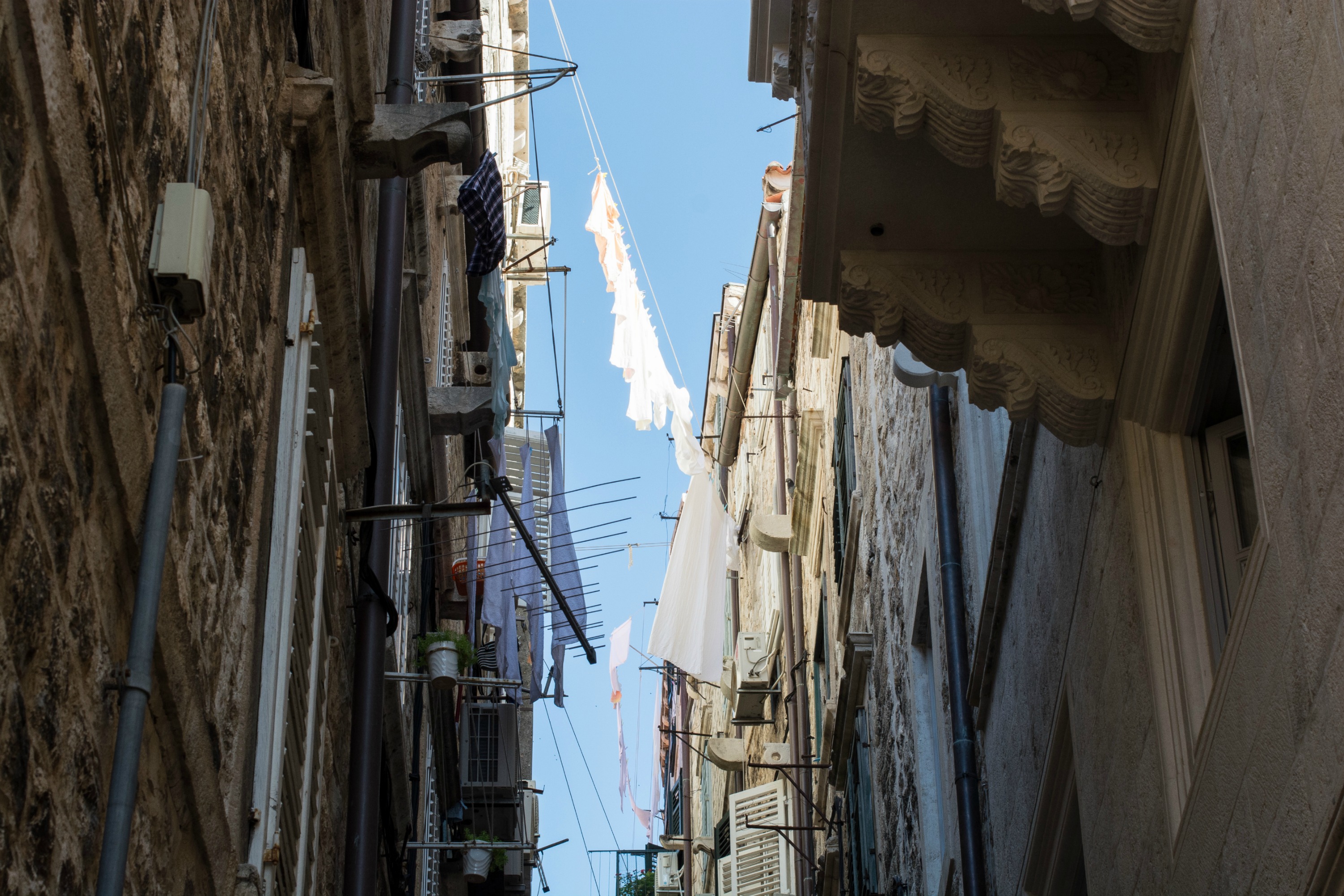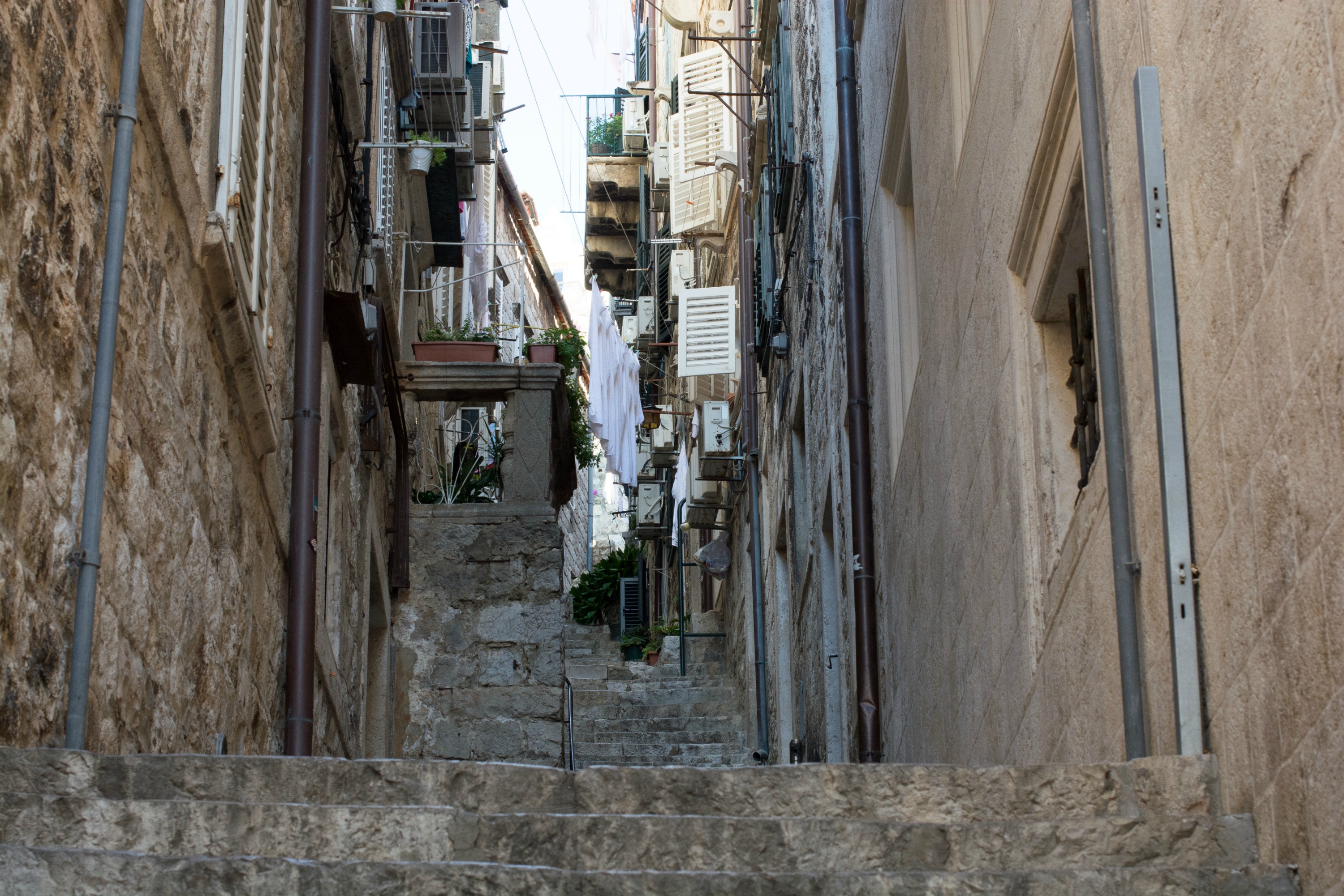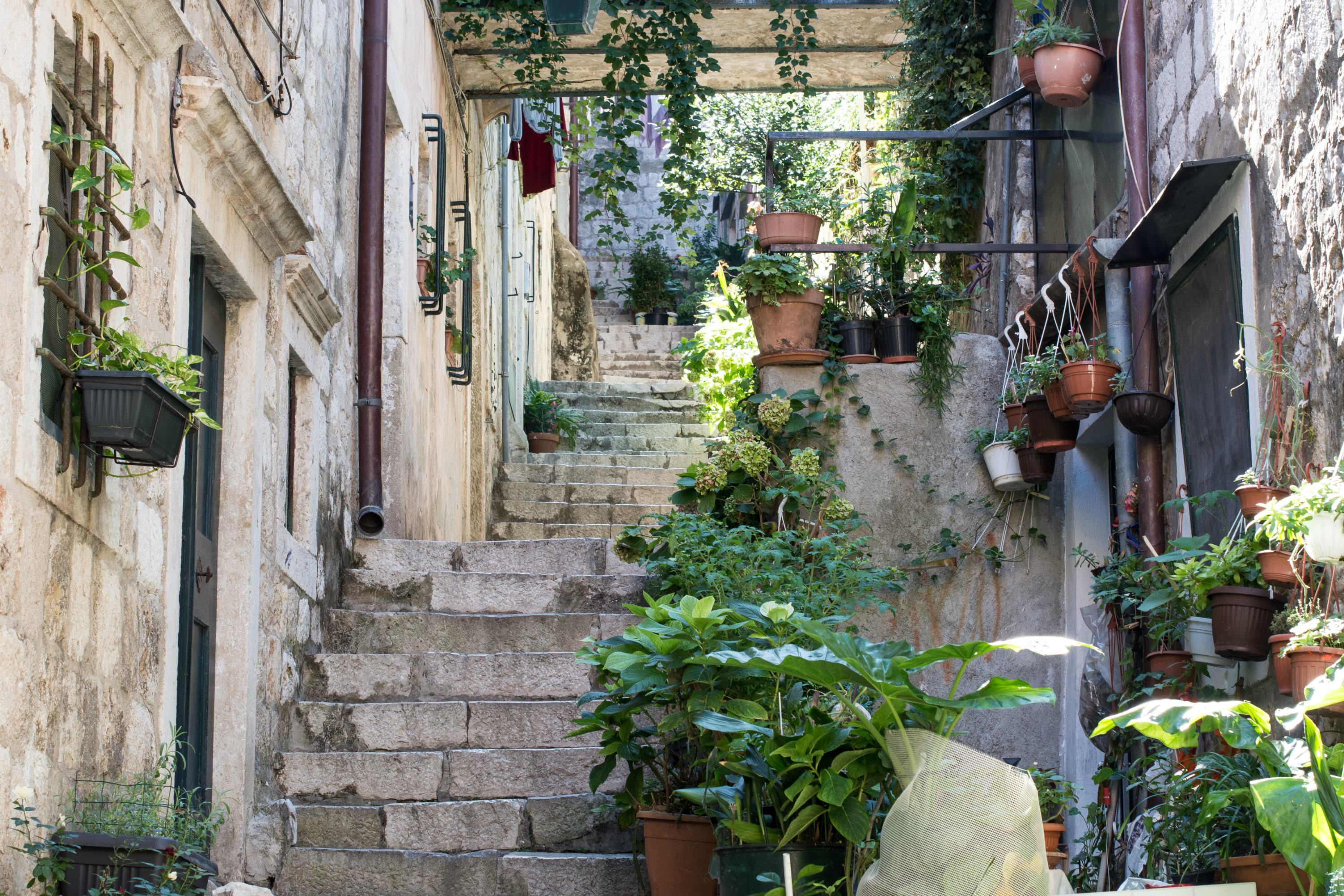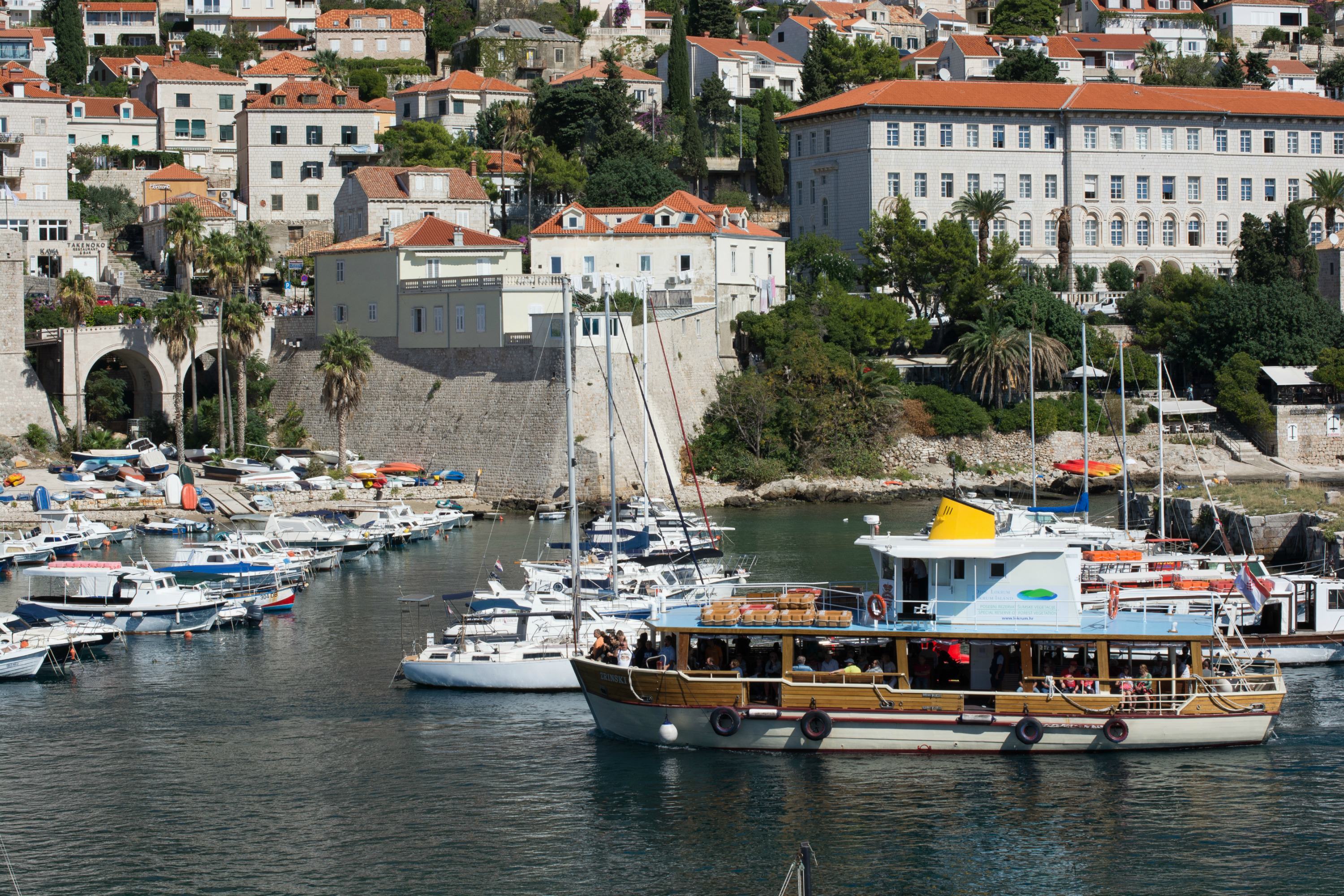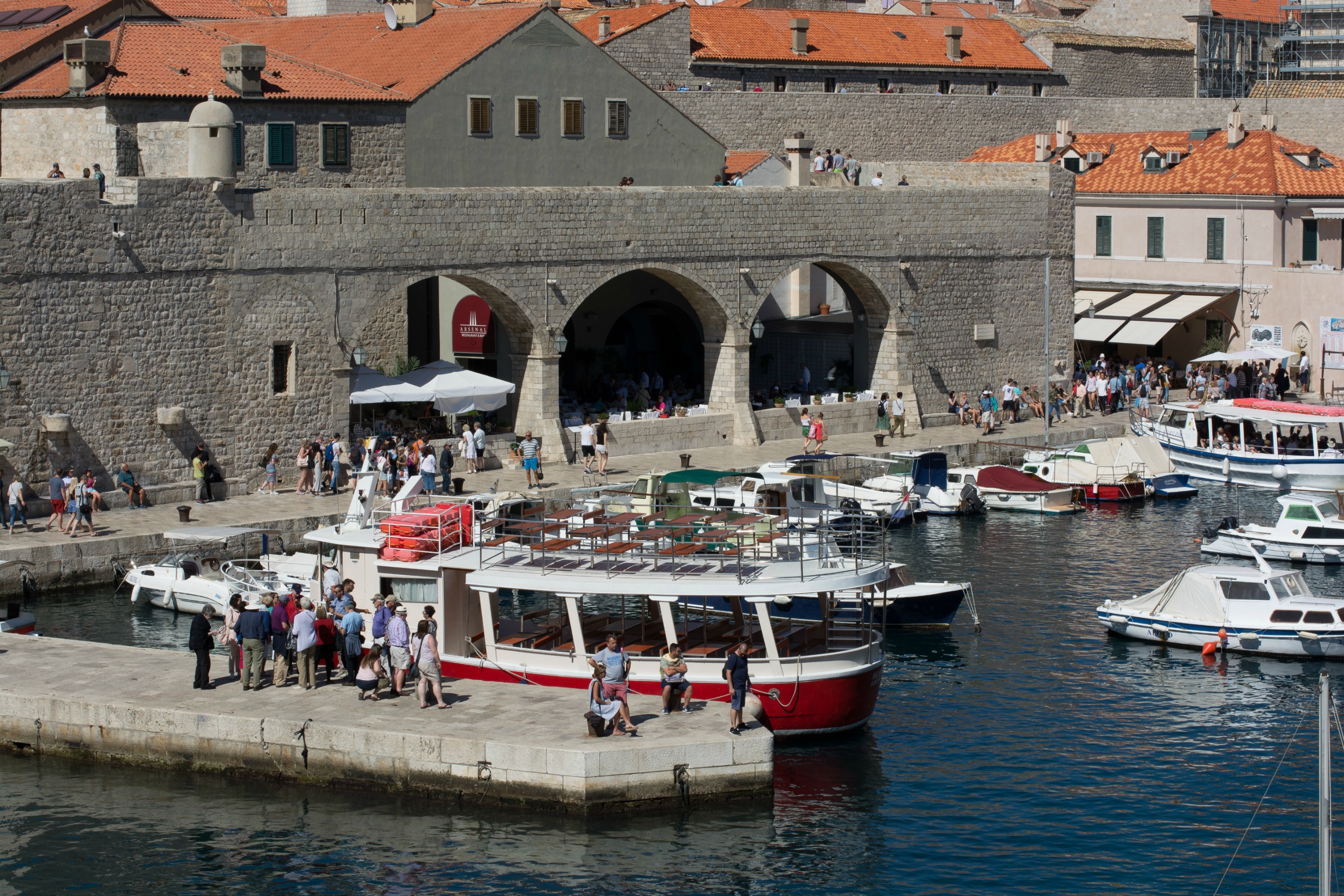 WHERE TO EAT & DRINK IN DUBROVNIK OLD TOWN
Oh this is such a tricky one. Hmmm let me think, where to eat & drink in Dubrovnik Old Town? Gee I don't know…EVERYWHERE/ANYWHERE!

On our travels during the day we'd simply choose a pretty place to return later in evening for dinner. If you look at the arches in the marina photo above you'll see that's a restaurant. We enjoyed a lovely seafood meal there our second night & boy what a view! Another night we ate outside at a superb restaurant along Prijeko, a lane that runs parallel to the Stradum. We noticed quite a few delightful looking restaurants in this lane during the day. Again, seafood & as always the service was amazing. In fact the Croatian people were incredibly friendly & helpful our entire trip. It was something that both of us commented on many times over the weekend.
On our last night we enjoyed pre-dinner drinks & people watching on the main drag known as Stradum. This turned out a brilliant decision as a rather impressive wedding was taking place in the cathedral right next to us. As the Bride & Groom stood on the grand Cathedral steps before the crowd of guests & tourists alike, a dazzling display of fireworks went off!
But the entertainment didn't end there. As Suzy & I marvelled over our luck for catching this awesome display, six marching drummers in traditional dress passed right in front of us! I mean how lucky were we? Yep Dubrovnik sure knows how to treat its guests…
As for the price of food & drink, I would say definitely on the low-end compared to other popular tourist cities. And although we always chose top local wine it was little more than £30 a bottle yet incredibly good. Actually I'd never tried Croatian wine before & was amazed by its excellent taste, I wonder if they keep all the good stuff in the country? Hehehe Who can blame them!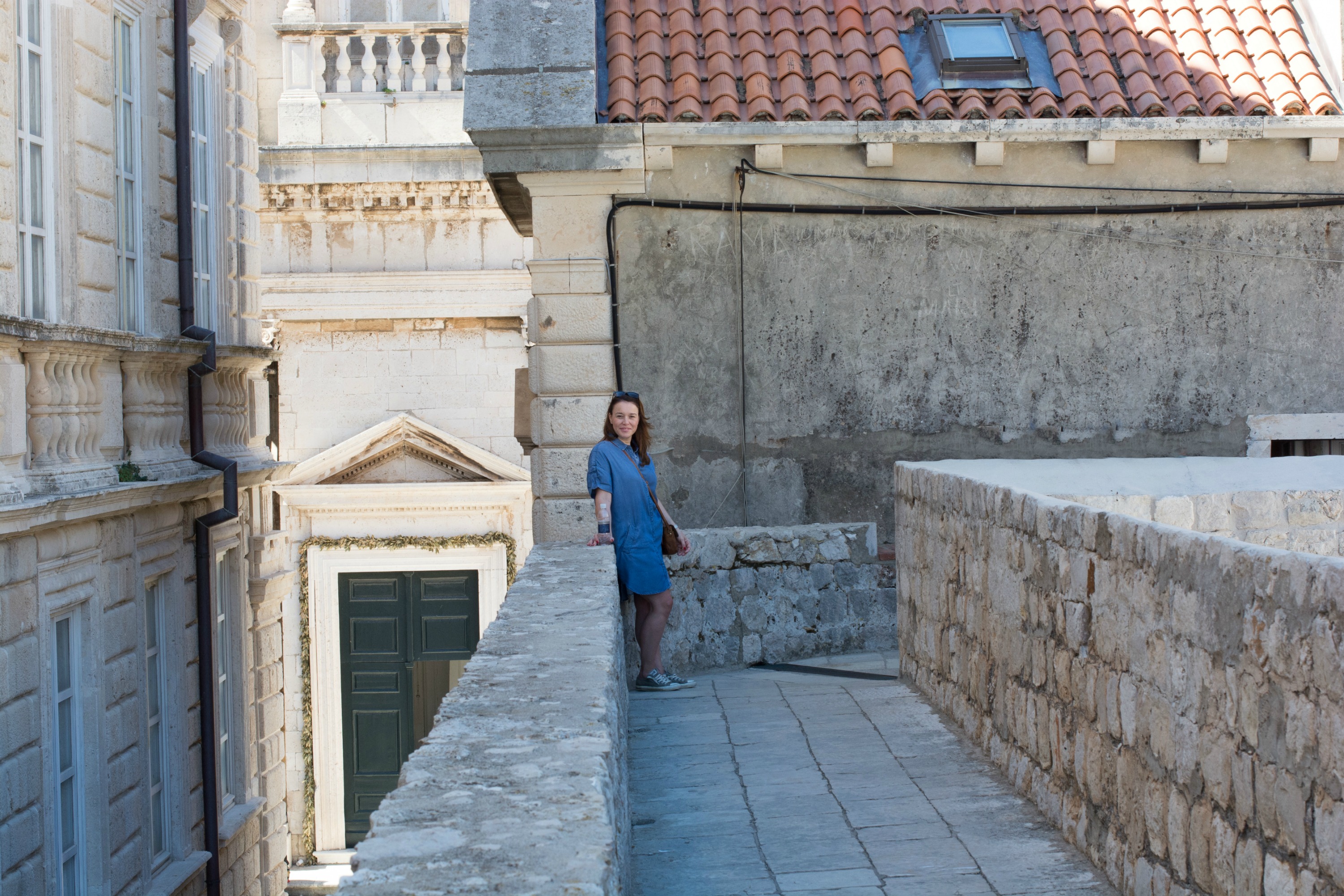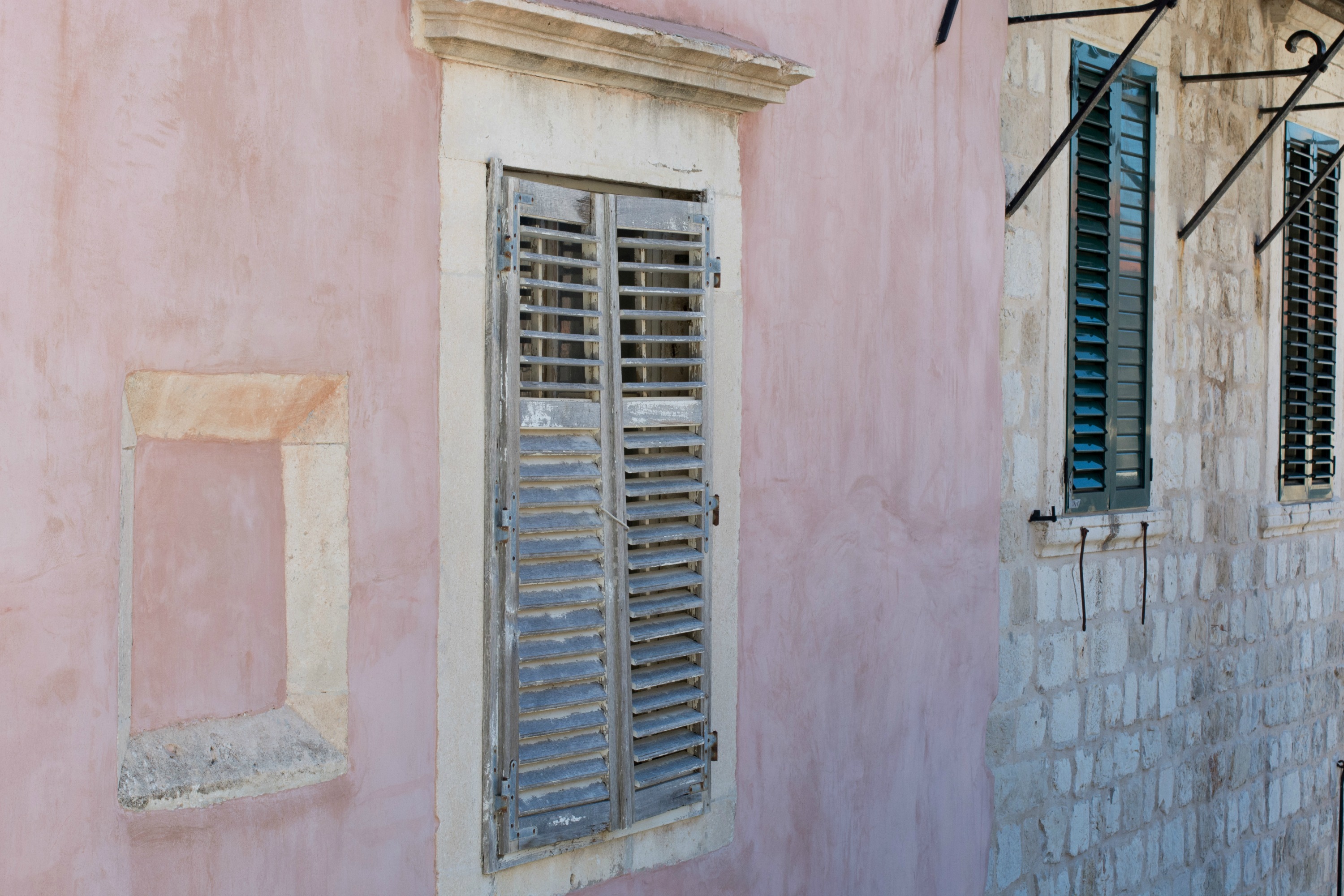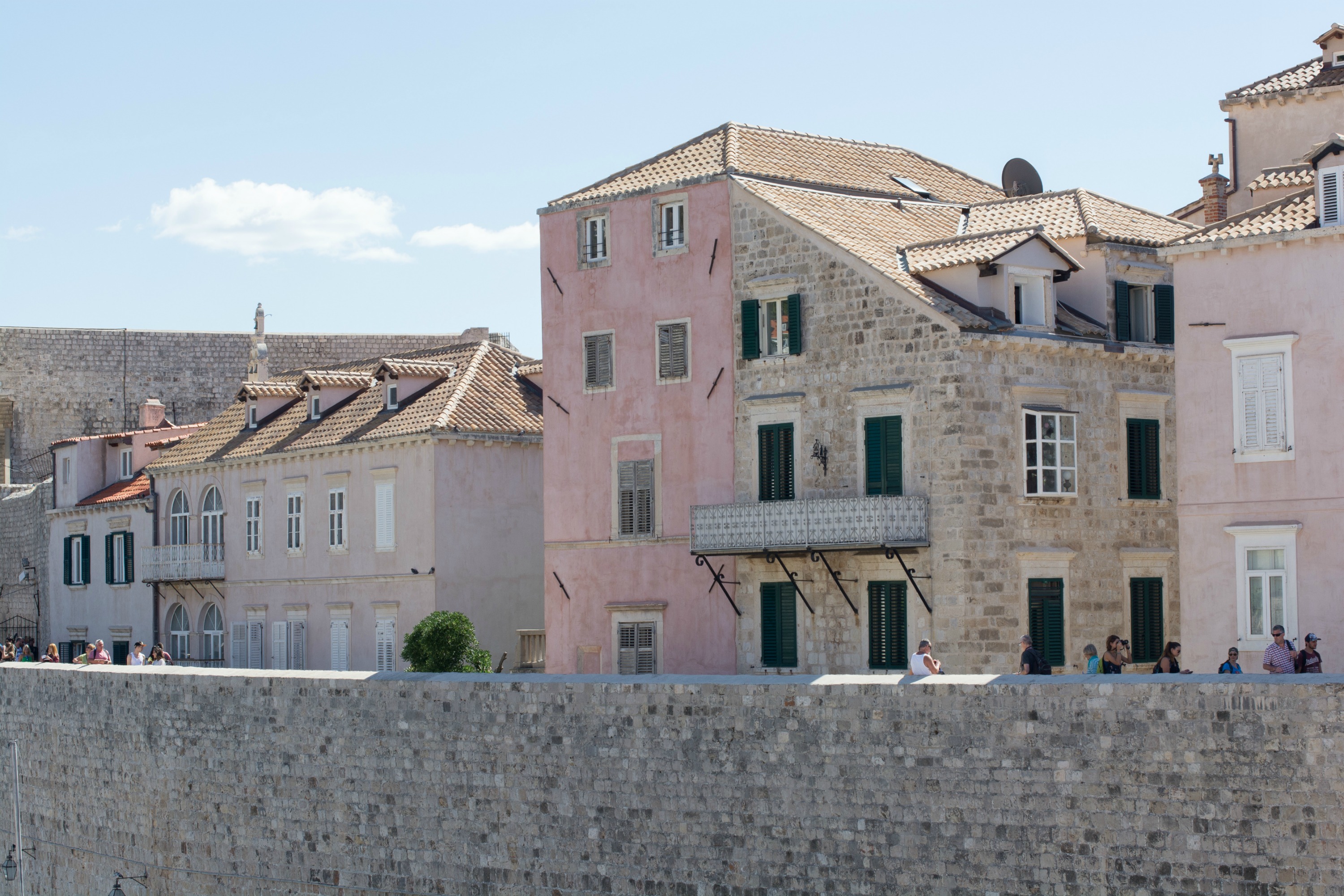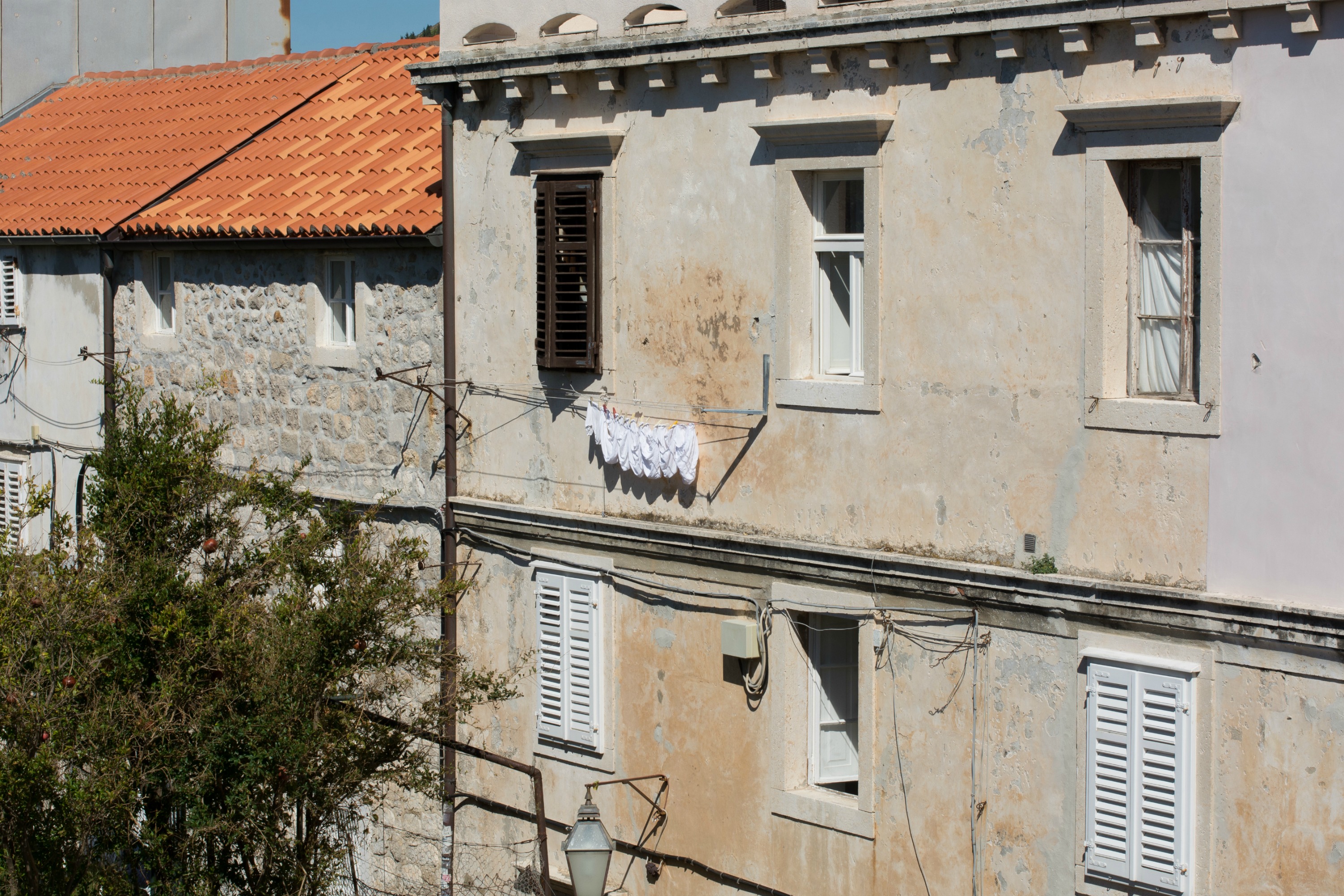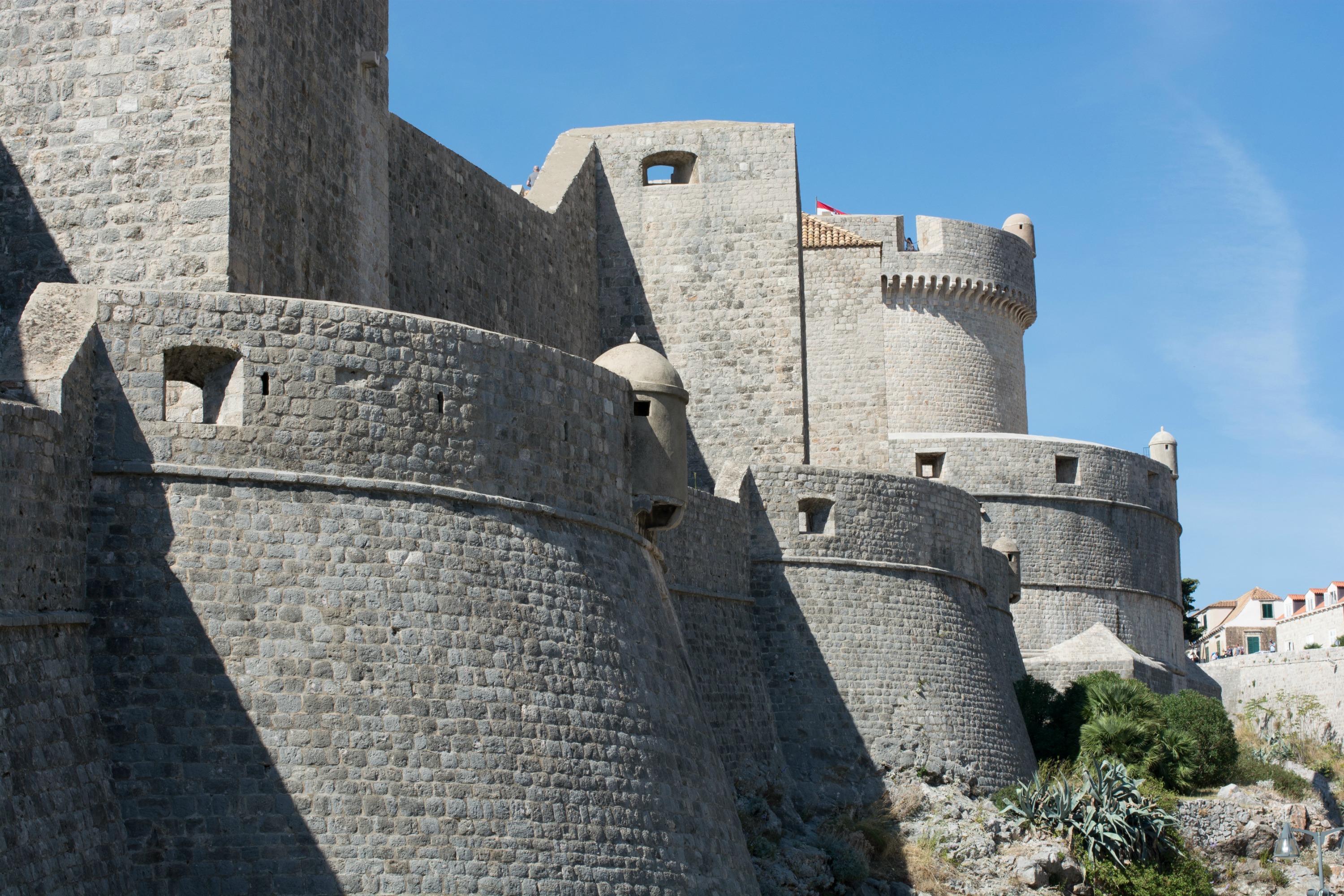 THE GROWN UP GIRLS GUIDE TO A MINI BREAK
This means not doing too much of the tourist thing. Ambling aimlessly along the glossy cobblestones, slipping into a shop or two but mostly just looking. Taking in the architecture & observing the people, gently immersing myself in the environment. It's the organic way to experience local culture. Rather than organised tours, of which there were many by the way. Learning historical details & facts is pretty easy these days when you have free wifi. So every afternoon, when I'd had enough meandering I'd head back to the apartment via a pit stop at the traditional bakery. Sitting up in bed with a cup of tea & my delicious pastry I read through the local history on my phone. Shortly followed by a Nana nap to re-boot before Suzy & I headed out for our evening. Naturally we dressed up for the occasion although we were in the minority. But come on people, just look at this for a backdrop! It'd be rude not to make an effort right?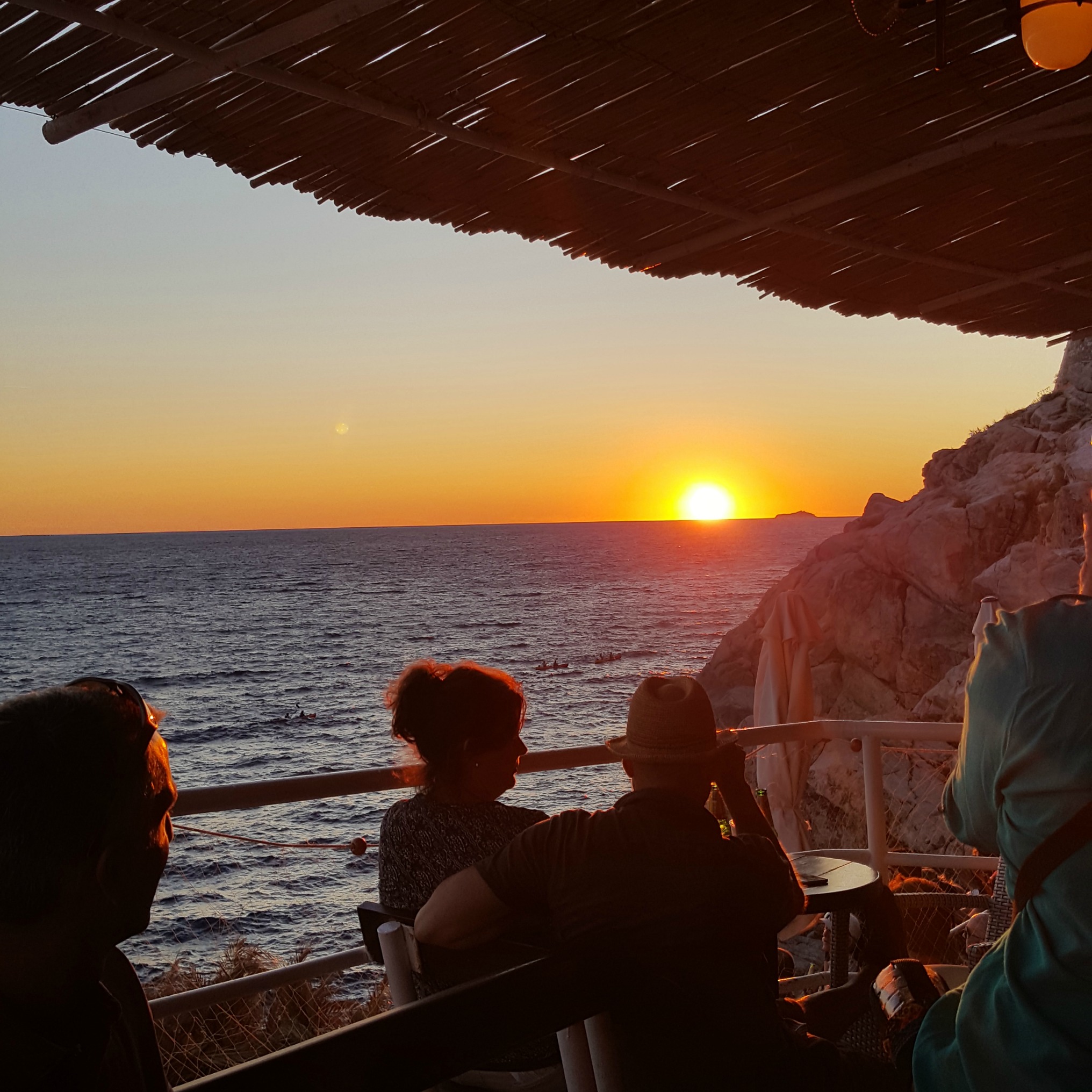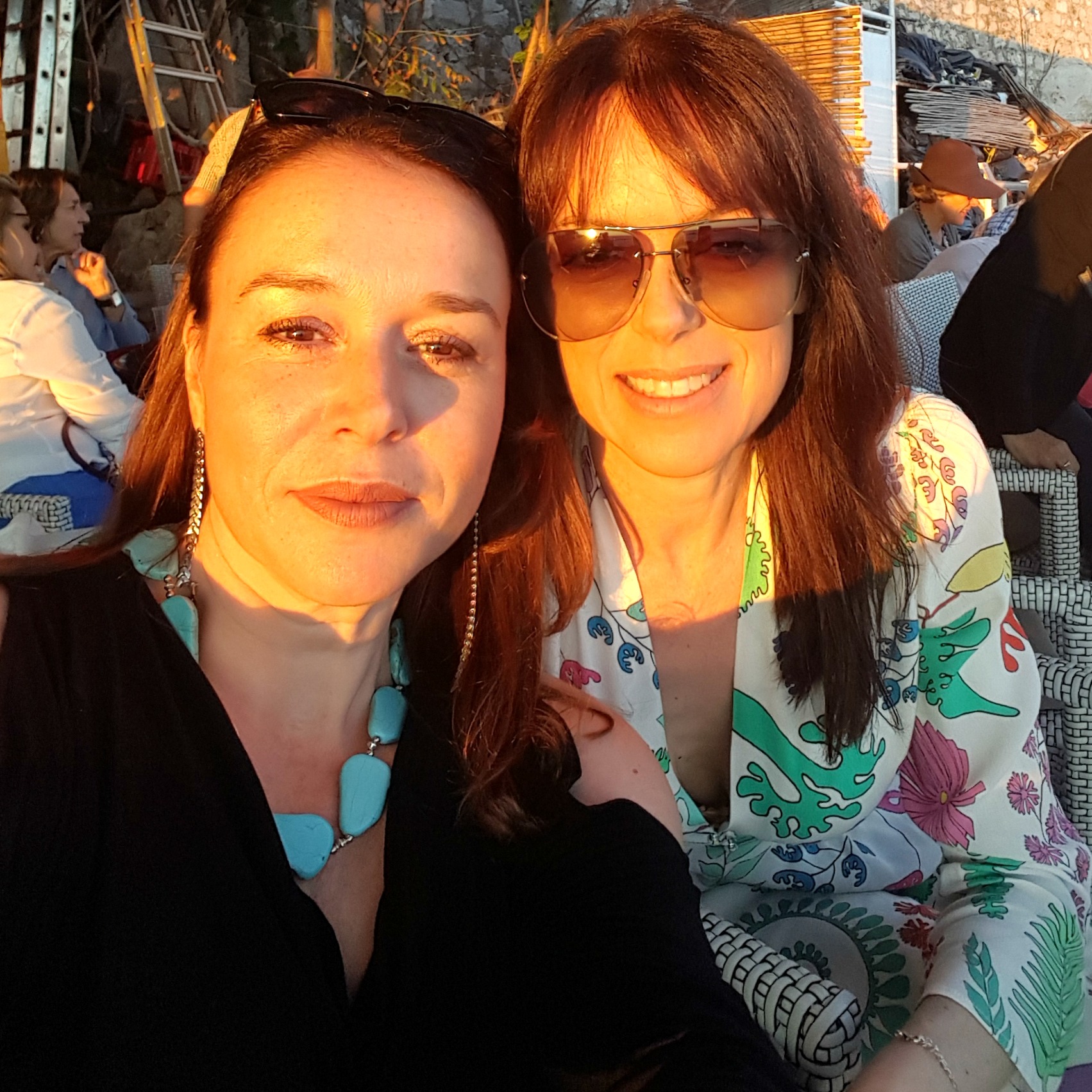 WHAT'S IT ALL ABOUT?
Taking a few days away with your girlfriend is more than just a fun thing to do. It is essential R&R us busy girls need to re-connect with our gorgeous friends. Friendships that often take a back seat to the minuate of daily life however hard we try to stay in touch. I make an effort to take these mini breaks at least once a year even if it's just overnight in a London hotel. There's something self affirming about stepping out of my regular zone & touching base with my mates. I get a bit of old Chelley back, the cheeky one who's not so sensible. Mind you these days I wouldn't jump off a cliff arrrgh crikey no!
Thanks for joining me in Dubrovnik my loves, another beautiful walled city I adore is Lucca. Have you been? You can get a little taste in my post here…..Bye for now xx
*This post is sponsored by friendship & I am very grateful indeed to have such wonderful friends!