OK this is clearly not rocket science but I do believe the argument for buying at least one incredible dress is sound. With a little extra thought & money you'll add something very precious to your wardrobe…
A go to outfit, a no brainer, a wow factor – What's more, this dress will become your first call for any event & will endure a lifetime. It won't date or fall apart because it's cut from beautiful material & made with attention to detail. An investment, hand stitched & finished to the highest standard. Using my Ridley London dress as today's example, the long-sleeved maxi is such a garment.
You may have heard me sing the praises of the long-sleeved maxi dress before? To me there is no comparison when it comes to curating a wardrobe for life. This single item has transformed the number of options I have for pretty much any eventuality, it's THAT adaptable. I kid you not. If you haven't worn a long sleeved maxi, then why not? There is a shape to suit any figure & height, you do not need to be tall & slim to wear a maxi dress but the dress has to be the right one for you. This is where the cost comes in. It absolutely must be well made. Your maxi has to fit you like a glove, cheap simply doesn't cut the mustard. Plus, it should suit the rest of your wardrobe & therefore your style. So if florals aren't your thang, try stripes or colour blocking. Naturally it's easier to get the perfect specimen when your dress is custom-made. That's why I love Ridley so much, not only did I choose the style & fabric but my specific dress was made to measure as well!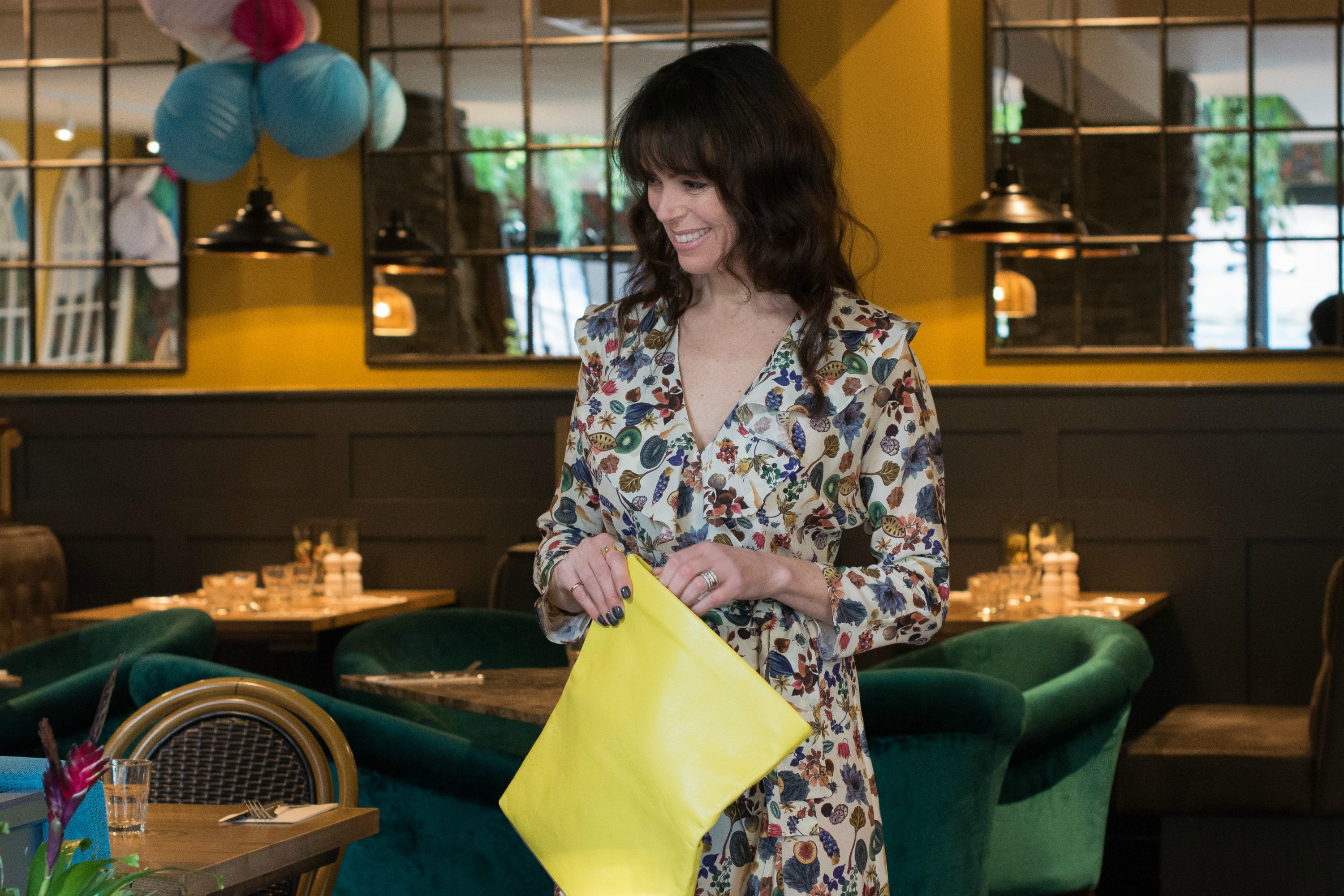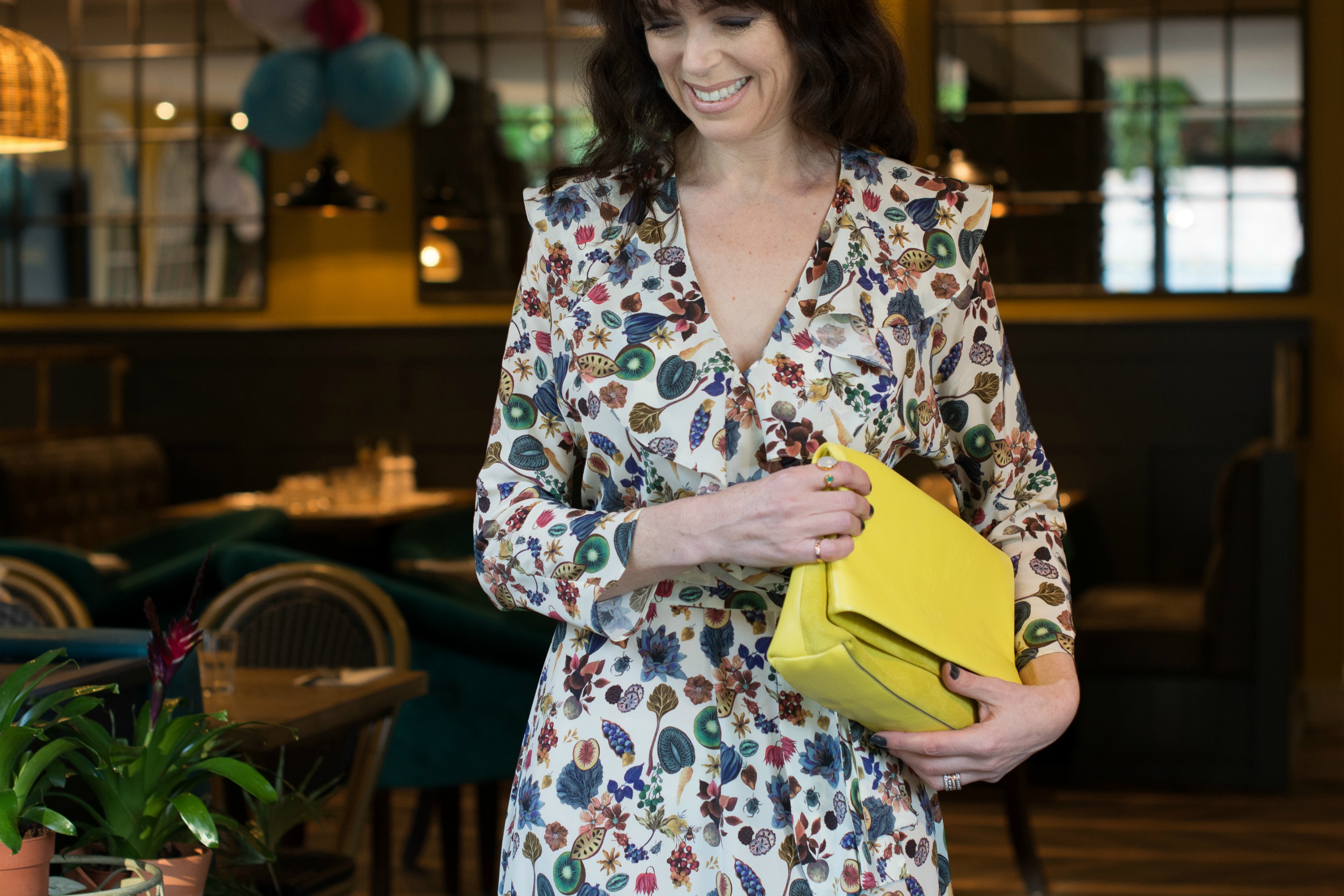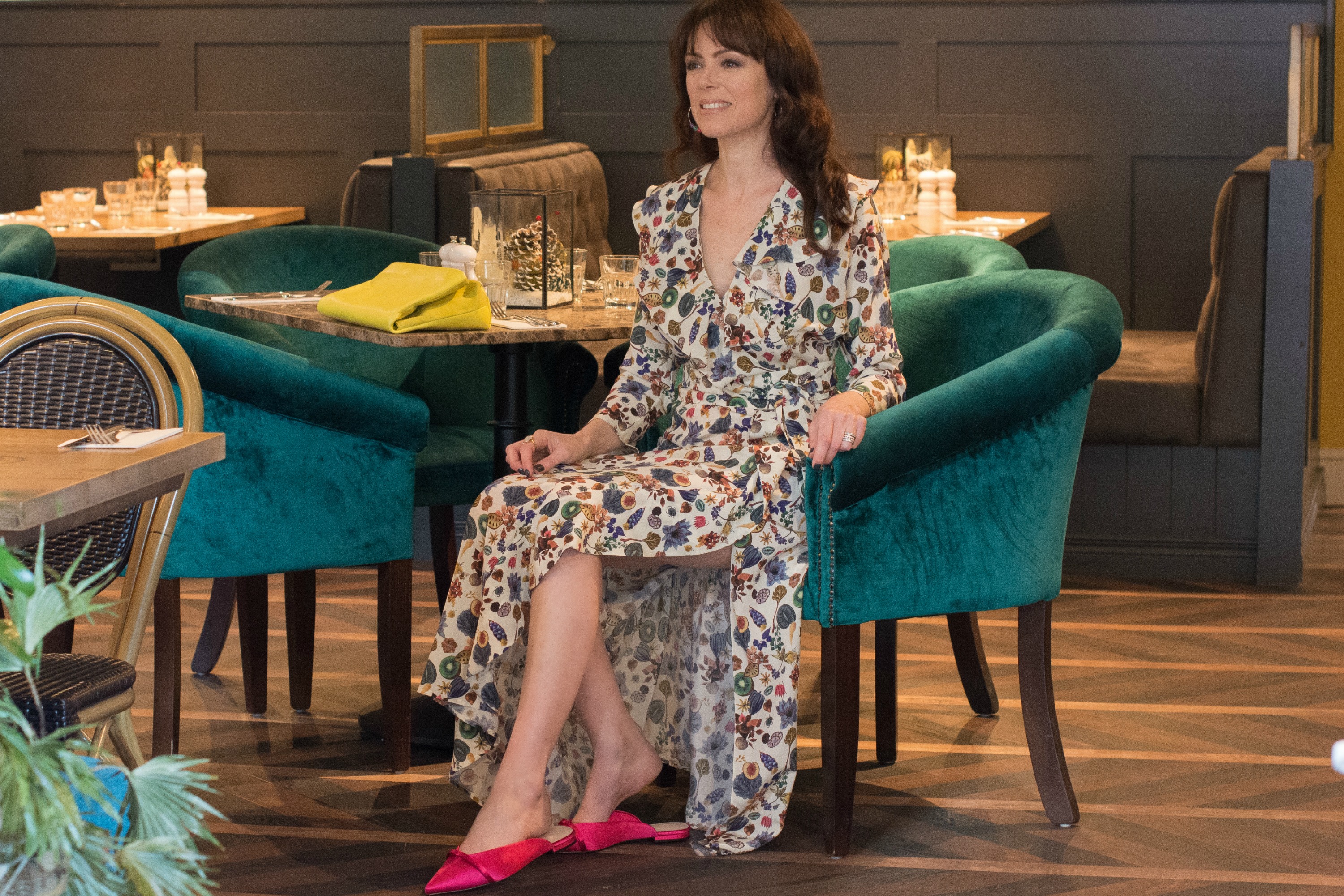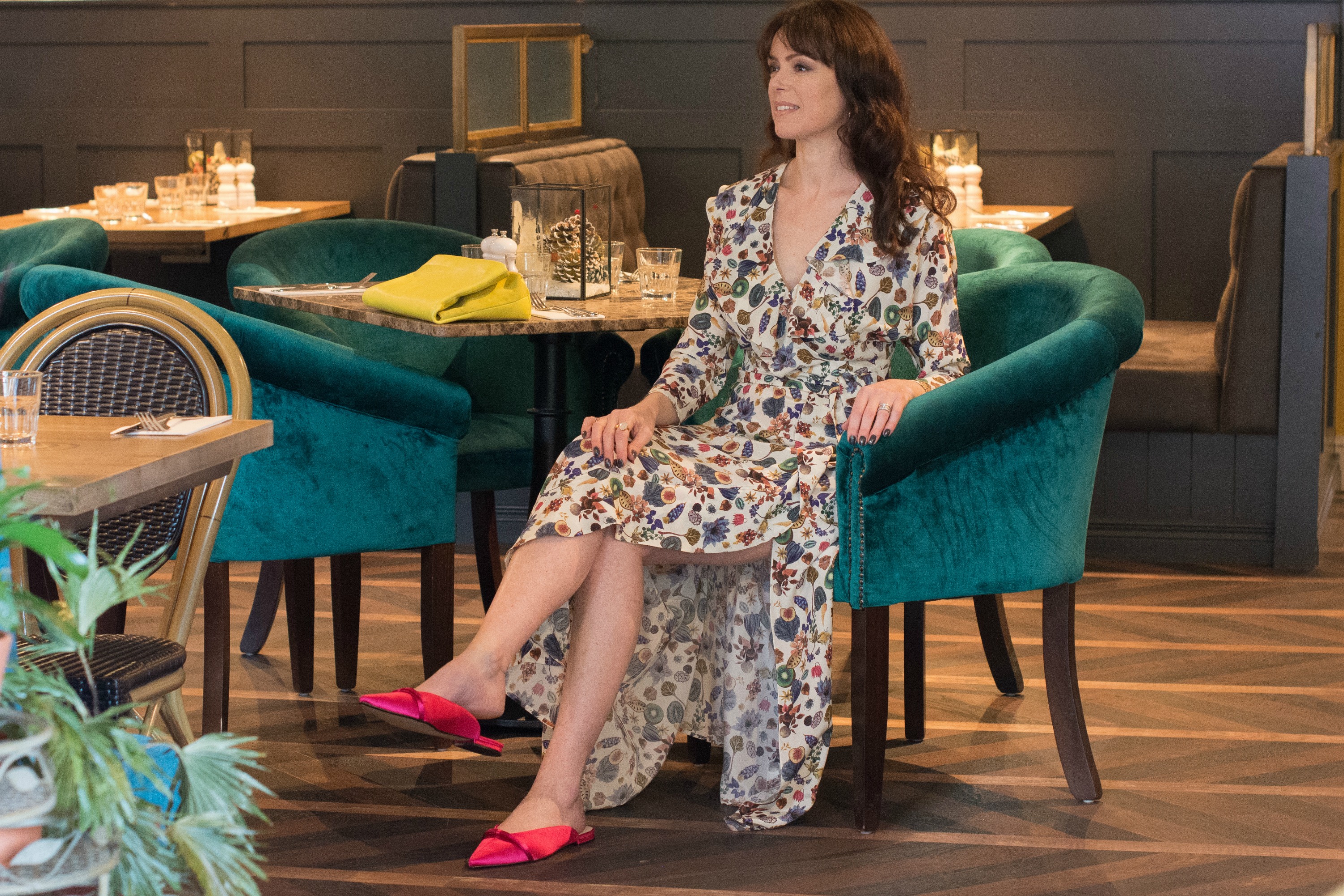 Scope out the most beautiful print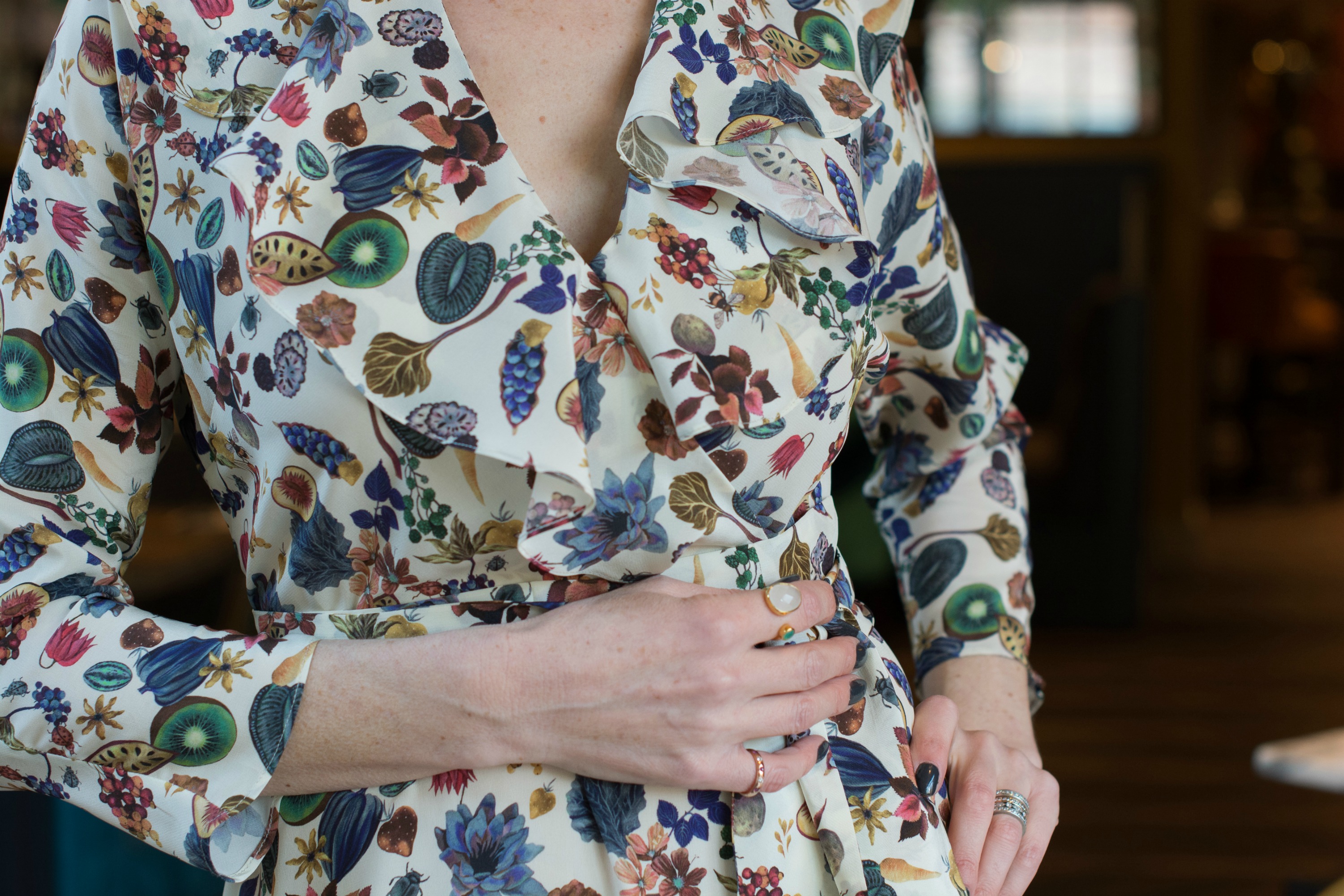 Ring – Olly M
THE RIGHT PRINT FOR YOUR CLOSET
Look for a print that includes all your favourite colours. By doing this you guarentee your accessories will automatically compliment the dress. Therefore a different focal colour can be picked out of the print & highlighted just by changing your bag & shoes! Effectively altering the overall look with absolutely no effort. Another important style point to consider when choosing your forever dress is how it'll look with a belt. Perhaps it already comes with one like my Ridley dress? If so don't be afraid of switching it for some instant impact. A sexy wide waist belt like this one will add drama especially paired with black high-heeled boots! Alternatively a feminine chain belt or an extra long, tan leather skinny belt both tell different sartorial stories.
Naturally your jewellery will also alter the tone of your outfit. Although today I kept mine simple with just rings & hoops. However going big with bling will also work a treat. See my Chanel statement necklace here or these Swarovski earrings for a couple of examples.
Moving on to other less obvious styling options – If your maxi has a split it'll dress down perfectly with jeans by revealing them underneath & also allowing the neccessary movement. Here's one I made earlier wink. Equally, layering over the dress can change the tone of a maxi from formal to casual with the switch of fitted blazer to chunky knit cardi. Perhaps a leather biker is more your style? Whatever your preference, remember the forever dress is supposed to be worn a million ways & worn often. The whole point of spending a lot of money is to get your money's worth. REWEAR IT! We're not focusing on the initial outlay, you be wanna be able to see the cost per wear over time is very low indeed.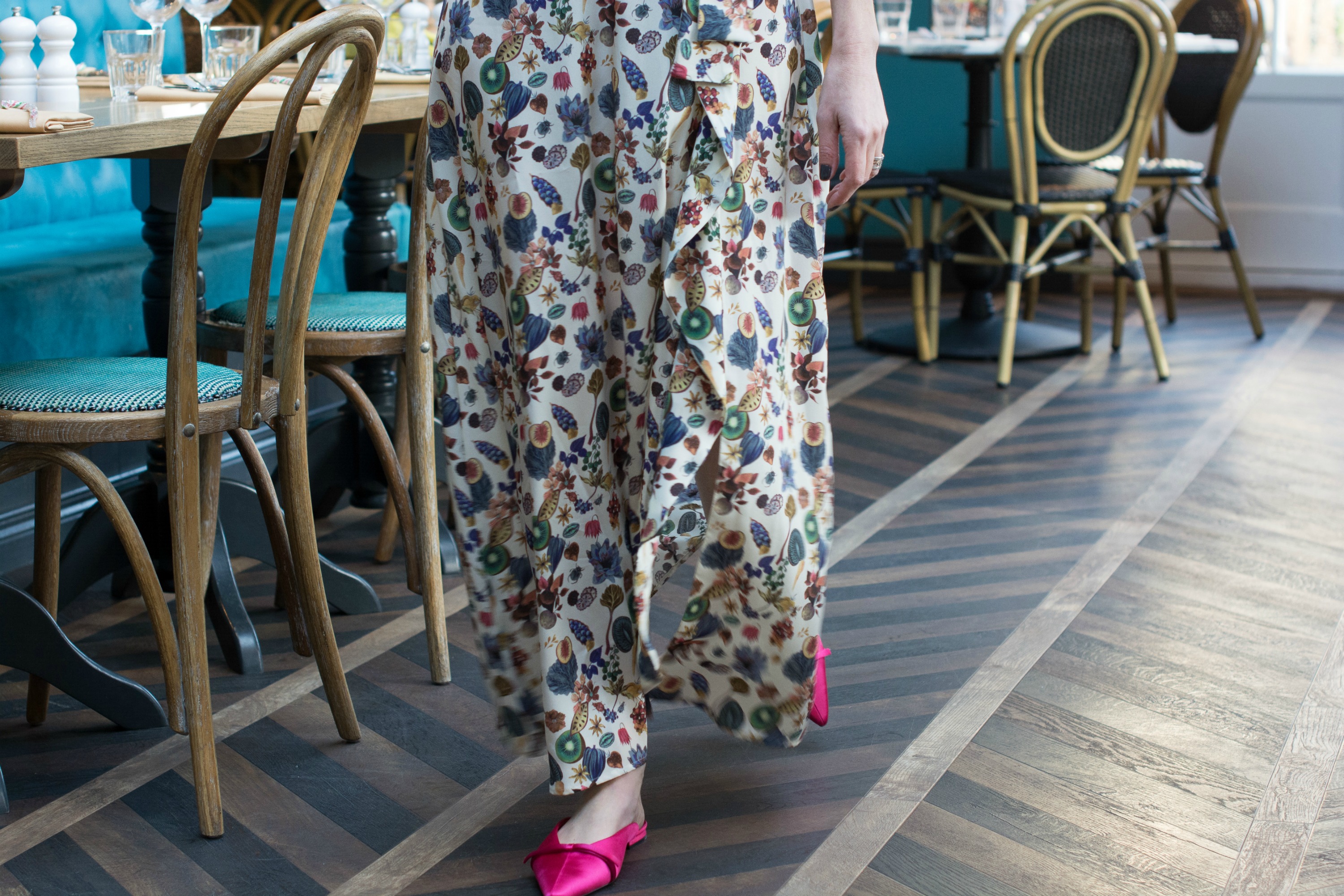 Shoes – Mango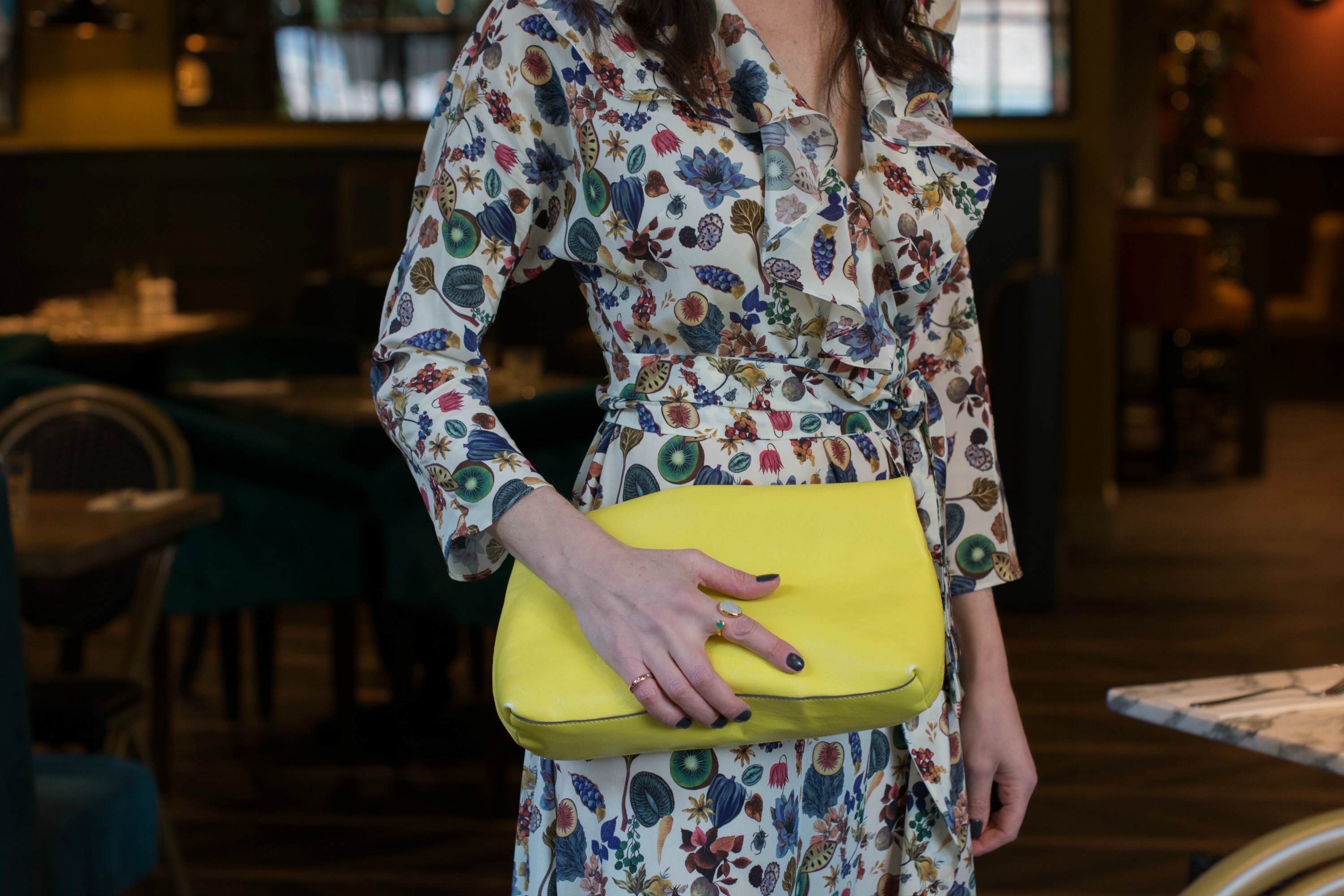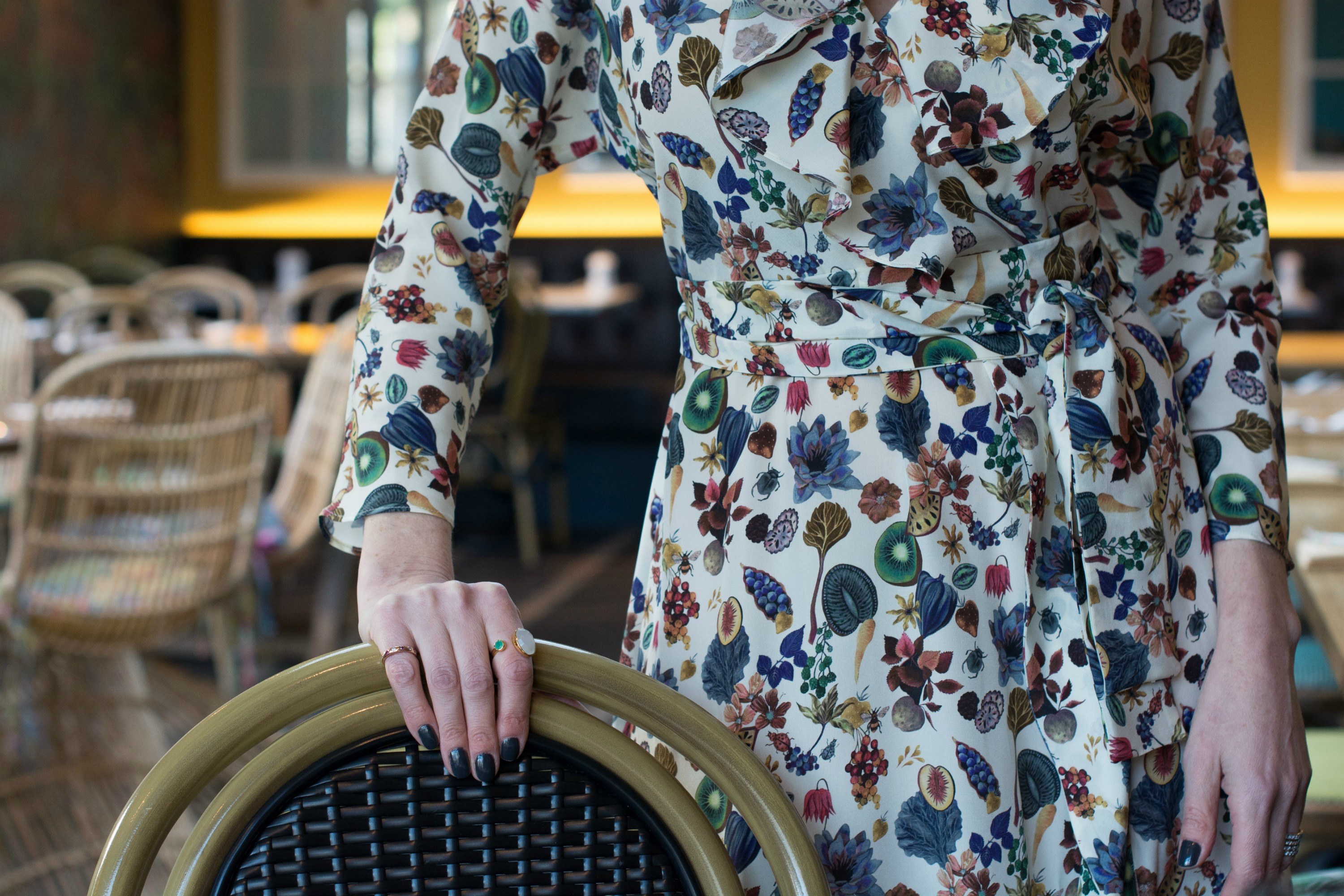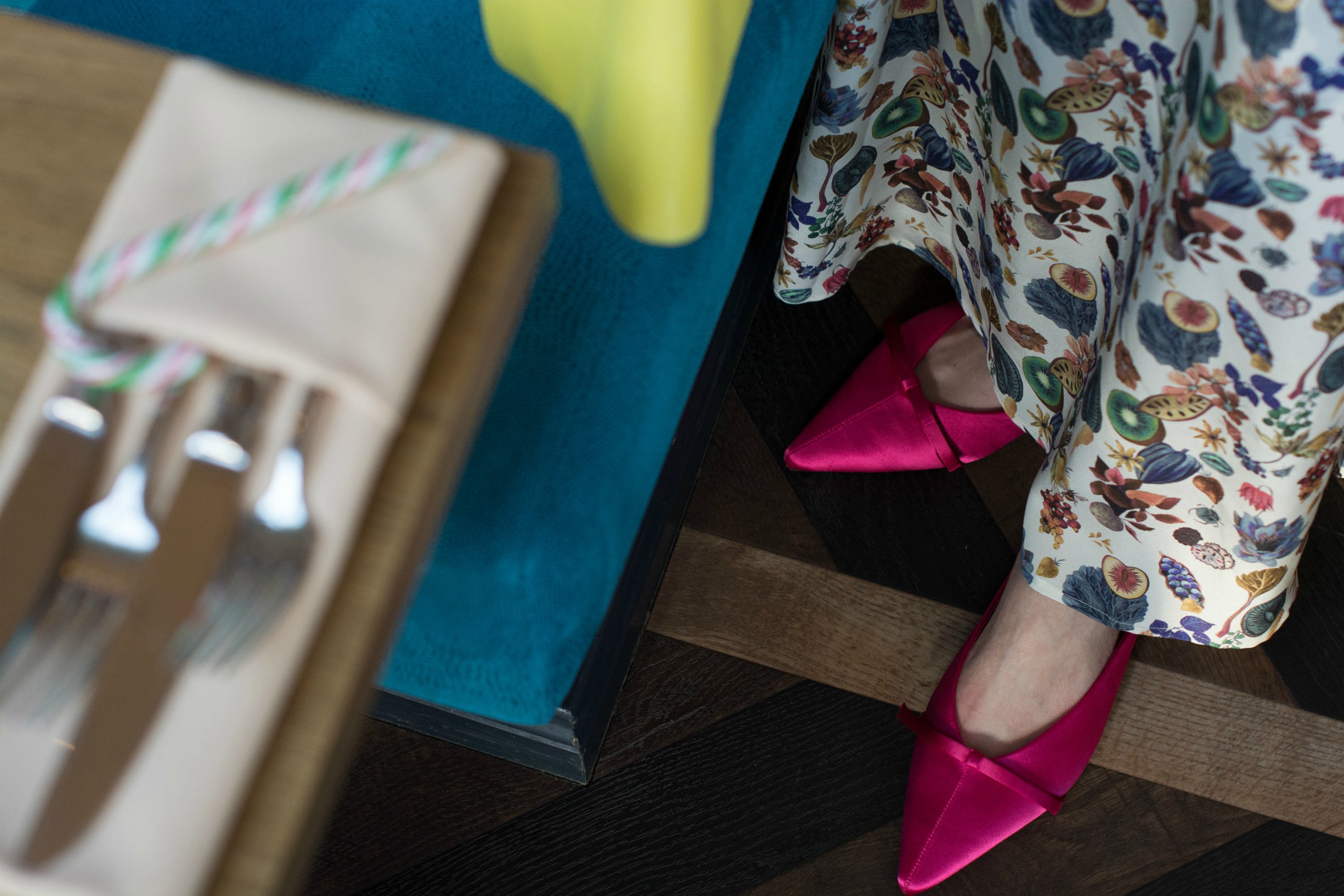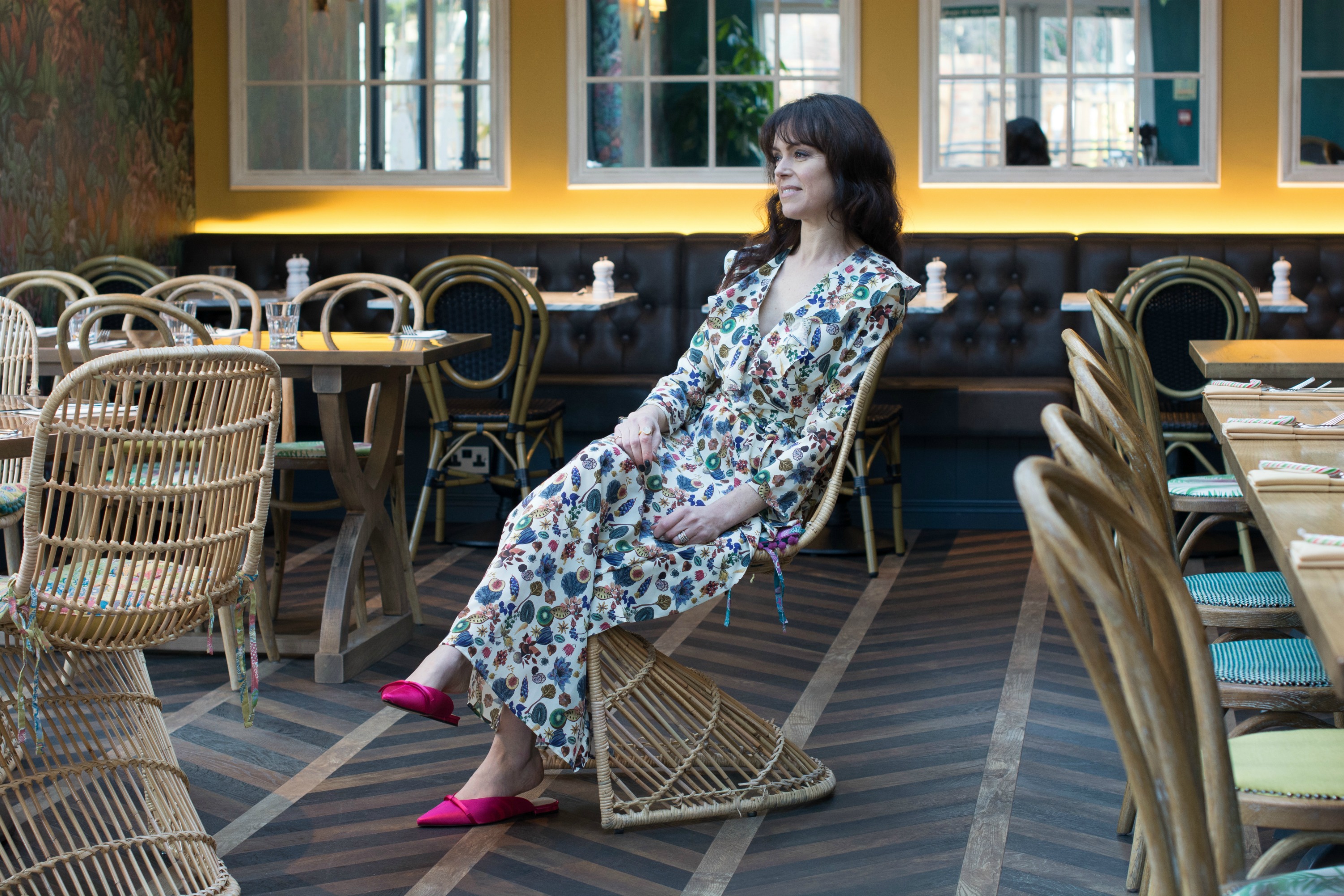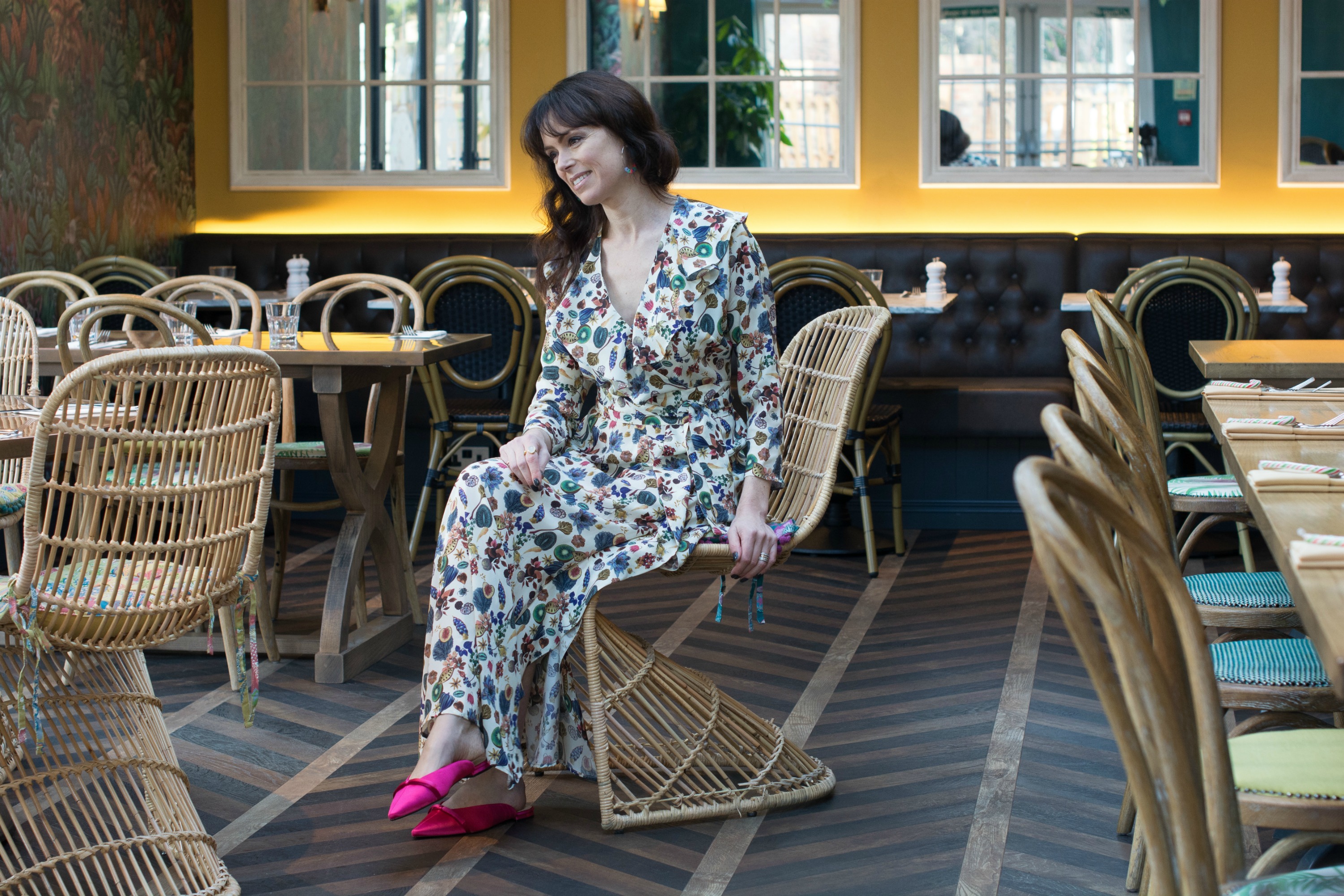 MERRY CHRISTMAS & HAPPY NEW YEAR!
So gorgeous girls that's my third & final Christmas party outfit for 2017. I hope you enjoyed the three very different party looks I styled including cocktails & afternoon tea.
Arrgh!!! I can't believe another year has flown by. It reminds me of my childhood when I was in such a rush to grow up & my Dad would say "Don't wish your life away Princess". How true. Naturally I'm saying these exact words to my children now, Oh boy….
As I sign off for Chrissy, I wanna thank you all for the love & support that you've shown me since I started blogging almost three years ago. I feel the blog & brand is finally coming into it's own & I see big fun times on the horizon. If anyone has missed my mention of our family move to New Jersey next February, guess what? WE'RE MOVING TO NEW JERSEY NEXT FEBRUARY! Wahhhh I'm so excited I can barely contain myself. This has been the longest period living in the same place of my entire life. Needless to say it was time for a change for this old gypsy. Although it's true I'll miss all our wonderful friends here I know from experience that distance doesn't ruin friendships. Rest assured I'll keep you all in the loop & blog the hell out of our move…
Until 2018, have a marvellous Chrissy & we'll catch up in the New Year! Lots of love to you & yours, Mx
*Thank you to The White Horse Pub for giving me carte blanche to shoot this post
*Thank you to Ridley London for gifting me this dress