For most of my life I hated the colour pink & wouldn't touch it with a barge pole. I thought it was way too prissy & girlie which in my mind signified weakness. I couldn't bear to appear weak, in fact I usually went out of my way to prove how tough I was. Indeed often putting myself in potentially life threatening situations. In truth I was incredibly lucky to have survived long enough to learn the true definition of strength has nothing to do with appearence.
Looking back now at my insecurity issues, being anti-pink was the least worrying side effect. Poor pink, so misunderstood. Nevermind, thankfully I overcame my pink predjudice when I worked through that other shit. Turns out I actually quite suit the colour! Of course having deprived myself of the pretty pastel for so long I'm now making up for it in more ways than one. For starters I painted our living room walls in Dulux Spring Rose.  What's more I'd come so far in my committment to not assuming a colours gender that I didn't even consult Mark beforehand! N.B His first reaction on seeing the new colour "It's fucking pink!"
Undeterred & full of confidence, I went on to buy a set of gorgeous blush pink bed linen from Piglet. After painting our renovated loft bedroom navy blue I knew pale pink would make the perfect marriage of contrast. More pink & navy combinations like this one have crept into my closet too. So you could say I'm now literally surrounded by the colour day & night!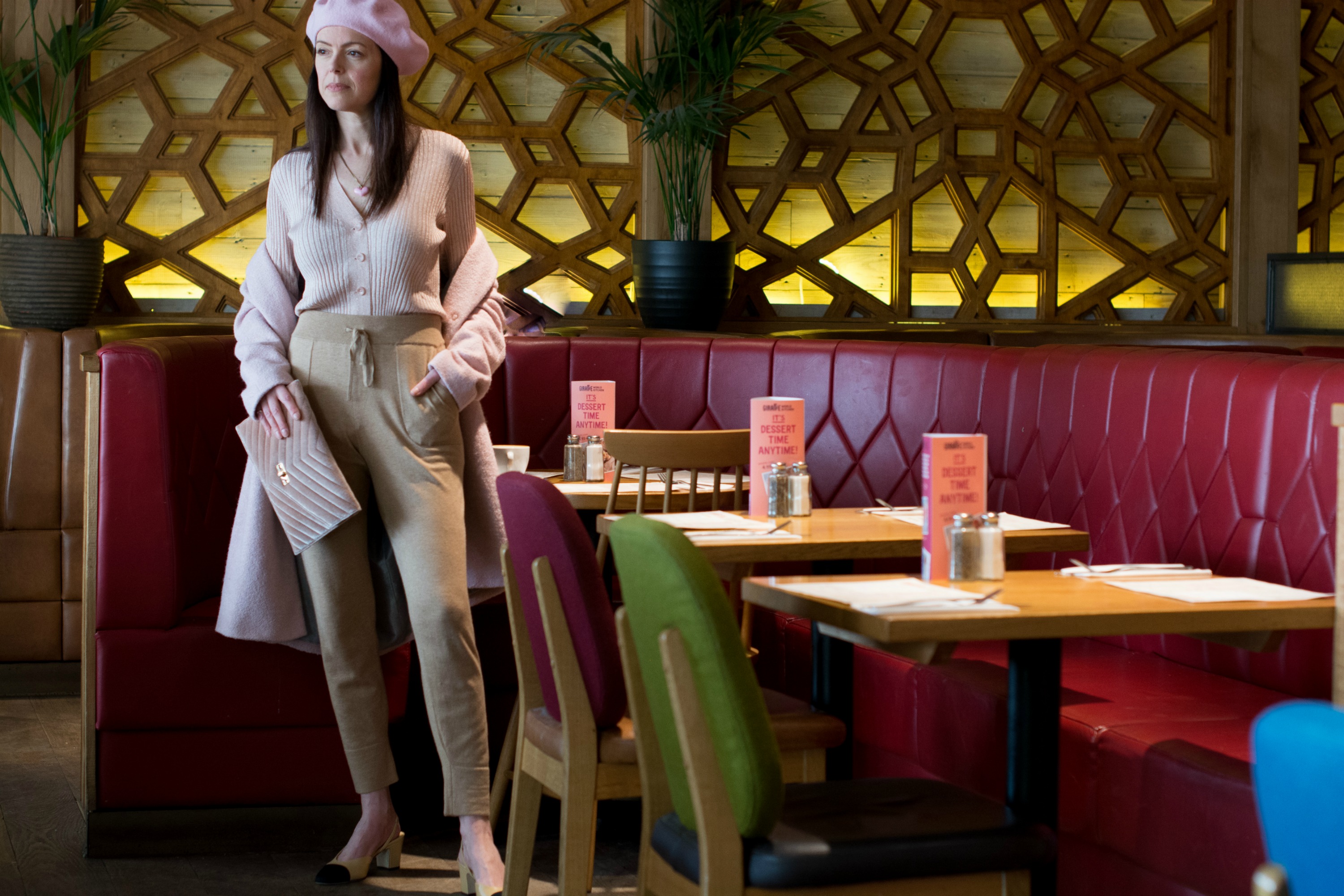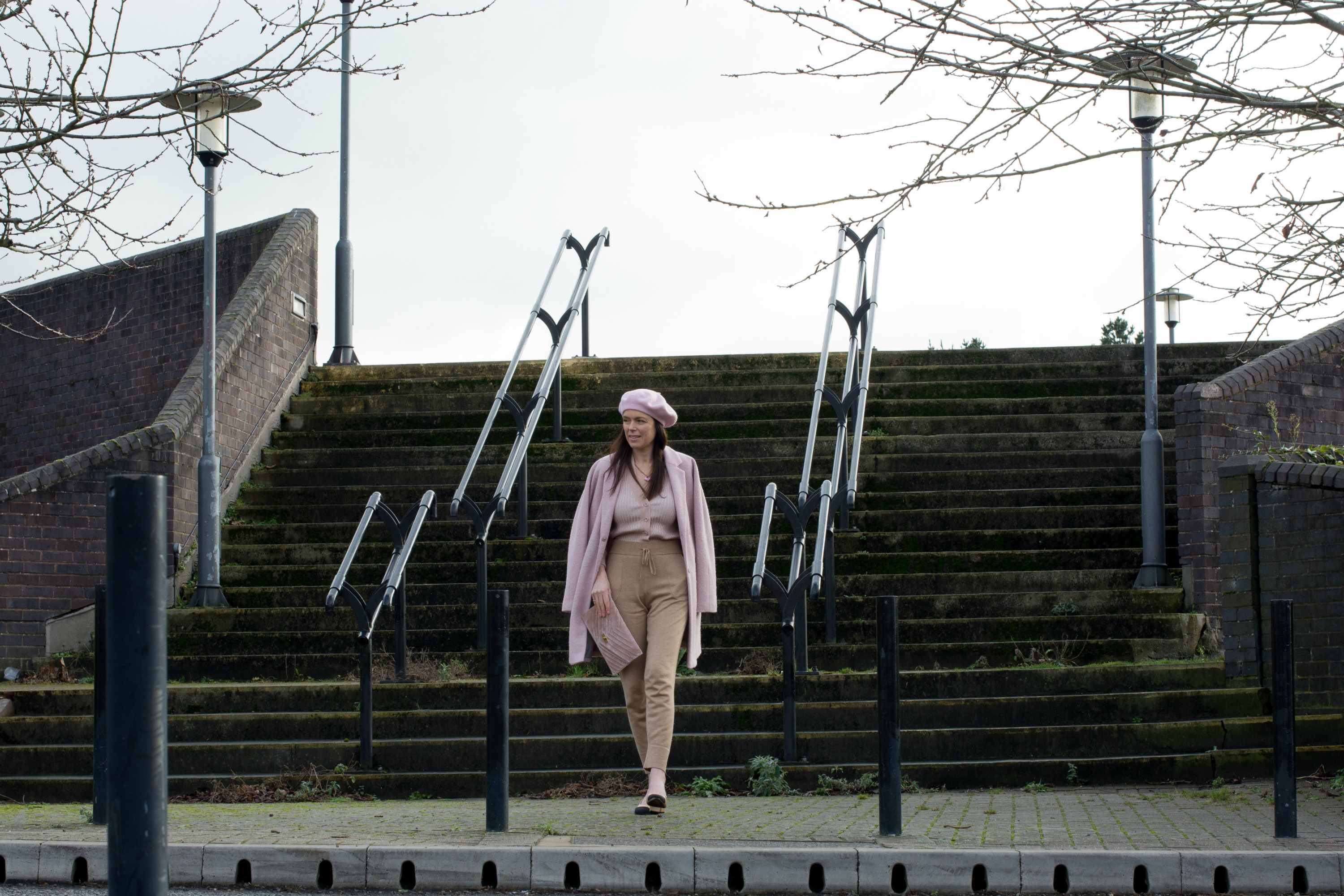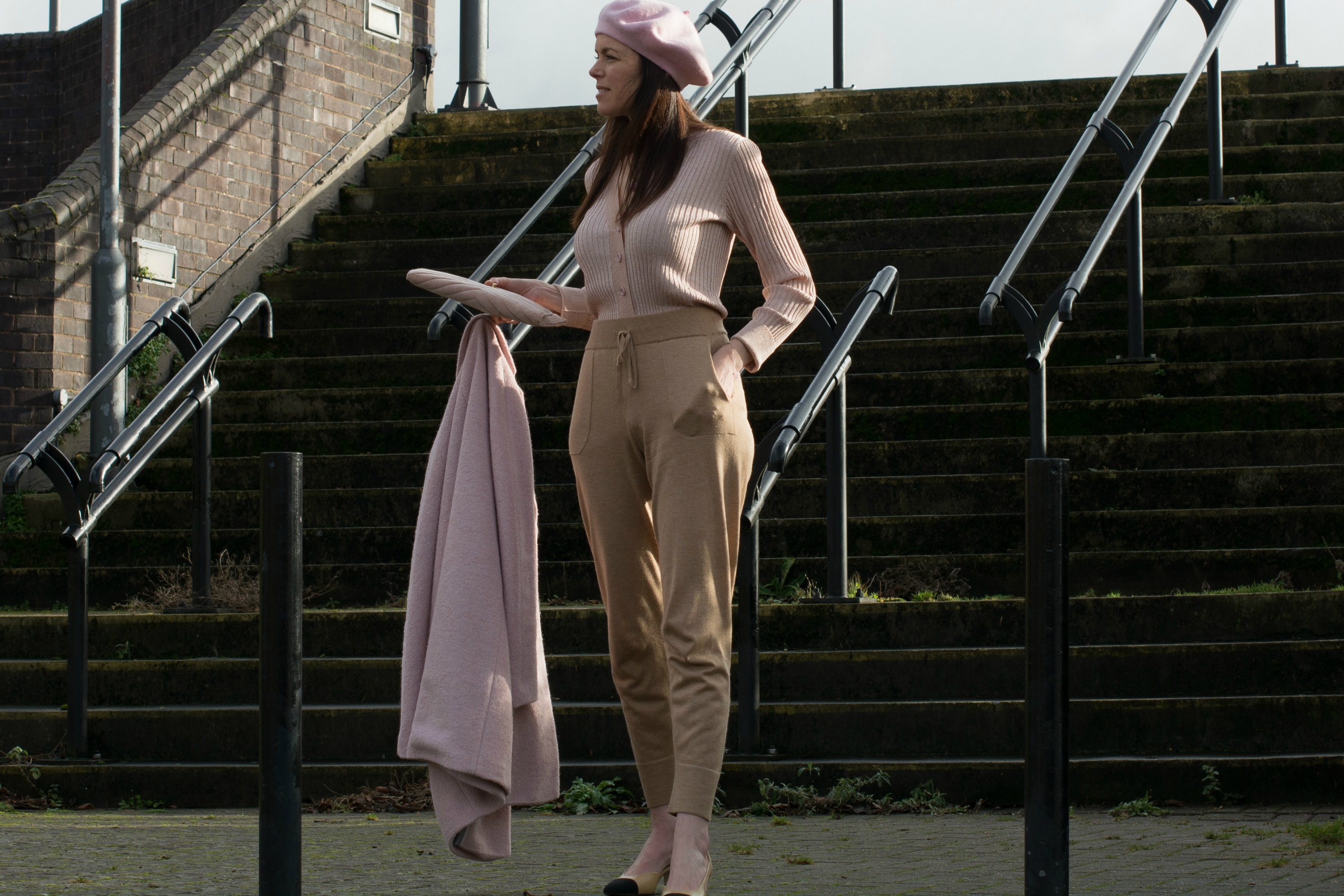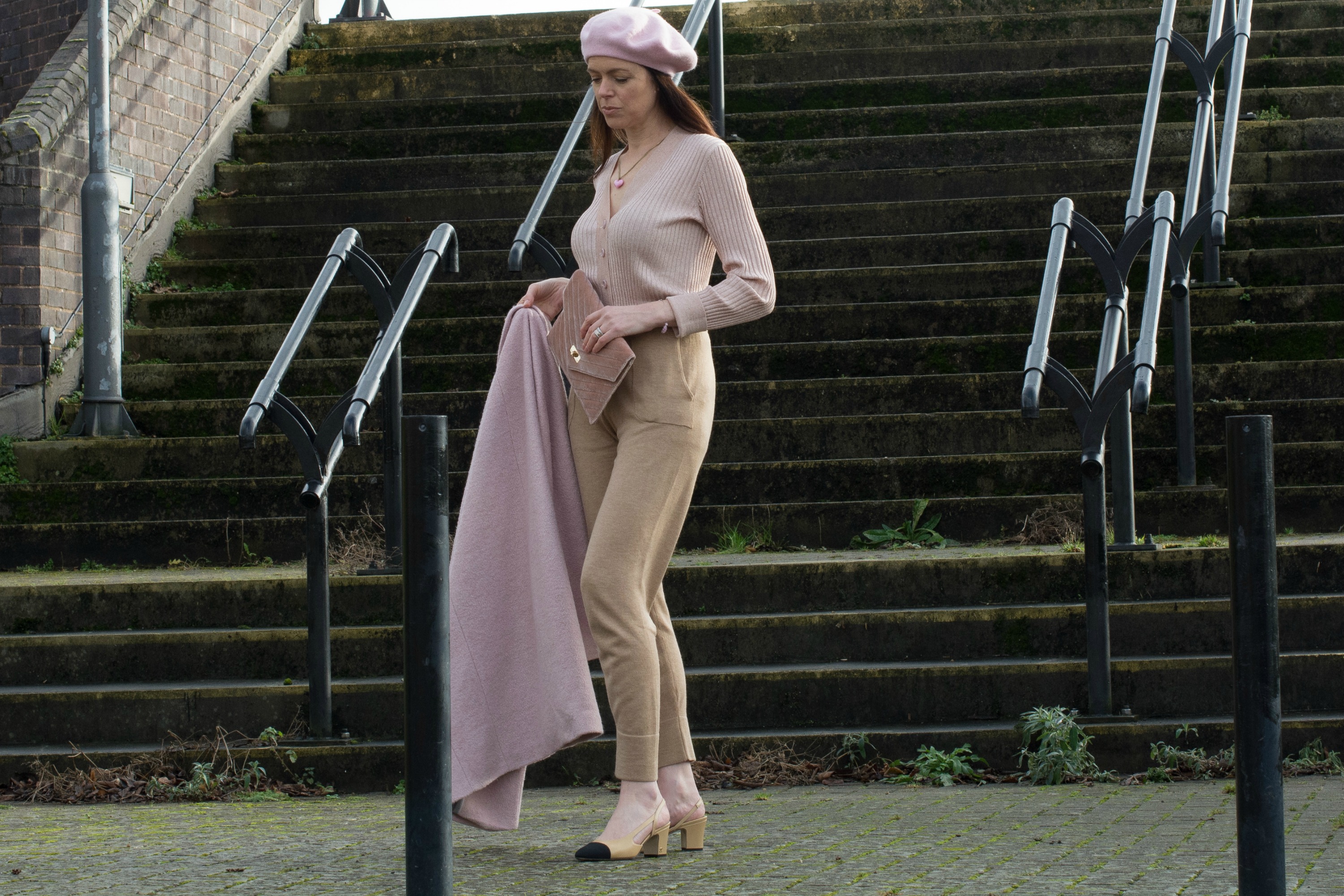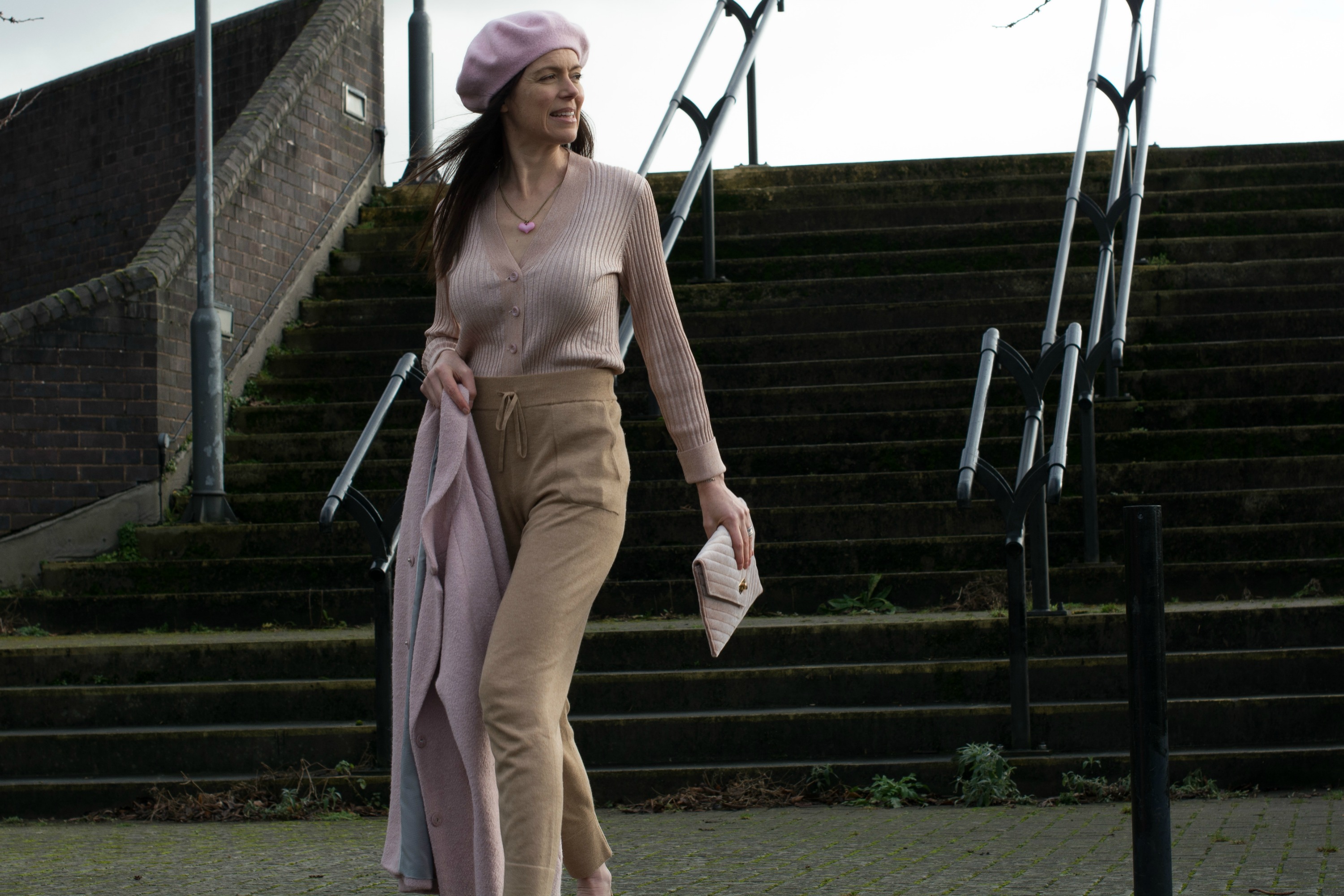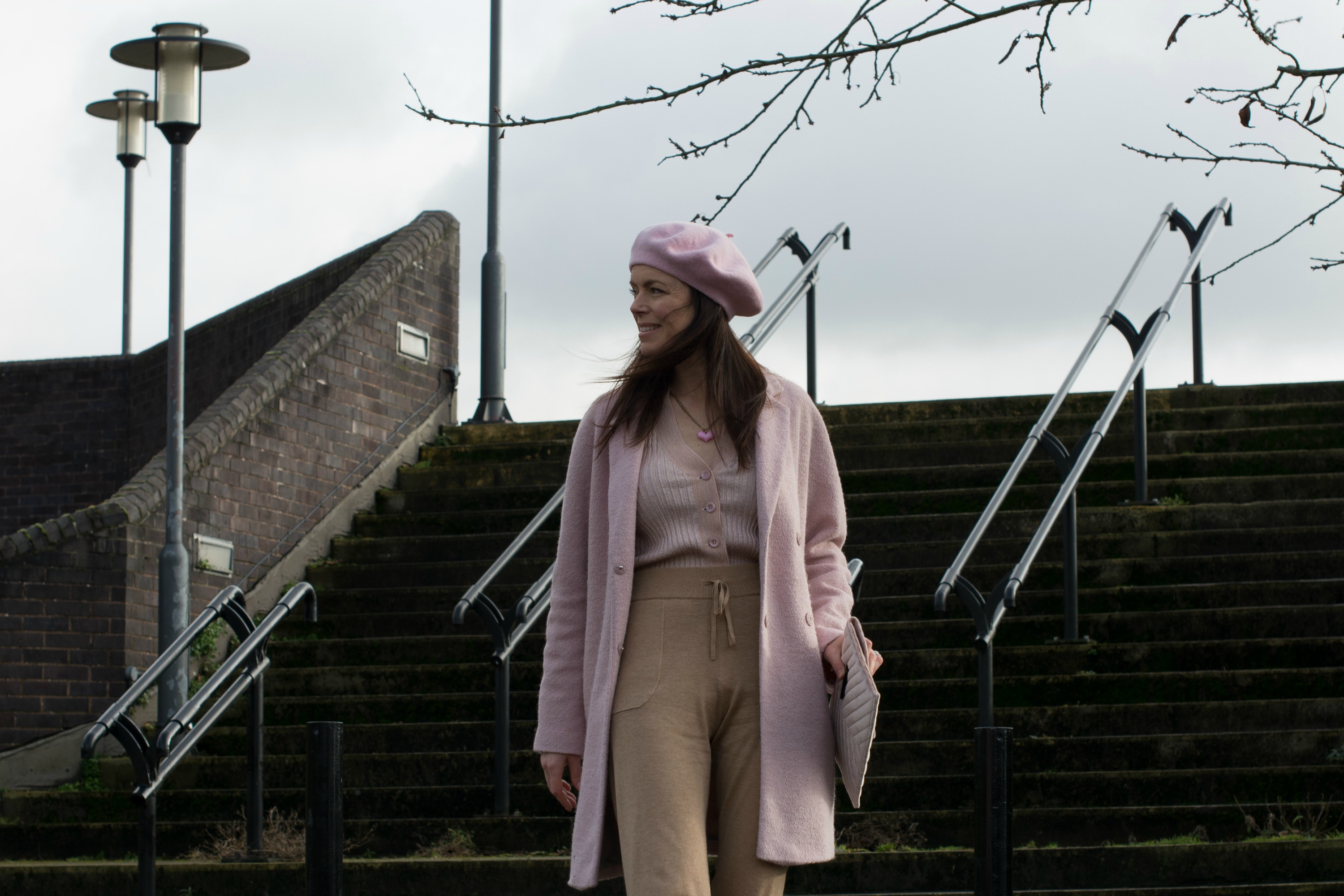 PAIRING PASTEL PINK WITH CARAMEL
Possibly an unlikely pairing yet caramel melts into the icecream pink perfectly. It also allows for some discrepency between pink tones which prevents a clash if the colours aren't exactly matched. My Winser London cashmere tracky daks are the bomb with pink so there's no need to go anywhere else. However if you don't have these anything similar will work equally well as long as it's light. On the off-chance that you don't yet own a fabulously dressy pair of tracky daks have a look at Ganni. I am having a major crush on this Scandinavian label right now, their Dubois Polo Pants are scrumptious! Since I'm all set for lounge pants at the moment I'm not going to indulge although I did buy the cardi. I mean it's less than half price in their sale & I don't have a pink cardi, plus it sparkles ever so slightly which is just enough for me.
Here are some other pieces I've been crushing on lately from Ganni…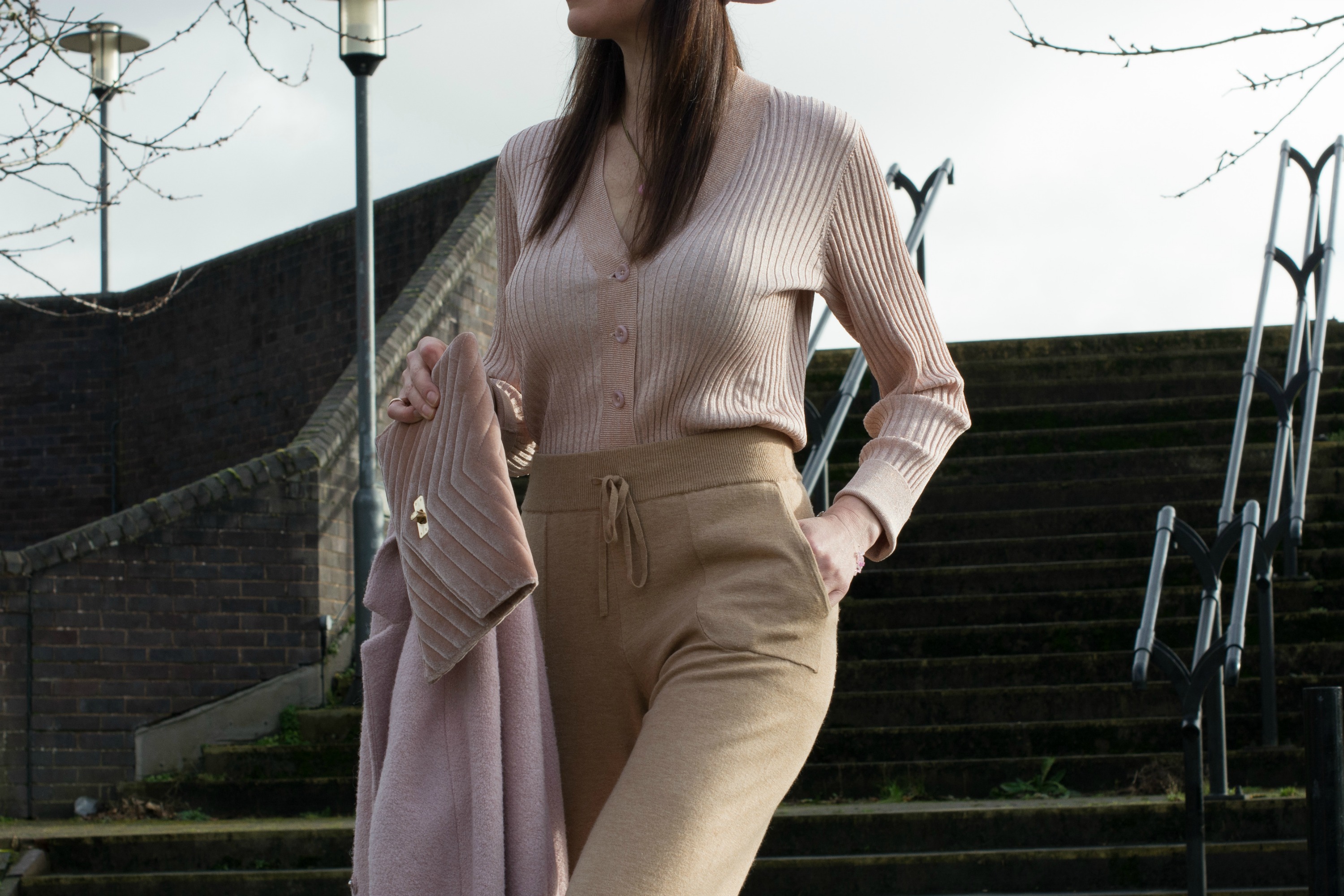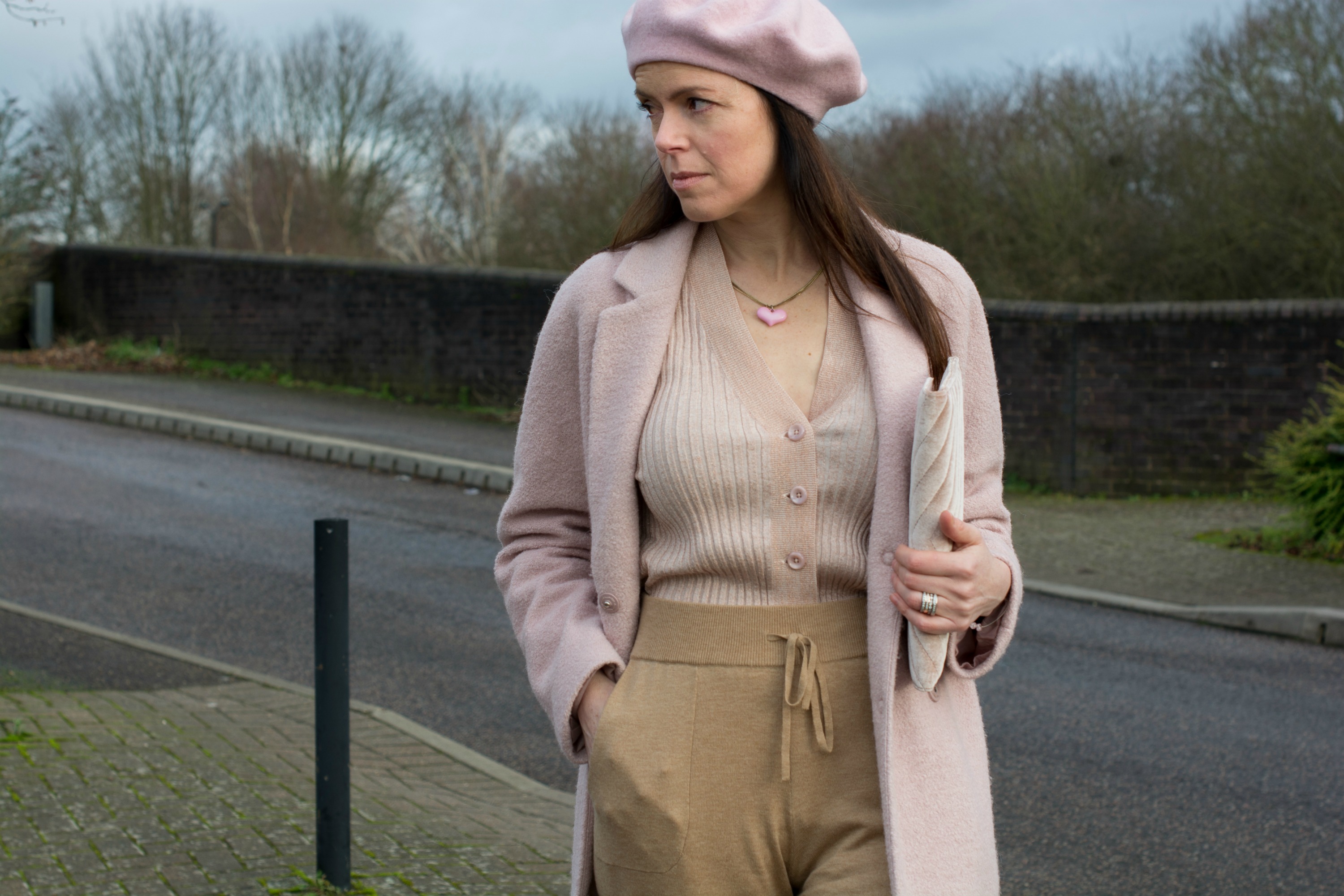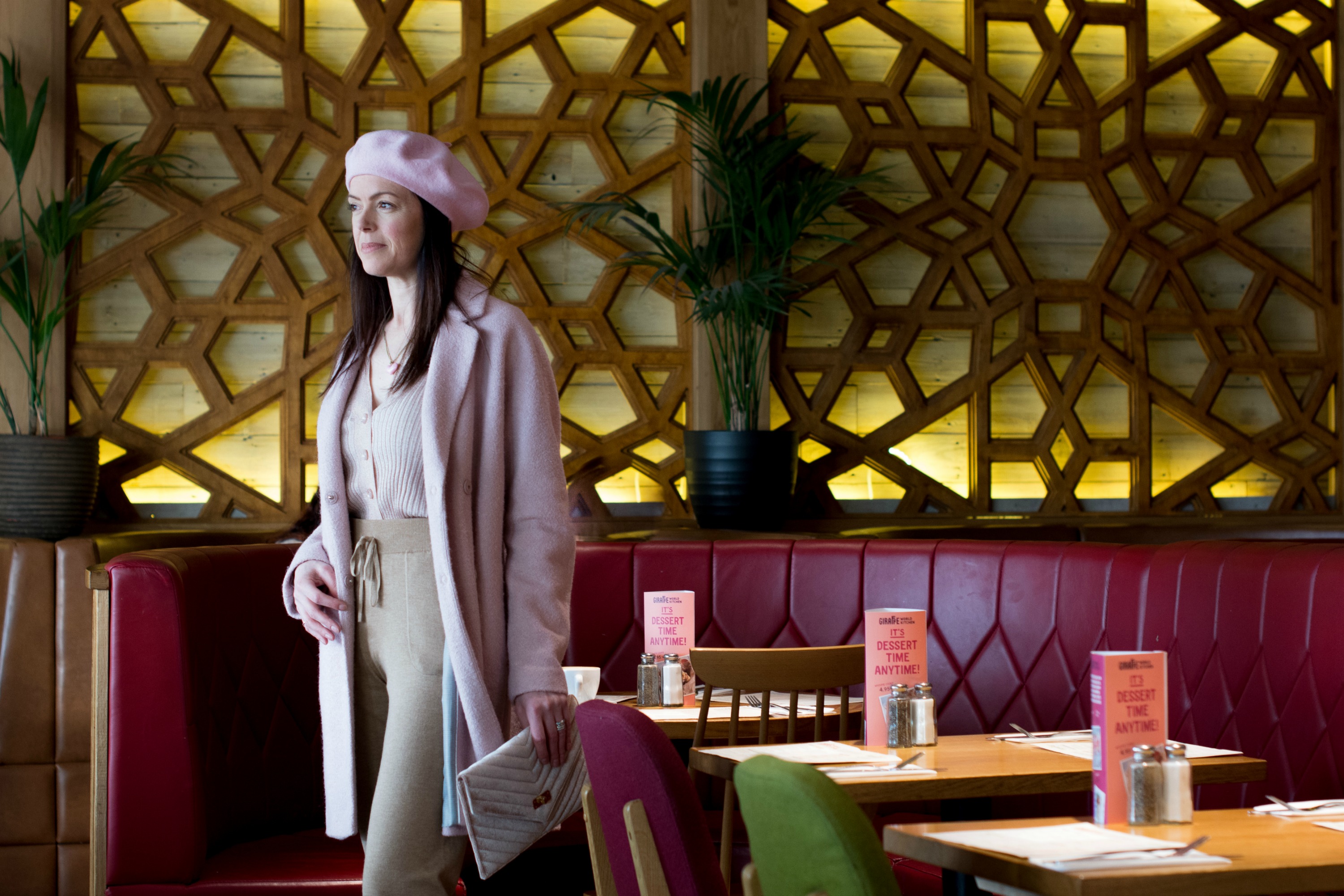 OTHER WAYS I'VE WORN IT
Today I'm starting a little section dedicated to how I've previously worn the pieces from the post. I thought it'd be the best way to show my committment to slow fashion & conscious shopping. Of course if an item happens to be new there won't be a repeat of it to share yet. Rest assured in the majority of posts there will be several alternative looks for you to compare & glean from. Unfortunately in my typical bad timing I've begun with an outfit that's 50% new however that is unusual. Never the less it's all about keeping it real here so let's just go ahead with the idea & you can tell me if it's worth continuing.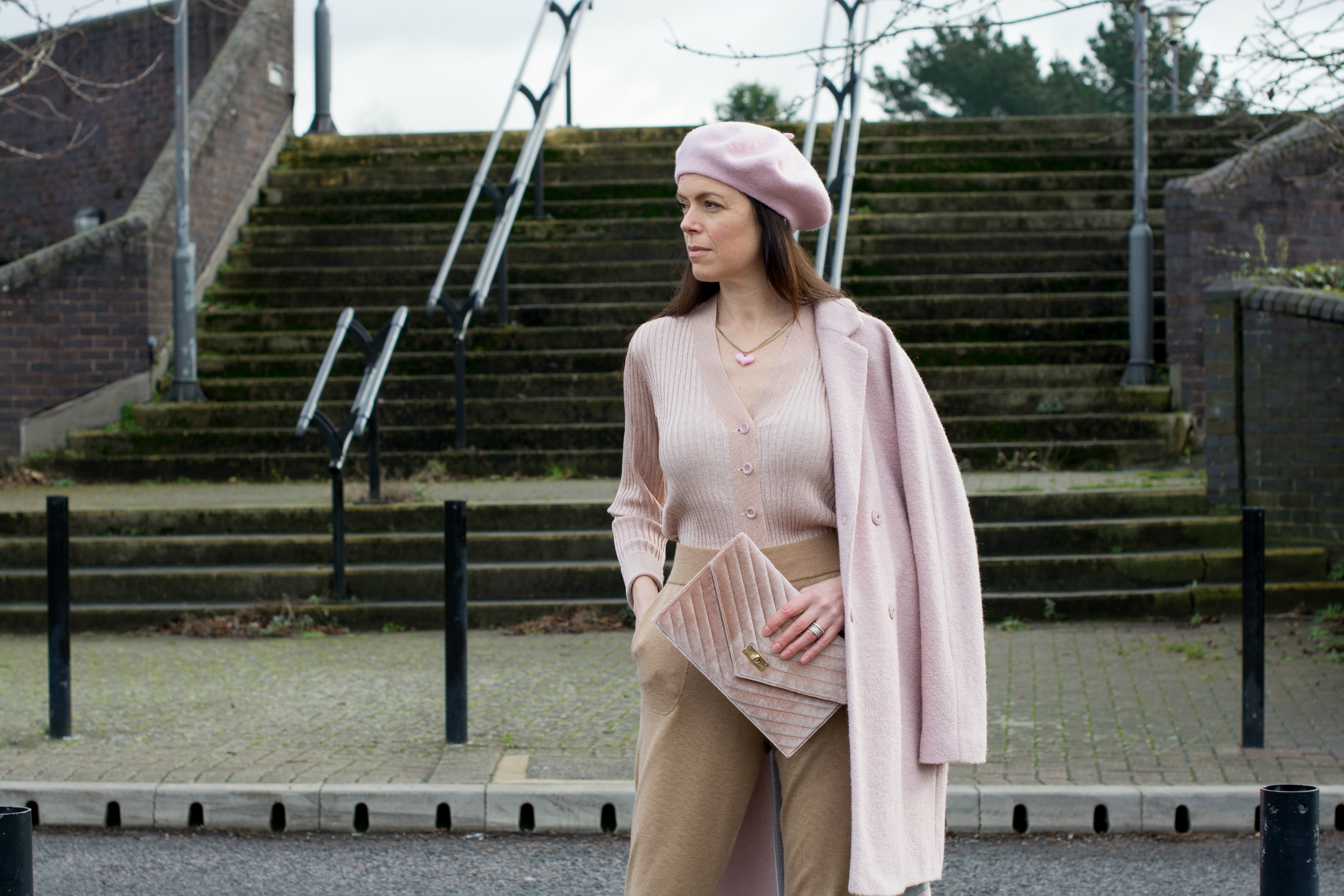 I'LL NEVER SAY NEVER TO ANY STYLE AGAIN
You just never know, something you may dislike now could suddenly look different on you, great even. In future I shall be less of a colour critic & more sartorially flexible. Lesson learned…
Bye for now loves xx
*Big thanks to my gorgeous girl Rachel for taking the interior shots in this post. I didn't even give her a second to take a sip of her coffee before putting her to work.